LA County Shoppers Plan to Spend 63% More This Holiday Season
Monday, November 1, 2021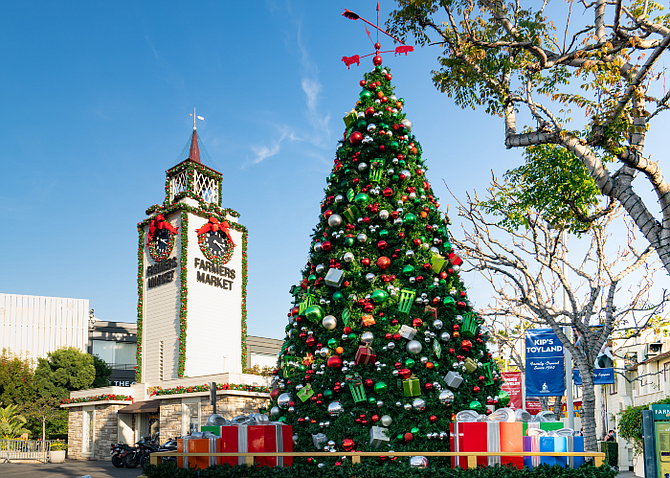 It might be a stretch to say this holiday season will be cheery and bright for local retailers, but things are looking up.
 
Shoppers based in the greater Los Angeles area are planning to spend more this holiday season, budgeting about $2,050, or 63% more than the $1,256 planned in 2020, and more 35% than what they earmarked in 2019. Nationwide, spending will be up 5%, according to the annual 2021 holiday survey published by Deloitte last month.

The biggest share of the $2,050 budget — $754 — will be spent on experiences, such as traveling, entertainment and socializing, up from $433 last year. Nongift purchases, which are items shoppers pick up for themselves, will add up to $705 on average, while the gifts for friends and family will account for the remaining $592.  

Angelenos also plan to stop by more stores — nine, compared to six last year — but they're still planning to spend about 60% of their holiday budget online.

"Last year's survey results were definitely impacted negatively by Covid, and people were being very cautious with respect to both spending as well as heading outside of their home," said Summer Taylor, an audit managing director at the accounting firm's Costa Mesa office. "Now that we've come through the worst of the pandemic, and while it's still going on, there's vaccines, retailers have taken health and safety very seriously, and shoppers feel it's safer to venture out now. "We're seeing a shift to pre-pandemic spending levels and also willingness to get outside of people's houses and head to the malls to get some shopping done," she added.

The increase in in-store shopping can partly be attributed to concerns about stores running out of select merchandise or delivery delays, according to the survey. About 37% of respondents said they plan to start shopping earlier this holiday season than they did in 2020 with 36% expecting stockouts for electronics and related accessories, and 31% for toys and hobby-related items.
 
"The supply chain has been a definite challenge for both shoppers and retailers," Taylor said. "Retailers have placed orders earlier to try to get the goods in-store as soon as possible, and shoppers understand that there are supply-chain challenges, and so they are shopping earlier to make sure that they get those essential gifts for all of their friends and family. So, we're definitely seeing elevated spending before the Black Friday holiday, which is kind of the traditional start of the holiday shopping season."

Jonathan Bernath, an assistant store manager at the Onitsuka Tiger flagship store in Beverly Hills, said, however, the traffic he's seeing these days is mostly international tourists or people attending local sporting events.  

"We have not seen that much as far as holiday shopping," Bernath said. "The gifts that we do see are more for an anniversary and birthdays at this point."

He added that people might be hesitant to start holiday shopping too early because of retailers' return policies.

"Most return policies are 30 days," Bernath said. "Ours is 60 days, but most people are wary of buying their holiday gifts too early and then not being within a return policy."

Electronics, for example, usually only have a 14-day return policy plus a restocking fee, he explained.
 
"I had one person come in and (was considering) buying for the holiday for her daughter, and then she asked me about the return policy and (I) told her it was 60 days with our company, and then she kind of stepped back a little bit," he said. "And I had actually advised her, maybe wait a little bit, even though I'm sure that if it was an exchange of size, the company would most likely exchange it."


For reprint and licensing requests for this article, CLICK HERE.