Frontier Airlines to Pull Out of LAX
Wednesday, May 19, 2021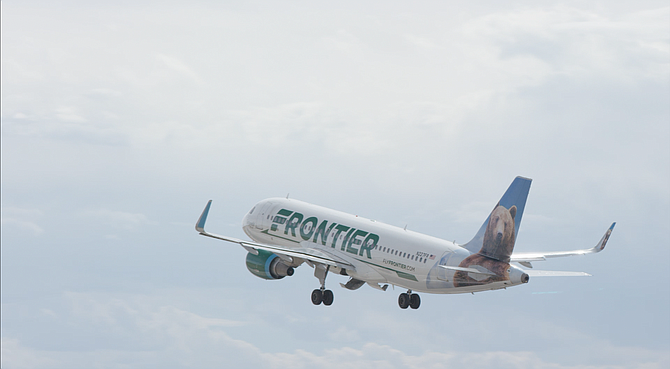 Denver-based Frontier Airlines on May 18 confirmed that it is pulling out of Los Angeles International Airport by September, citing increased costs as a factor.

At the same time, Frontier announced it plans to start service in July at Hollywood Burbank Airport while expanding its flight roster at Ontario International Airport.

Frontier, which bills itself as an ultra low-cost air carrier, was the No. 10-ranked airline at LAX last year with 295,000 passengers. That gave the airline a 1% market share, placing it on par with Air Canada.

Frontier currently averages five total flights a day from LAX to four destinations: Atlanta, Denver, Las Vegas and Phoenix, according to airline spokeswoman Jennifer De La Cruz.

News of Frontier's decision to halt service at LAX was first reported in the blog Cranky Flier. Frontier issued a statement about its decision to the blog and confirmed the news to the Business Journal:

"We are pulling back on much of our service from LAX between now and mid-July and will completely wind down our operations from LAX by the end of September. We always review our airport portfolio from a cost and profitability perspective and make adjustments where necessary, especially in the event of significantly increased costs," Frontier said in the statement.

De La Cruz did not offer further explanation of the review process or the increased costs Frontier is facing at LAX.

In his Cranky Flier post, Brett Snyder said a key factor was the decision by Los Angeles World Airports, the city agency that runs LAX, to move Frontier from Terminal 5 to the new Terminal 1.5 between Terminals 1 and 2. He also said Frontier faced higher fees if it remained at LAX.

Snyder noted that Terminal 1.5 serves as a ticket and baggage claim center with no gates, which means passengers would have to be shuttled to the Midfield Satellite Concourse when it is completed on the airfield behind the Tom Bradley International Terminal.

Snyder also cited a Fitch Ratings Inc. report from February 2020 that projected the average cost per emplaned passenger at LAX would rise to $33 over the next few years to help offset construction costs at the airport. The cost per emplaned passenger is about $11 at Ontario International Airport and about $2 at Burbank.

"Frontier Airlines is a valued partner at Los Angeles International Airport," LAWA spokesman Heath Montgomery said in an email. "We are sorry to see them move their Los Angeles service away from LAX later this year, but wish them all the very best and welcome their return to LAX one day very soon. We are fortunate to have a regional network of airports offering a wide range of options to travelers in the L.A. basin, and are glad that Frontier will maintain its service to the Los Angeles area.

Montgomery confirmed that Frontier was among several airlines re-assigned to Terminal 1.5, that the terminal has no gates and that Frontier would have had to shuttle passengers to the Midfield Satellite Concourse, which has been renamed the West Gates at the Tom Bradley International Terminal.

"LAWA has undertaken numerous efforts to maintain competitive rates and charges while we continue to deliver on our long-awaited capital improvements," Montgomery said in an email. "We are currently in the process of implementing the Airline Cost Stabilization and Recovery Plan, which harmonizes common use rates and charges across the airport and provides airlines and the airport with more certainty regarding rates and charges. In addition, LAWA has utilized CARES Act and other funding to mitigate increases in airline rates and charges as a result of reduced activity during Covid-19."

On May 13, Frontier announced it was launching service at Hollywood Burbank Airport in July. 
That airport has now become a low-cost air carrier battleground. Just last month, startup airline Avelo Airlines made Burbank its initial hub, offering flights to 11 destinations in the Western U.S. 
Simultaneously, Frontier announced expanded service at Ontario International Airport starting in July, adding four new flights per week to Atlanta and increasing the frequency of flights to Denver to 11 per week.

"With the addition of this new service, Frontier now offers nine nonstop destinations from Ontario this summer, the most of any airline serving the airport," Daniel Shurz, senior vice president, commercial for Frontier, said in a statement.
For reprint and licensing requests for this article, CLICK HERE.