MBA & Master's Guide: Cal Poly Pomona - College of Business
Custom Content by the Los Angeles Business Journal
Tuesday, May 11, 2021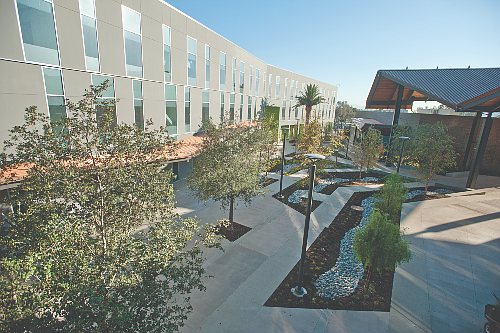 California Polytechnic University, Pomona, (CPP) with its 1400 acre of campus, and beautiful rolling hills and gardens is among one of the best public universities in Southern California.  As a polytechnic university known for its learn-by-doing philosophy, CPP prepares the students to meet the relevant workforce demands and become the future leaders in various industries.  The university is in close proximity to Los Angeles and fortune 500 industries such as Boeing, Northrop Grumman, Raytheon, Amazon, and Sysco etc.

Cal Poly Pomona students receive outstanding education with an affordable tuition.  Cal Poly Pomona is a WSCUC accredited university, and its graduate business degree programs are AACSB accredited which puts the College of Business in the top five percent of the world's 13,000 business schools.

Business Analytics is one of the fastest growing careers.  The Master of Science in Business Analytics (MSBA) program is designed to satisfy the contemporary needs in all business fields for data science technology and applications.  The MSBA with its STEM designation, is designed with industry context, data and technology that shapes the current and future needs of the business industries. With the expansion of data science and technology students in the MSBA program learn from faculty experts and project-based activities that will shape their business analytics skills and knowledge.  

Cal Poly Pomona is well-known for its polytechnic approach and CPP graduates join the professional work force with strong problem-solving skills and the MSBA program is no exception. Contemporary big data analytics projects are built in as one of the key components of this program. MSBA students are exposed to challenging real world decision making driven by big data in a wide range of business areas (just to name a few, IoT cybersecurity, drug discovery, market basket analysis, COVID impacts, high frequency trading etc.)
 
With the competitive tuition cost and the high-quality program provided, Cal Poly Pomona is constantly listed high by various global rankings. For example, in 2020 by US News, CPP is ranked 3rd as one of the most innovative universities in the western region; CPP is also ranked 2nd in non-Ph.D. granting public universities in US west region; by Money magazine, in 2020, CPP is ranked 10th place among most transformative colleges.
 
The Business Analytics graduate degree program emphasizes both the technical and the application perspectives of data analytics. Graduates from this program are anticipated to be able to:
• develop business initiatives with strong story-telling ability
• lead organizational changes with data
driven decision making;
•proficiently use programming and database tools for descriptive, discovery, predictive, and prescriptive analytics


Graduates from this program will demonstrate in-depth knowledge in database, statistics, optimization, and decision theories, and be equipped with skills in Python/R, data warehousing, data mining, text mining and web analytics, big data analytics, and predictive/prescriptive modeling focusing on business applications. The program will focus on the implication of business analytics on various business functional areas such as marketing, supply chain management, finance, information systems, and prepare students with competencies to lead data-driven changes.

The MSBA offers one-year and two-year programs for full-time and part-time students. The MSBA's admission encompasses a diverse pool of students which enhances the learning experience for the students and creates a community of life-long collaboration.  
The deadline to apply to the program is July 1, 2021 and the GMAT/GRE requirement has been waived for the Fall 2021 applicants.

Learn more at ceu.cpp.edu/labj/msba.
Name of Institution
Cal Poly Pomona
Name of Business School or Program
College of Business, Master of Science in Business Analytics
Business School Dean
Erik Rolland, Ph.D.
(erolland@cpp.edu)
Year Institution was Founded
1938
Year Business School or Program was Started
1968
TOTAL MBA ENROLLMENT (all platforms offered)
55
Length of Programs
12 month and 24 month tracks available
Program Campus Options
Face-to-Face and online  
Program Accreditations
AACSB, WASC
Rankings
Cal Poly Pomona is No. 15 nationally and the top California State University in Money Magazine's list of the "Best Colleges in America, Ranked by Value 2020," based on quality, affordability and alumni outcomes. The university also ranked No. 7 among "Best Public Colleges," No. 2 among "Best Colleges Where More Than Half of Applicants Get In," No 10 among "Most Transformative Colleges," and No. 22 among "Best Colleges for Business Majors.
Total Cost of MBA
$31,285
Required Testing
The GRE/GMAT Requirements for Fall 2021 Applicants have been waived.
Upcoming Information Sessions
Tuesday, May 18, 2021 at 6PM
Please visit ceu.cpp.edu/labj/msba
to RSVP
Application Deadlines
July 1, 2021
Program Contact Information
ceu.cpp.edu/labj/msba
(909) 869-2363
Return To Index
For reprint and licensing requests for this article, CLICK HERE.