Big 5 Earnings, Stock Price Surge
Monday, May 10, 2021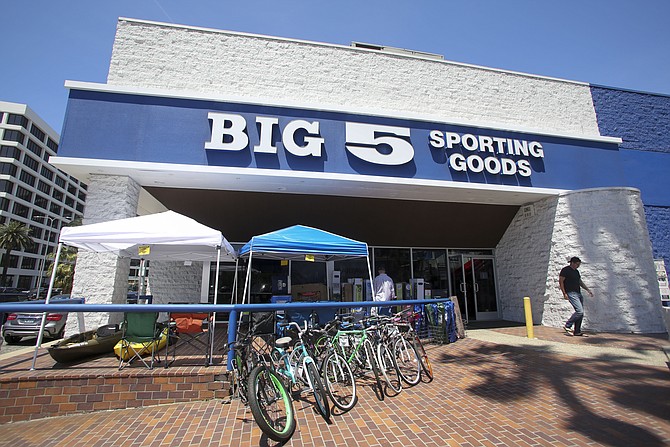 Last May, amid the pandemic, shares of Big 5 Sporting Goods Corp. hovered just below the $2 mark. A year later the stock price of the El Segundo-based sporting goods retailer reached $25, giving the company a market value of about $600 million.
 
The company's stock price surged about 30% in the days following its first-quarter earnings release when Big 5 reported what it called an "extraordinary start to fiscal 2021" with "top- and bottom-line results significantly ahead of guidance."
 
Net sales were $272.8 million, a 25.3% increase compared to $217.7 million for the first quarter of fiscal 2020 and an 11% uptick from the $245.3 million the company posted for the first quarter of 2019.

"Our performance was driven by a combination of strong top-line sales, merchandise margin expansion and an improved cost structure," President and Chief Executive Steve Miller told analysts during a May 4 earnings call.
 
"The sales acceleration also reflected benefits from school reopenings in our markets and coincided with the distribution of stimulus checks," he added.
 
Big 5 also posted net income of $21.5 million, or 96 cents a share, compared to a net loss of $4.6 million, or 22 cents a share, in the first quarter of 2020. The retailer had net income of $1.7 million during the same period in 2019.
 
"For the fiscal 2021 second quarter, we expect same-store sales to increase in the range of 22% to 27% and earnings per diluted share in the range of $1.05 to $1.25," Chief Financial Officer Barry Emerson told analysts.

Emerson added that the guidance reflects benefits from "comping against widespread Covid-19-related store closures last year. … We will cycle the majority of last year's store closures by the middle of May this year. And from that point, we will be comping against the ramp-up in sales following our store reopening."

Big 5, founded in 1955, sells private-label and name-brand athletic shoes, apparel and equipment for sports, fitness, camping, hunting and fishing sourced from some 680 vendors.
 
The company operates 430 stores, a 1.1-million-square-foot distribution center in Riverside and a 12,000-square-foot distribution hub in Oregon. It employs 8,400 full- and part-time workers.
For reprint and licensing requests for this article, CLICK HERE.