Luxury Retailers Report Signs of Recovery
Monday, May 3, 2021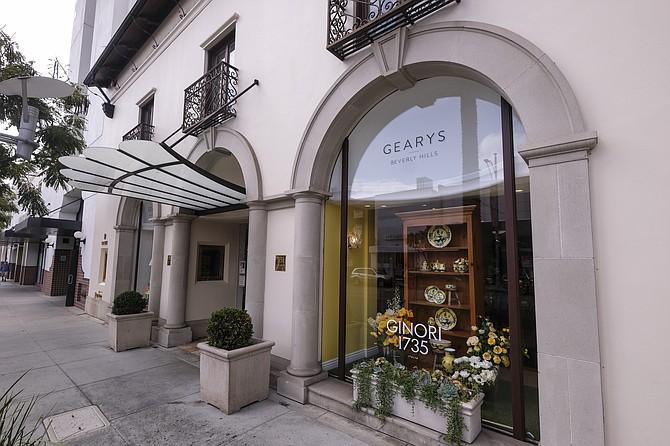 On a recent weekend, several out-of-town shoppers — a businessman from Michigan, another one from Florida and a visiting New Yorker — stopped by Jack Sepetjian's custom dress shirt store in Beverly Hills.

"We haven't had those traveling regulars come in in a while," said Sepetjian, chief financial of ficer of Beverly Hills Shirt Company Inc., which does business as Anto Beverly Hills. "We are still in the early stages of recovery, but I'm pretty sure by June or July, things will pick up. We're hoping to go back to 75% of regular sales."

Tom Blumenthal, who owns Gearys Beverly Hills and two fine watch stores on Rodeo Drive, shares Sepetjian's optimism.

"I'm praying that this vaccine is the answer, and it looks like it could be. Certainly, the cases in Los Angeles have gone down dramatically," Blumenthal said.  

As the Centers for Disease Control and Prevention relaxes the requirements for outdoor mask use and Los Angeles County approaches the least-restrictive yellow tier, local luxury merchants are hopeful that the near-full recovery is on the horizon. But experts warn the progress should be taken with a grain of salt.

The signs of turnaround are evident in new leasing activity, according to Carine Mamann, an executive director at Cushman & Wakefield, a commercial real estate firm that handles leasing for Two Rodeo, a retail center located at the corner of Rodeo Drive and Wilshire Boulevard. The complex features 27 tenants, including Tiffany & Co., Jimmy Choo, Versace, Carolina Herrera, Porsche Design, Brunello Cucinelli, Lanvin and Persol.

Mamann said high-end sneaker brand Golden Goose is moving into retail space at Two Rodeo vacated by French glassmaker Lalique. And Mamann's team recently leased several spaces at other properties on Rodeo Drive to other, yet-to-be-named luxury brands.
 
"Many retailers' sales have increased from pre-pandemic level, so we're definitely all super optimistic," she said.

The recovery process includes local hotels, according to Todd Johnson, president and chief executive of the Beverly Hills Chamber of Commerce.

"They're anticipating anywhere from 60% to 80% occupancy by the mid to late summer," Johnson said. "I think the holidays will be really good. ... I think the glass is now more than half full, and we are headed definitely in the right direction."

Pandemic setbacks

Gearys was closed for about 12 weeks last year, according to Blumenthal. Some of his staff of about 75 pivoted to fulfilling online orders for the company's home division while the rest were kept on payroll and worked from home.

"We sold a lot of outdoor entertainment items, things that you can use by the pool or on the patio, and so those items did really well, as well as our bar category — people were doing a lot of drinking," he said. "Luckily, we've spent a lot of money in the last couple years developing our website, so our website really turned out to be a great tool and continues to be a great tool."

The company's watch business — which includes a Gearys Patek Philippe and Gearys Rolex Boutique on Rodeo Drive as well as Rolex stores at the Westfield Century City and Santa Monica Place malls — was halted during the shutdown because those brands do not allow online sales to protect their local merchants.
"Since then, it's been terrific," Blumenthal said. "Our business has been very, very strong on both the watch and home side because a lot of people are redoing their homes or entertaining at home."

"We have had certainly a downturn in our foreign customers specifically, which has been a hit, but we've made up for it by locals spending here rather than them traveling and spending money outside of Los Angeles or outside of the country," he added.
Sepetjian, whose father founded the high-end shirt-making business in 1955, said his staff was busy working on existing orders until several months after the shutdown was implemented, but the influx of new orders dropped about 70%.
 
That included work for local studios as his shop makes custom shirts for actors in major films, including Tom Cruise in "Mission Impossible" and Matt Damon in "The Martian."

The business "just got frozen from mid-April until June, and then in July, kind of got picked up again," Sepetjian said. "And still we're running at about 50% to 60% now. … We cater to the upper billionaires, and those guys when they need things, they order them. … We have that niche, but then you want to see your regular guy that's working across the street at MGM or at William Morris and those places, the agents that come in and order their regular 10-12 shirts a year. You're not seeing those guys, right now."

The area also missed out on the influx of tourists from China, Saudi Arabia and Europe, which account for a notable chunk of luxury retailers' summer revenue.

"Normally for Ramadan, we would be packed, but that's obviously not the case this year," Johnson said. "But we fully expect it to be back to normal, at least by 2022."

Challenges remain

Pam Danziger, founder of Pennsylvania-based Unity Marketing and an expert on affluent consumers and the luxury market, said the recovery may not depend only on vaccinations and how quickly everything reopens.
 
Brands and retailers "want to put a nice, positive spin, and they want to reflect a hopefulness, but I think we need to be realistic about the challenges we face," she said.

"The affluent consumers that these brands depend upon have done well financially through the pandemic, so they still have money to spend and because they were not traveling, they were able to indulge some of the travel savings into luxury goods," Danziger said.

"But as we look toward 2021 and 2022, with people getting vaccinated and travel being able to recover, I'm sort of cautious about where luxury goods are going to go, because the pent-up demand now is not so much for a new handbag or a new outfit, but it's really now for experiences."

She also added that unlike the recession of 2008, "the pandemic hit not just our financial health and wellness, it threatened our physical health and wellness, and it had a tremendous impact on our emotional health and wellness."

In turn, Danziger added, a lot of people "are reevaluating what they need versus what they want. Luxury is always about just wants and not needs, and I think that the scales have tipped now toward more conscientious spending, really thinking twice or three times about making an extravagant purchase and asking, 'Do I really need it?'"

When it comes to Los Angeles as a travel destination, Danziger also raised concerns. With "all the unrest that we've seen in this country and rise in crime," tourists "are going to be really taking a hard look at where they go and what they're exposing themselves to," she said. "Who wants to go to a place that you don't know whether they're going to be boarding up tomorrow?"
For reprint and licensing requests for this article, CLICK HERE.