Faraday Future Looks to Chinese Market
Monday, March 29, 2021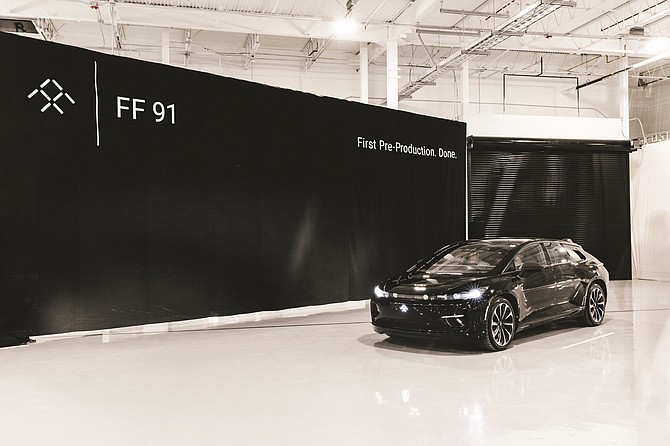 Electric vehicle company Faraday Future Inc. hired Xuefeng Chen as chief executive of its China division.
 
The Gardena-based automaker said Chen will "help orchestrate" the entry of the company's FF 91 crossover model into the Chinese market.

He will also oversee "project implementation, production strategy, development of localized products and creation of user ecosystem," in the region, according to the company.
 
Chen has 20 years of experience in the automotive industry, most recently at Chery Jaguar Land Rover Automotive Co. Ltd. in Changshu, China, where he served as executive vice president for a joint venture between United Kingdom-based Jaguar Land Rover and Chinese state-owned carmaker Chery.

Carsten Breitfeld, Faraday's chief executive, said Chen was "a critical hire to the realization of FF's U.S.-China dual home strategy."
 
"I am confident that his comprehensive management acumen and operational experience in luxury car brands will accelerate the implementation of FF's business in China and will be beneficial to FF's global strategic development," Breitfeld said in a statement.

Chinese technology entrepreneur Yueting Jia founded the automaker in 2014 to compete with Tesla Inc. in the electric vehicle market. Faraday, which has more than 300 employees in the United States, Europe and China, is investing about $90 million to remodel a factory in Hanford.
 
The facility is expected to come online by year end and have the capacity to produce 10,000 vehicles daily. Another manufacturing plant in South Korea, a former GM factory, will open in 2023 and will produce up to 270,000 vehicles per year.

Faraday is also preparing for a business rollout in China. The company is considering a joint venture with Zhejiang Geely Holding Group Co. Ltd., an automaker headquartered in Hangzhou that will provide contract manufacturing for the FF 91.
The joint venture will also include a "Tier 1 Chinese city," which will contribute 330 acres of industrial land for Faraday's use, the company said, as well as "provide a subsidy for the foreign investment efforts, such as tax benefits and an additional subsidy for the establishment of an R&D center."

The expansion will be funded via a recently announced merger with Property Solutions Acquisition Corp., a deal that will take Faraday public at a $3.4 billion valuation and net the business roughly $1 billion in proceeds.
 
About $230 million from the SPAC deal will come directly from Property Solutions, while $775 million will come from a private placement in public equity, or PIPE, investment accompanying the merger.
 
The PIPE's main investors include a major Chinese automaker and other unspecified institutional shareholders. Faraday will trade on the Nasdaq under the ticker "FFIE" following the merger's close in the second quarter of this year.
 
The FF 91, scheduled to launch in 2022, has more than 14,000 reservations.

The crossover SUV will "define the FF brand DNA, and this DNA will carry over to subsequent premium mass market vehicles in the portfolio," Breitfeld said in a document filed with the Securities and Exchange Commission. "FF 81 is expected to launch in 2023, and FF 71 in 2024. In addition to passenger vehicles, FF plans to launch a Smart Last Mile Delivery vehicle in 2023."

Faraday's retail footprint will consist of brand stores in 15 major U.S. cities by 2025 and 30 by 2030. The company's sales partners will include Jolta, a Miami-based EV dealership retail network, and Harmony Auto Group in China, among others. Faraday has also partnered with Formel D Group to provide vehicle service.
For reprint and licensing requests for this article, CLICK HERE.