Ports Set Records With February Cargo Volume
Monday, March 22, 2021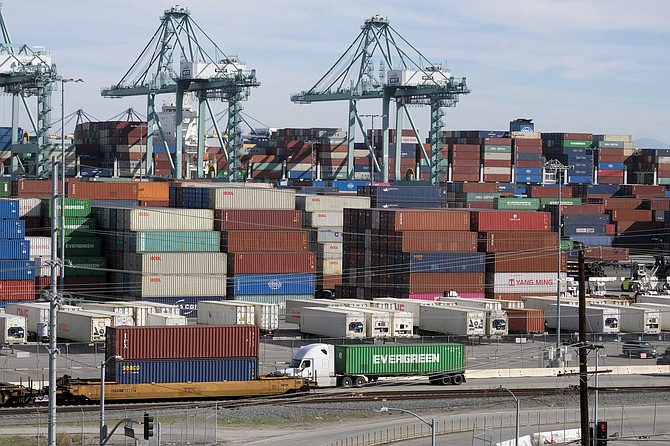 February cargo volume at the San Pedro Bay port complex was off the charts compared to dismal stats from the same period last year as imports jumped 53% at the Port of Los Angeles and 50.3% at the Port of Long Beach.
 
Even taking into consideration Covid-related shutdowns in China at the onset of the pandemic and dismissing 2020 as a one-off occurrence, cargo volume for the month still broke all-time records at both ports.
 
Dockworkers and terminal operators at the Port of Long Beach moved 771,735 twenty-foot equivalent units (TEUs) of cargo in February, a 43.3% uptick from the same month last year. That's 14% higher than the record set at the port in February 2018 when shippers increased their inventory to get ahead of impending tariffs on goods made in China.

"The supply chain workforce is giving its all to keep the cargo moving, even as their ranks are hit by the pandemic," Port of Long Beach Executive Director Mario Cordero said in a statement.
 
"New records are being set, demonstrating how busy they have been. We understand that shippers are awaiting their cargo and we are collaborating with our industry partners to deliver shipments as quickly as possible," he added.

The Port of Los Angeles churned out 799,315 TEUs of cargo in February, a year-over-year increase of 47%, and 10% above the monthly record set in February 2018.
 
"It's the seventh consecutive month of year-on-year increases, driven by one-way trade of imports," Port of L.A. Executive Director Gene Seroka said during a video press conference on March 16.
 
"Consumer buying has not let up. With more people getting vaccinated, the latest stimulus checks in the mail, and in-store safety protocols increasing, there are more options for American buyers," he added.

Exports at both ports were down, while the volume of empty containers headed abroad rose about 70% in Long Beach and 104% in Los Angeles.
"The lopsided trade imbalance we are witnessing is now at historic levels," Seroka said. "We need a coordinated export plan on a national level that will create American jobs and assist U.S. companies with getting back in touch with their customers overseas."
 
"More balanced trade will also improve the round-trip economics of service providers and ease the strain that we're seeing today in so many nodes of the supply chain," he added.

Import volumes will continue to be strong through the spring and into early summer, Seroka said, adding that the Port of L.A. anticipates handling some 830,000 TEUs in March.

"(That's) a projected increase of more than 80% compared to when we looked into the abyss just last March and failed to reach 450,000 container units," he said.
 
April cargo volume is expected be about the same as in March and 20% higher than the same month in 2020.

At the Port of Long Beach, cargo volume projections for March are at more than 700,000 TEUs, a 50% jump from 449,568 TEUs in March 2020. Port officials expect more than 600,000 TEUs in April, on par with the same period last year.

"How long this import surge in American buying spree will last and whether it becomes a new normal remains to be determined, but we continue to be committed to working on ways to further the efficiencies and velocity of cargo through America's Port while keeping health and safety of our workers No. 1," Seroka said.

Average time cargo ships were at anchor in February was 7.5 days, about the same as in January, according to Seroka, while container dwell time on terminals was 4.1 days, down from five days in January. Streets dwell time, or the amount of time cargo is awaiting warehouse space, was at 6.3 days in February, down from 7.6 days in January.
To clear the backlog, Seroka said, the entire waterfront workforce needs to be vaccinated, and unloaded cargo has to be picked up quickly by the importers. He also pushed for better sharing of cargo volume data, a deep reservation system for truck movement and segmenting cargo "to increase gate fluidity."

"About one-third of all of our international container business is destined for the Inland Empire," Seroka said. "If we can carve that out, move more of it overnight or when traffic is less busy on our roads and freeways and here at the gates of the port, I think we stand an opportunity to have a little more fluidity during the traditional 8-to-5 and 6-to-3 p.m. shifts that our labor partners work with on a regular basis."
For reprint and licensing requests for this article, CLICK HERE.