Who's Building LA: SoFi Stadium
Custom Content by the Los Angeles Business Journal
Wednesday, March 17, 2021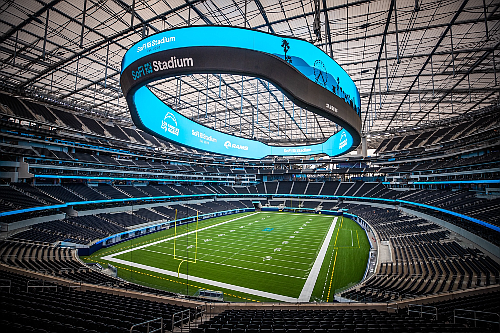 Inglewood
SoFi Stadium, the new home of the Los Angeles Rams and Los Angeles Chargers, is the first football stadium erected in Los Angeles in nearly a century. The open-air stadium seats approximately 70,000 and is also the only indoor-outdoor stadium to be constructed, as well as the NFL's largest stadium at 3.1 million square feet. Acting as the centerpiece of a near 300-acre development, the stadium shares a roof canopy with two additional unique venues – the 2.5-acre covered outdoor American Airlines Plaza and a 6,000-seat performance venue – all can simultaneously host different gatherings or work together for one large-scale event.
 
Developed by Los Angeles Rams Owner/Chairman Stan Kroenke, designed by HKS Architects, and built by the Turner-AECOM/Hunt joint venture, SoFi Stadium's architecture incorporated a series of engineering feats that had never before been attempted. The one-of-a-kind architectural elements were numerous, ranging from an event level that is 100 ft. below-grade and a 2.5-acre covered outdoor plaza to the world's largest cable net roof structure and the installation of the largest video board in sports.

The seating bowl sits 100 feet below the existing grade – more than two times the depth of similar venues. Rather than highlighting the staircases, elevators and escalators that typically dominate the route to the event level, the design team created a memorable experience for fans by designing a landscaped series of indoor/outdoor paths with amenities throughout.  

A signature feature of the stadium is the opened-ended, semi-translucent, one million-square-foot roof canopy, which helps define the facility as the only open-air, indoor-outdoor facility in the NFL. The roof canopy is comprised of three parts: the structural steel shell, including the compression ring, the cable net system, and ETFE (Ethylene tetrafluoroethylene), a lightweight and semi-transparent plastic.
 
The design of the roof enables the sun to shine inside the stadium and for breezes to be felt from the ocean five miles away. The roof structure is the biggest of its kind and is comprised of 35,000 unique panels, contains 17 miles of cable, and weighs 500 million pounds.
 
Lake Park, the central water feature at the SoFi Stadium development, consists of an upper and lower lake bridged by waterfalls with a total volume of approximately 16 million gallons. 
Project Highlights 
■  The open-air stadium seats approximately 70,000
■  Event level is 100 ft. below-grade
■  Opened-ended, semi-translucent, one million-square-foot roof canopy
■  70,000 square foot, 4k end-to-end video board is the largest in sports
Return To Index
For reprint and licensing requests for this article, CLICK HERE.