Who's Building LA: NAIOP Forecasts Strong Growth in Demand for Industrial Space
Custom Content by the Los Angeles Business Journal
Wednesday, March 17, 2021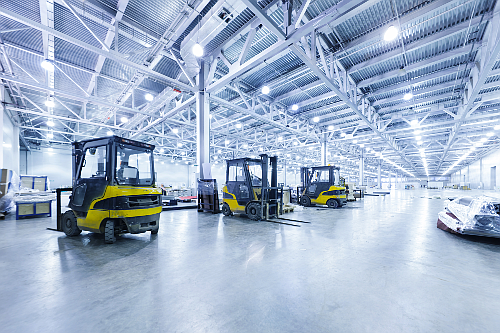 A new industrial space demand forecast, published by the NAIOP Research Foundation, projects total net absorption in 2021 to be 314.9 million square feet, with a quarterly average of 78.7 million square feet. In 2022, net absorption is projected to be 231.6 million square feet, with a quarterly average of 57.9 million square feet.
According to the report, the industrial sector continues as the leading property type, due in large part to increased demand for e-commerce during the pandemic and the distribution infrastructure needed to support it. Net absorption rates in industrial reached their highest levels since 2000, with higher rents and low vacancy rates.
"When the economy stabilizes, fundamentals will once again drive market behavior, and net absorption rates will likely mean-revert toward long-term growth trends," according to the report. "As more industrial tenants secure the space they need, net absorption rates will gradually dissipate in the coming quarters to levels that will likely be only slightly higher than economic fundamentals would have predicted before the pandemic."

The report explains that, "when the pandemic broke, there was a brief decline in net absorption, reflecting the tumultuous state of the economy. Since then, the CARES Act and subsequent stimulus packages have contributed to a sharp increase in net absorption, which has reached the highest rate since 2000. This rate of growth reflects a rebound in demand for industrial real estate and a return to long-term growth. Industrial rents continue to increase (more so along the coastal U.S. than in the Midwest), vacancy rates remain low, and transaction prices per square foot are higher, although deal flow has understandably experienced a modest decline. It is unusual to see such a high level of net absorption while the economy is still in a recession, but this is an unusual time in U.S. history."

"When the economy stabilizes," according to the report, "fundamentals will once again drive market behavior, and net absorption rates will likely mean-revert toward long-term growth trends. This is not to say that absorption rates will immediately slow; merely that the recent sharp increase in net absorption is unsustainable. The industrial market was already trending toward higher future demand between the first and third quarters of 2020 after experiencing a downward trend in the previous four years. However, the pandemic accelerated that demand, resulting in a short-term spike in net absorption. As more industrial tenants secure the space they need, net absorption rates will gradually dissipate in the coming quarters to levels that will likely be only slightly higher than economic fundamentals would have predicted before the pandemic."

The full report can be downloaded at the NAIOP website.

NAIOP, the Commercial Real Estate Development Association, is the leading organization for developers, owners and related professionals in office, industrial, retail and mixed-use real estate. NAIOP comprises 20,000 members in North America. NAIOP advances responsible commercial real estate development and advocates for effective public policy. For more information, visit naiop.org.

Return To Index
For reprint and licensing requests for this article, CLICK HERE.