Who's Building LA: Los Angeles LGBT Center Liberation Coffee House
Custom Content by the Los Angeles Business Journal
Wednesday, March 17, 2021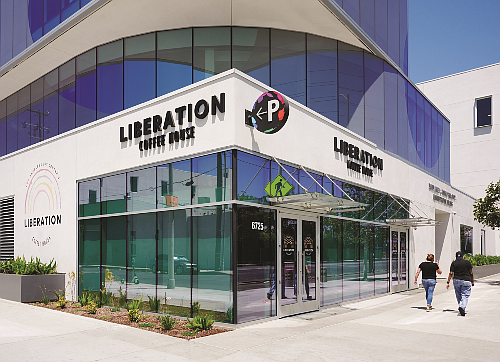 Los Angeles
The café, shop and gallery concept is located within a new LGBT Community Center building and is situated on a prominent urban public corner, as part of the Center's Anita May Rosenstein Campus. The space was conceived as a community living room for Center residents, employees and the surrounding neighbors. The café is operated and staffed by graduates of the LGBT Center's Culinary Arts program which prepares LGBTQ youth and seniors from the Center for employment in the restaurant and hospitality industries.
 
A celebration of the LGBTQ community in Los Angeles also inspired the design choices of the Liberation Coffee House. The interior palette of red, orange, yellow and green—which represent life, healing, sunlight, and nature, respectively, as part of the LGBTQ Pride flag—reference the positive, optimistic, and free spirit of the LGBTQ community and Los Angeles. A series of overlapping shear fabric panels hung along the café's floor-to-ceiling windows shield harsh southern light and soften views outside, creating a gradient of color reminiscent of a California sunset.

Wood accents, including a custom-designed curved wood bench and abundant planting, neutralize the strong colors bringing the outdoors in.

"The café's interior space was inspired by artist Keith Haring whose vivid colors and simple lines evoke energy and life," said ORA Architect and Designer Oonagh Ryan. "Building on this framework, the soft-curved architectural elements of the café's walls and furnishing represent the notion of fluidity. The Center's brief was to create a space that is welcoming to all, and our response was to create a flexible space that is fun, approachable, and accommodating to a variety of uses."
 
While the day-to-day use is a retail coffee shop, Liberation Coffee House's agile space layout can be reconfigured quickly to accommodate gallery openings, meetings, lectures, celebrations, networking mixers, and other community events.
Project Highlights
■  Vibrant, symbolic design choices
■  Interior design inspired by the work of legendary artist Keith Haring
■  Agile space layout can be reconfigured quickly to accommodate special events
■  Overlapping shear fabric panels hung along the café's floor-to-ceiling windows create a beautiful gradient of color

Return To Index
For reprint and licensing requests for this article, CLICK HERE.