Who's Building LA: How Binge-Watching Leads to Increased Entertainment Construction
Custom Content by the Los Angeles Business Journal
Wednesday, March 17, 2021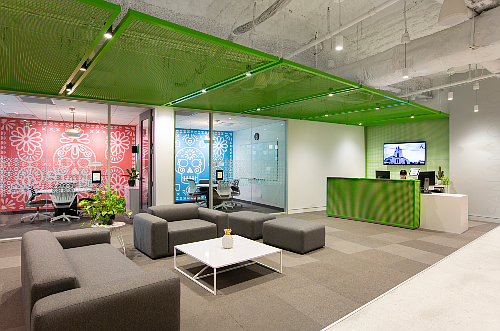 Even before the COVID-19 pandemic, the term "binge-watching" was a common household phrase. Of course it has increased in popularity in the past year. As the hub of entertainment production, the uptick in "binge-watching" has increased the demand for content in the Los Angeles area, while residents clamor for more home entertainment to ride out the pandemic.

The demand for content has also led to a demand for the space to produce it. This has had a tremendous impact on entertainment construction in Los Angeles, which will be felt for years to come.

Clune Construction has been witness to exponential growth in entertainment construction in the Los Angeles market since well before March, 2020. They continue to be inspired by the level of creativity that entertainment companies have put into the design and construction of their spaces.

"There seems to be a lot of creativity in entertainment builds vs. a traditional firm," said Peter Bahruth, executive managing director of Clune's West Region. "There's a lot of open ceilings, open concepts and a lot of fun areas with a beer tap, or coffee bar with full time baristas. Entertainment companies have always been about attracting employees."

Entertainment companies are building spaces that reflect the artistic nature of their industry, and their desire to stay ahead of the curve and focus on employees. This is not only done to attract staff, but to retain them as well.
 
The significant increase in demand for streaming over the past year has increased the demand for spaces to house these services. As well, the scope of the facilities is also becoming more complex.
 
Clune senior project manager Denise DeSisto recalls a project that required the structural isolation, or a building within a building to support a theater.
 
"We installed the same amount of structural steel on the interior of this facility that is typically installed on an entire core and shell building," DeSisto said. According to DeSisto, 190 tons of steel were installed to build the structural isolation as well as a seating platform. "That's definitely the most complex thing I have done," she said. "That's in addition to the attenuation requirements because it's a theater. It was so much more massive than anything I've experienced so far."
 
Like other industries, entertainment will see a change in how its employees work, with working remotely becoming more commonplace. The industry has already seen delays in production as a result of this shift.
 
Before the pandemic, decisions about production were made more quickly because all parties were in the same room. These decisions are now being delayed, due to the current remote working environment. It is likely that companies will need to adapt to these delays. Even when COVID-19 disappears, as remote working will likely not go away with it.

Clune has also witnessed an exciting trend in expansion within these spaces. Entertainment clients often have different branches and departments, such as programming, content creation/development, and marketing. Because of the increasing demand for content, companies are hiring and expanding at a rapid pace. As a result, one department may outgrow the anticipated space before a project is completed. A space that was initially designed for the marketing department, for example, will require adjustments to accommodate programming as well. The result is a face-paced and exciting construction process.

Regardless of where entertainment employees will be working in the future, the industry's rapid growth will likely not change.

Streaming companies have advanced their systems, and the need for post-production locations to edit a movie or a short series is growing rapidly. Clune is seeing clients acquire increasing amounts of property to develop more production studios. Randy Starbird, president of Clune's West Region, noted, "We are seeing companies building their own facilities, like screening rooms, where they may have outsourced that in the past."

"The need for improved streaming systems has greatly increased during the pandemic," said Darrin Craig, senior vice president and project executive for Clune. "I don't see it slowing down."
 
Despite the rapid pace of the entertainment industry, Clune does foresee a change in the workplace as a result of COVID-19. Providers will likely begin changing their protocols knowing that communicable diseases can easily be spread in smaller workspaces.
 
And the term binge-watching is not going anywhere soon.
 
"I think that people are still going to continue to use those services and there's going to be a need for it," said DeSisto. "And we're going to keep building their spaces."

For more information on Clune Construction's Entertainment Construction capabilities, visit the website at clunegc.com, or contact Randy Starbird at rstarbird@clunegc.com.
Return To Index
For reprint and licensing requests for this article, CLICK HERE.