Metro Weighs Rail Proposals for Sepulveda Pass
Monday, March 15, 2021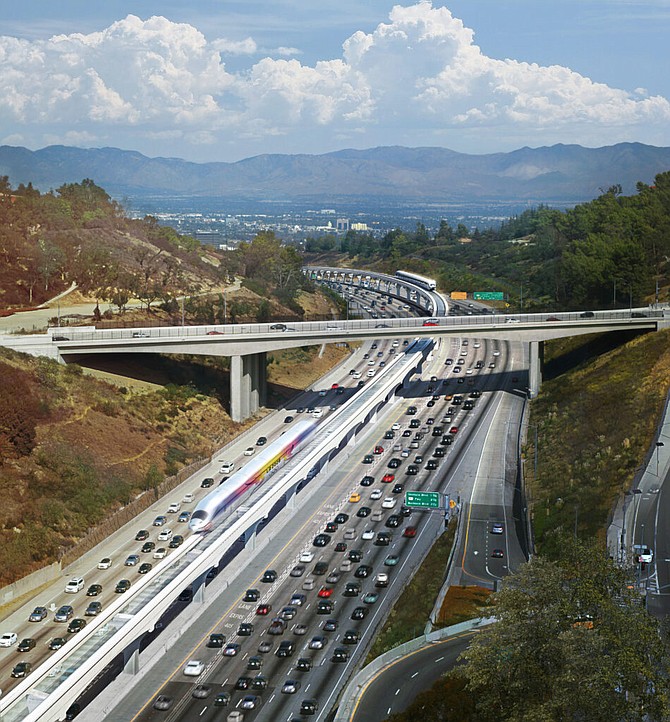 Could rail transit finally be an alternative to car commutes through the oft-congested Sepulveda Pass?

The Los Angeles County Metropolitan Transportation Authority board is slated to vote March 25 on proceeding with two proposals for rail transit through the Sepulveda Pass: One is a $6.1 billion aerial monorail, and the other is a $10.8 billion combination of subway and aerial rail.

If Metro moves forward with preliminary development contracts for each proposal, it will be the first time the transit agency has proceeded with two bid plans simultaneously right up until a final decision on a bid team is made and construction is set to begin.
 
It's part of a novel approach designed to maximize bidder/contractor involvement in the early phases of the project.

"As we work diligently to create a world-class transportation system here in the Los Angeles region, we will also be creating a new market for infrastructure innovation that can potentially help us build the most challenging project Metro has ever built," Phillip Washington, Metro's chief executive, said in the contract award recommendation announcement.

The goal is to provide an alternative to vehicular travel through the Sepulveda Pass, which saw up to 400,000 vehicles daily prior to the Covid-19 pandemic, according to Metro, and was often so congested that trips through the pass could take an hour or more.

When L.A. County voters in 2016 approved the Measure M sales tax increase, roughly $9 billion of those tax dollars were earmarked for rail transit through the Sepulveda Pass and much of L.A.'s Westside. The project was initially on a timetable for completion in 2033, but when Los Angeles won its bid to host the 2028 Summer Olympic and Paralympic Games, this was one of dozens of projects placed on a fast track for completion by 2028.

In August, four bid teams submitted proposals. Two of the bid teams — one led by Toronto-based Fengate Asset Management and the other led by Sylmar-based Tutor Perini Corp. — were eliminated, leaving two in the running.

The plan from the monorail team, known as LA SkyRail Express, calls for trains with rubber wheels to glide on an elevated monorail. Much of the 12.5-mile route would be in the median of the 405 Freeway.
 
The projected construction cost of $6.1 billion is only slightly more than the $5.7 billion from Measure M earmarked for rail transit through the Sepulveda Pass south to the E (Expo) Line.

The proposal from the heavy rail team, known as Sepulveda Transit Corridor Partners, calls for a combination of subway (roughly 62%) and elevated rail (roughly 38%) along its planned 13-mile route.
 
Although this alternative offers a slightly faster travel time — 20 minutes versus 24 minutes for the monorail — it's also much more costly at nearly $11 billion. Almost half of the funding would have to come from other sources besides Measure M.

If Metro's board approves the predevelopment agreements with both bid teams — $63.6 million for the LA SkyRail Express team and $69.9 million for the Sepulveda Transit Corridor Partners team — then the two teams would essentially be competing against each other for the next four years as their plans are refined and go through public comment and environmental review.
 
The timeline calls for Metro to make the final decision on which bid team and technology to use in 2025. That does not leave much time to construct the project and have it ready in time for the 2028 Summer Olympics.
For reprint and licensing requests for this article, CLICK HERE.