FDA Clears BreathDirect's Low-Cost Ventilator
Friday, March 12, 2021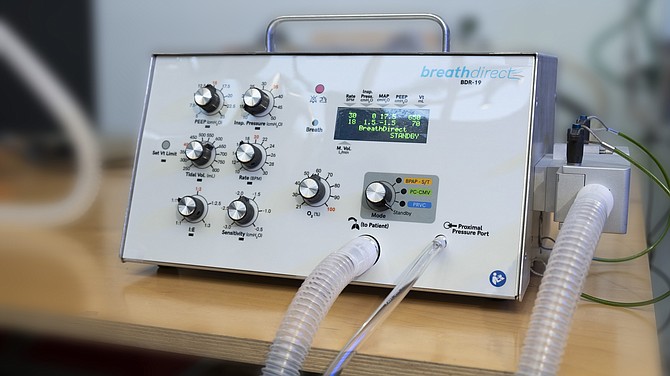 BreathDirect, a startup Long Beach medical device company, has received emergency use authorization from the Food and Drug Administration to market its low-cost medical ventilator.

BreathDirect was formed one year ago by Darren Saravis, chief executive of Nectar Inc., a Long Beach-based maker of medical devices, with the aim of producing a ventilator that would sell for $10,000 to $15,000, about a quarter of the cost of traditional ventilators.
 
The aim was to market to hospitals overrun with demand for ventilators at the onset of the Covid-19 pandemic.
 
At the time, hospitals and state and local governments were bidding up the price of scarce ventilators.

Saravis and Nectar had some experience making ventilators for clients. In his new venture, Saravis sought to use off-the-shelf parts and a contract manufacturer to bring down production costs.

Early investors in BreathDirect included brothers Mario and John Molina, former chief executive and chief financial officer, respectively, of Long Beach-based Molina Healthcare Inc.
 
The company lined up Shelton, Conn.-based Hubbell Inc. and Fremont-based Evolve Manufacturing Technologies Inc. as contract manufacturers.

By last summer, BreathDirect had a working prototype, which it submitted to the FDA for emergency use authorization to mass produce and market to hospitals.

Saravis at the time hoped authorization would come within a few weeks. But it ended up taking more than six months because care needs for Covid patients and the role ventilators played in treatment changed.
 
Improvements were made to make the prototype more user-friendly and more amenable to rapid training of medical staff. Also, the unit had to have parts and accessories that could easily be replaced.

"We have been in productive dialogue with the FDA as new protocols for care of Covid-19 patients have evolved. The result of our ongoing engineering enhancements is a safe, durable, easy-to-use machine that incorporates the learnings from respiratory therapists and ER physicians over this long pandemic year," Saravis said in a statement.

Meanwhile, BreathDirect's manufacturing partners have prepared an assembly line in Fremont to churn out the ventilators.

"Evolve Manufacturing has built an assembly process that will allow a BDR-19TM ventilator to roll-off the manufacturing line every 15 minutes — a remarkable pace for a medical device of this nature," Noreen King, chief executive and founder of Evolve, said in the announcement.
For reprint and licensing requests for this article, CLICK HERE.