Tri-Cities Real Estate Market Sees Mixed Results
Monday, March 1, 2021
Like every commercial real estate market in Southern California, the Tri-Cities area has wrestled with the impact of Covid-19.
 
But few markets have seen such a range of reactions during the pandemic, with some Tri-Cities municipalities soaring while others struggle.

Burbank, for instance, had a vacancy rate of 4.8% during the fourth quarter while Pasadena saw vacancies of 18.9%. Glendale had a 16.1% vacancy rate, according to CBRE Group Inc.

"Burbank has definitely maintained itself as one of the healthiest if not the healthiest submarket during the Covid era," Jones Lang LaSalle Inc.'s Patrick Church said.

Market experts say Burbank benefits from its status as a media and entertainment hub for streaming services like Netflix and Disney Plus.

"That's one of the reasons you see Burbank leading its siblings with occupancy of buildings because you've got this content media — huge companies that are trying to grow and control market share faster than some of the more traditional professional office users," said Andrew Berk, a principal at Avison Young Inc.

There are no large blocks of space left in Burbank, according to market watchers. Church said he thinks some entertainment companies would go to Glendale.

"It's a viable economic alternative to Burbank," he said.

Pasadena, meanwhile, now has "one of the highest vacancies ever seen," according to Natalie Bazarevitsch, a senior vice president at CBRE, who said the city's rate rises to 22.8% when sublease space is factored in.

Still, Bazarevitsch added, that hasn't been enough to affect market values in Pasadena.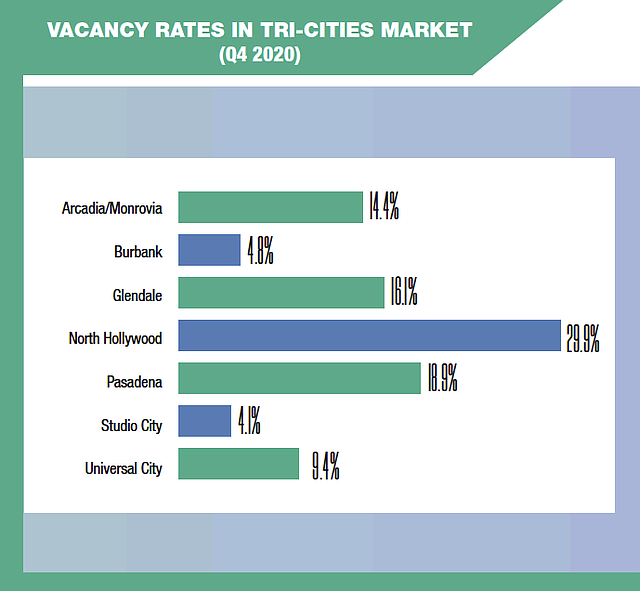 "It really came down to a number of consolidations, larger tenants not renewing, and tenants with big blocks of continuous space became blank, and small tenants that didn't renew," she said.

Bazarevitsch said some tenants were showing interest in the larger spaces, some of which are being repositioned after being vacated. For example, a roughly 240,000-square-foot building at 101 S. Marengo recently acquired by Atlas Capital Group is being repositioned from an old Bank of America building.

Church said that once some big tenants sign deals, he expects smaller tenants "will follow suit, but they want to see some of the bigger deals first."

Delaying decisions
Overall, according to CBRE data, the Tri-Cities market saw vacancies of 14.2% and asking rents of $3.29 in the fourth quarter compared with $3.36 in the same period the previous year.
 
Bill Boyd, a Tri-Cities office market expert at Kidder Mathews, said some high-dollar purchases in 2019 affected quoted rents while Pasadena rents have come down slightly "to a more competitive rent."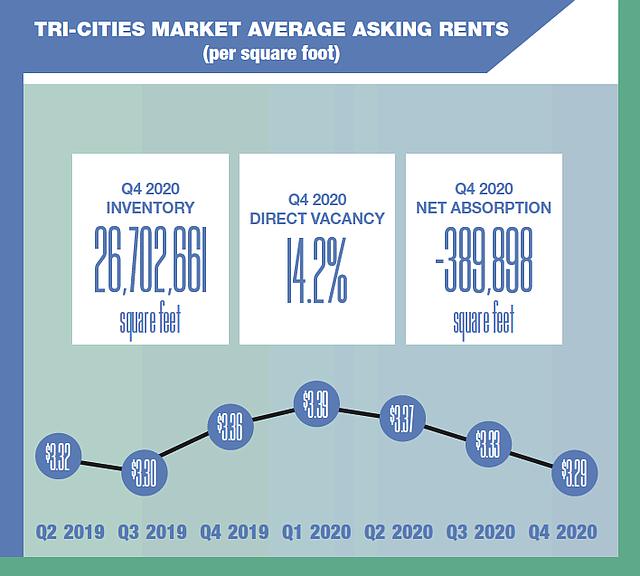 The coronavirus pandemic has caused many tenants to sign short-term lease renewals at the expense of long-term deals.

"People have been trying to delay major business decisions," Berk said.

Bazarevitsch said she was seeing tenants "kicking the can down the road as long as they can, deferring decisions. I've seen certain tenants make six-month, 12-month, 18-month renewals."

The largest leases signed in the Tri-Cities market during the fourth quarter were renewals, according to CBRE.

An unnamed tenant signed a lease renewal for 136,800 square feet at 3355 W. Empire Ave. in Burbank. State Farm Mutual Automobile Insurance Co. signed a renewal for more than 46,000 square feet at 655 N. Central Ave. in Glendale. And Cogent Communications Inc. signed a nearly 43,000-square-foot lease renewal at 2947 Bradley St. in Pasadena.
 
The fourth quarter saw a few notable office sales in the area. The largest by sales price was the $10.4 million sale of a building at 662-716 W. Broadway in Glendale. Broadway Square of Glendale purchased the property from a trust.

No other sale broke the $10 million mark, according to CBRE.

Boyd said that despite the challenges presented by the pandemic, 2020 was still a great year for him.

"Our market — even though it's had its issues — we've had in the last three years each year was better than the last year. 2020 was better for us than the prior two years."

Making concessions
Although rents remained strong in many Tri-Cities markets, brokers in the area saw that landlords were willing to offer more rent concessions in the form of free rent or increased tenant improvement allowances.

"For the last maybe two years, there might have been one month of rent abatement for every one year of lease term. We saw deals in the fourth quarter last year, some that had seven months of rent abatement on a five-year term," Boyd said.

He added that some landlords are also giving tenants a few months of rent prior to the lease commencing.
 
And tenant improvement allowances are at times being used toward rent abatement as well. For example, TIs might only cost $60 a foot, but the landlord could give $75 a foot, and the $15 extra a foot could go toward the tenant's rent.

"The landlords will continue to be creative in their economic concessions," CBRE's Bazarevitsch said.
 
Berk said landlords were giving concessions rather than lowering rents because that can affect the way assets are valued.

"Nobody wants to be the first one to start bringing those down," he said.

And although there are some unknowns, brokers are hopeful for the future of the market but expect tenants to negotiate more.

"I expect tenants pushing more, having more negotiations, trying possibly to do shorter-term deals until they get to a comfort level, and landlords are somewhat more willing to have those conversations that they wouldn't have a few years ago with the terms, especially with the smaller tenants," Berk said.
Top 5 Leases in Tri-Cities Market (by square footage)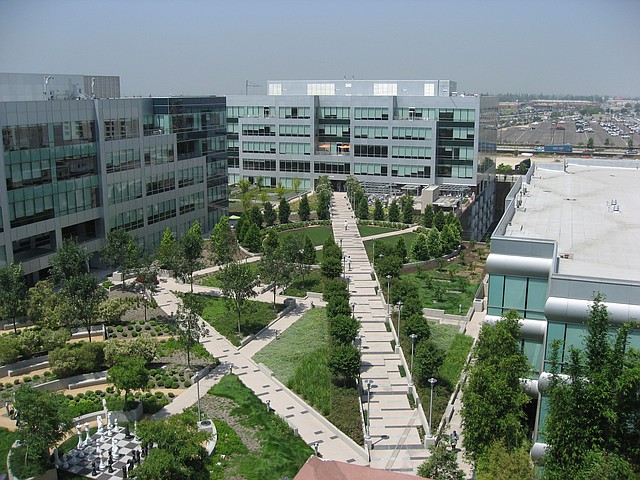 Tenant: NA
Address: 3355 W. Empire Ave., Burbank
Square feet: 136,880
Lease type: Renewal
Tenant: State Farm
Address: 655 N. Central Ave., Glendale
Square feet: 46,312
Lease type: Renewal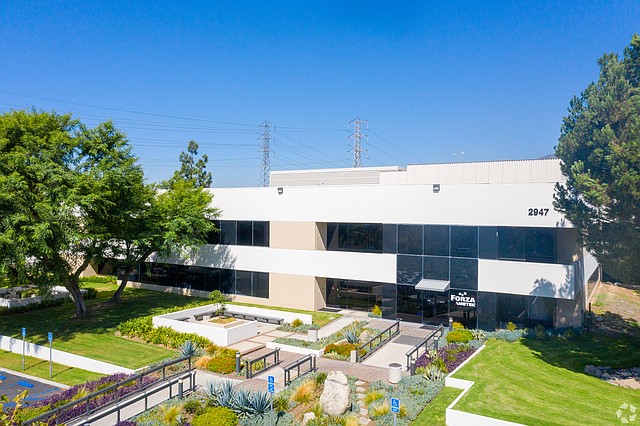 Tenant: Cogent Communications
Address: 2947 Bradley St., Pasadena
Square feet: 42,757
Lease type: Renewal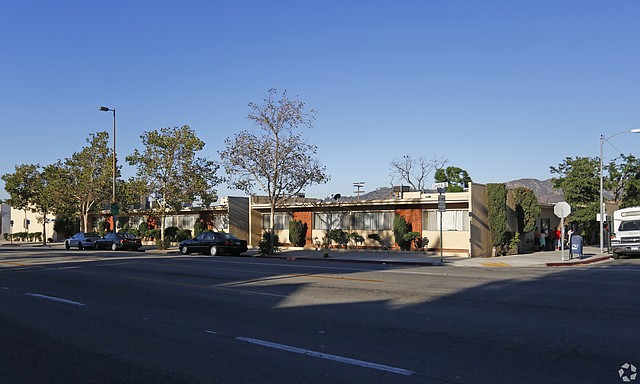 Tenant: BrightSpring
Address: 611 S. Central Ave., Glendale
Square feet: 27,945
Lease type: Renewal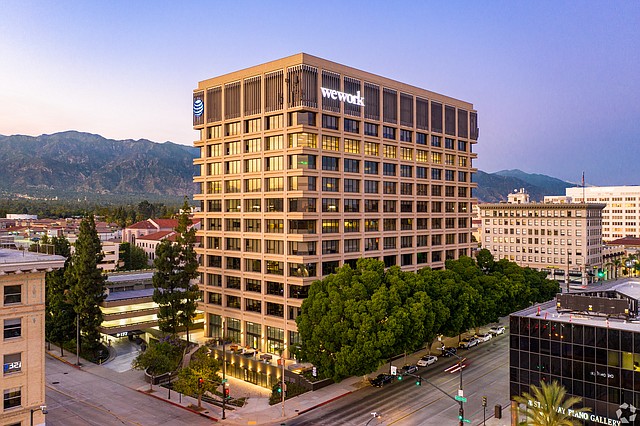 Tenant: Arrowhead Pharmaceuticals
Address: 177 E. Colorado Blvd., Pasadena
Square feet: 24,434
Lease type: Expansion
Top 5 Sales in Tri-Cities Market (by price)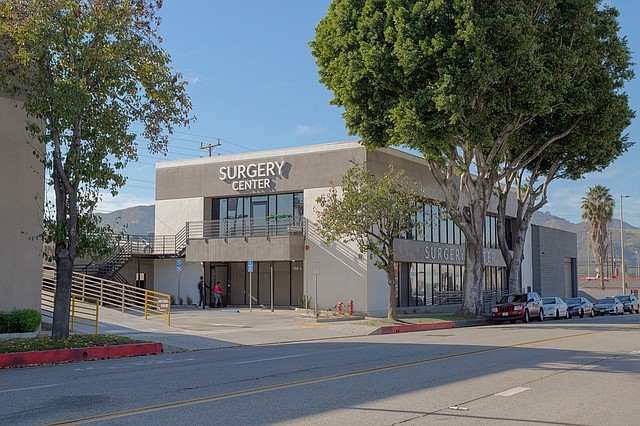 Buyer: Broadway Square of Glendale
Seller: Michael F. & Donna Dimaria Maluccio Trust
Address: 662-716 W. Broadway, Glendale
Price: $10.4 million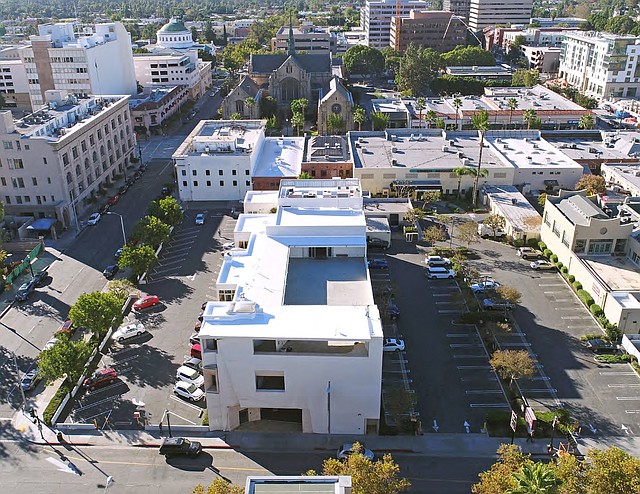 Buyer: Spectrasonics
Seller: Missions Venture Partners
Address: 490 E. Union St., Pasadena
Price: $7.9 million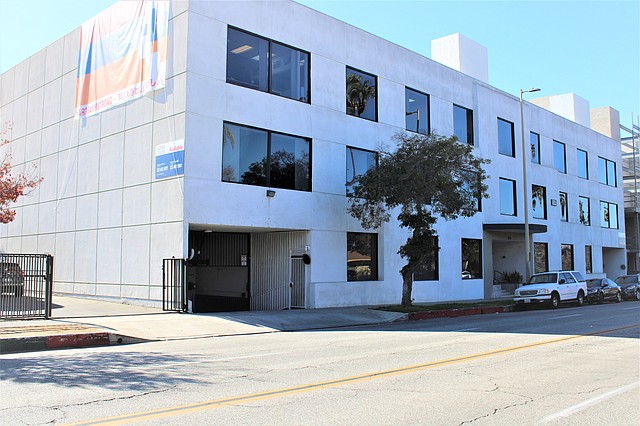 Buyer: KJT Law Group
Seller: Positive Investments Inc.
Address: 600 W. Broadway, Glendale
Price: $6.9 million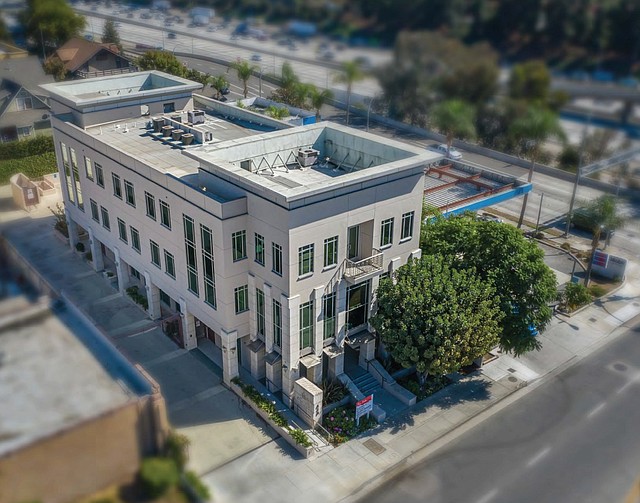 Buyer: Social Vocational Service Inc.
Seller: Solutionz Video Conferencing
Address: 418 N. Fair Oaks Ave., Pasadena
Price: $6.4 million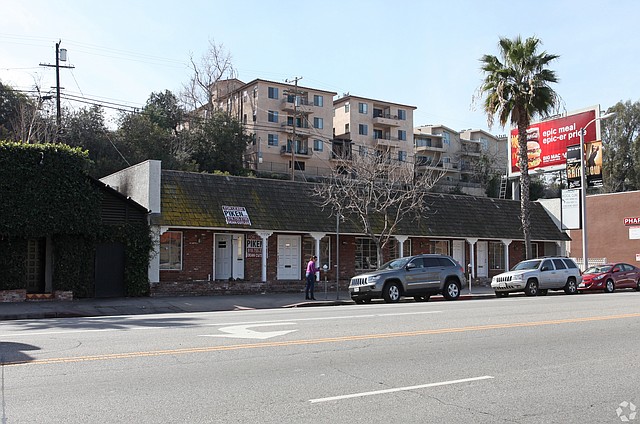 Buyer: True Care for Pets
Seller: Mark & Sofia Vaisman Trust
Address: 11724 Ventura Blvd., Studio City
Price: $5.1 million
For reprint and licensing requests for this article, CLICK HERE.