Cancer Awareness: A Young Mother's Battle With Lung Cancer
Custom Content by the Los Angeles Business Journal
Wednesday, June 30, 2021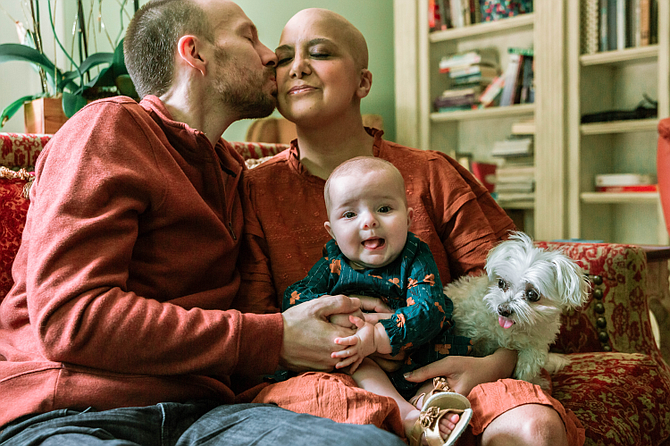 In April 2020, Jessica Sherrie, a sketch comedy actor, gave birth to Regina, a delightful baby girl. During pregnancy, Sherrie experienced "intense" back pain, which she learned was not that unusual in the third trimester.

However, instead of diminishing after birth, the pain got worse. Sherrie also became weak, and her cognitive abilities began to decline. That's when she and her husband Alec realized something was wrong, though her original doctors were slow to detect it.
"One CT scan was unclear," recalled Alec. "Then, there was an MRI with no follow-up. We waited for more than a month."

The bad news came on Sherrie's 34th birthday: EGFR-positive lung cancer, and it had spread: a "golf ball-sized tumor" in her brain and other tumors in her spine and pelvis.

EGFR-positive cancer is triggered by a defect in the epidermal growth factor receptor, found in both normal and cancer cells. The mutation leaves the receptor stuck in the "on" position, causing uncontrolled growth. EGFR-positive cancer occurs mostly in women and primarily among nonsmokers.

Fortunately, chemotherapy and several targeted therapies, known as EGFR inhibitors, have shown remarkable results. Though when Sherrie heard "lung cancer," all she felt was fear.

"It threw me for a loop," she said. "I was terrified. Both my in-laws died of lung cancer.
I was thinking the worst."

Sherrie began radiation treatment for the brain tumor, but her condition was deteriorating rapidly. Her father called a friend who worked at City of Hope and urged his daughter to visit the place he called "the best of the best."

City of Hope is a world leader in cancer research, treatment and prevention. Here, doctors partner with scientists to transform laboratory breakthroughs into treatments that outsmart cancer, as well as diabetes and other life-threatening diseases.

U.S. News & World Report has ranked us among the country's elite cancer hospitals for more than a decade.

Most important, at City of Hope our goal is to care for the whole person, so that life during treatment and after cancer can be rich and rewarding. We work with our patients and their families at each step of the journey, providing interdisciplinary supportive services, including psychology, patient education, support groups, social work, physical and occupational therapy, and nutritional and financial counseling.
By the time Sherrie made it to her physician's office at City of Hope, she was in a wheelchair and in such mental decline she could not speak nor fully comprehend conversations.

"She was on the brink of death," recalled her oncologist Erminia Massarelli, M.D., Ph.D., M.S.

But no one in the room was giving up.
"At first I thought to myself, 'God help us, this will be tough,'" Massarelli remembered.
"But I never lose hope. I've treated other patients like Jessica, and I've witnessed miracles made possible by drugs that target EGFR mutations. It can truly be a 'Lazarus effect'" — when a patient thought to be lost is brought all the way back to health.

"I had faith I was going to live," said Sherrie, whose positive attitude was well known to her family. Early on, when one doctor began talking about "quality of life," implying Sherrie might not survive very long, Sherrie's mom cut him off. "No!" she said. "My daughter wants to fight through this!" Too weak to speak, Sherrie gave a thumbs up.
The Sherrie family liked Massarelli immediately.

"We got along really well," said Sherrie. "She really knew what she was doing, and I knew I was getting the best care from one of City of Hope's top doctors."
Plus, there was the common bond of motherhood.

"Being a mom myself, I understand how determined she was to live for her daughter," Massarelli said.

There would be many setbacks. Treatment with the EGFR inhibitor Tagrisso had to be stopped when Sherrie developed lung inflammation, a rare side effect that put her in the hospital for weeks. She was switched to chemotherapy. Then, as she began rehab to start walking again, Sherrie tumbled and broke her hip, leading to six more weeks in a wheelchair as she convalesced.

Then, on New Year's Eve, Sherrie tested positive for COVID-19.

Though it was a mild case ("Two days," she said. "Like a cold."), it could not be ignored, and this is where Sherrie benefited from many months of hard work, painstaking precautions and invaluable experience gained by the patient safety specialists at City of Hope.

Everything was in place to treat Sherrie when COVID-19 struck. She received bamlanivimab, an antibody treatment currently authorized for emergency use by the Food and Drug Administration. It worked well. Meanwhile, she continued her chemo, which is also working, along with physical therapy. As a result, Sherrie was finally able to walk into her most recent follow-up exam, and when Massarelli told her the tumors were shrinking, "she gave me a big hug," said Sherrie, smiling.

The Sherries' story carries a double message.

First, perhaps most important: The care is still there.

"We haven't stopped providing excellent cancer care, despite COVID-19," Massarelli said. She's concerned that people fearing infection may delay diagnosis or treatment. Fight that fear. "Call us right away."

Second, attitude matters.

"Stay positive. Don't give up," said Sherrie. "I know that the fact I was so determined helped me." She admits to having more than a few bad days, but she urges, "Do what you can to overcome your fears."

The Sherries are planning ahead should the tumors begin to grow again. Sherrie is currently undergoing genetic testing to determine if she has any other mutations — information that could be useful down the road if her chemo stops working, so another targeted therapy can be identified. Plus, she's ready for newer treatments in development, should they become necessary.
 
And of course, there's nothing like a new addition to the family to really change your outlook.

"When you have Regina to consider, things really start to matter," Sherrie said.
"She's worth fighting for."
Return to Index.
For reprint and licensing requests for this article, CLICK HERE.