Business Owners Try to Prepare for California's Reopening
Monday, June 14, 2021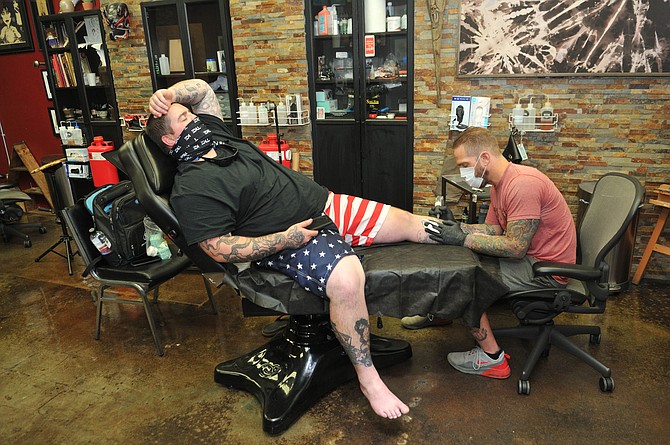 Local businesses are welcoming California's long-awaited June 15 reopening with tempered expectations.

Some are struggling to attract the workforce needed to support business as usual while others worry the public is not quite ready to step out of homebound routines established during the pandemic.
 
"It's been a crazy, unpredictable year, but we're happy that things are opening up again, and we're catching our tempo," said George Mlouk, the owner of Nico's restaurant in Long Beach. "But unfortunately, I don't think we'll be (operating) at full capacity. We're having a problem hiring staff. A lot of workers are either not ready to come back to work or don't want to come back to work because of the unemployment benefits.

"We probably need another five to eight employees to run (the restaurant) without having the employees that we have right now working six days a week and 20 to 30 hours' overtime on average," he added.

Mlouk opened the boutique Mediterranean restaurant in 1998. He banded together with other Long Beach restaurant owners to protest Los Angeles County's ban on outdoor dining in December. As business picked up in the spring, the owners formed another alliance and now share employees.
 
"This has never been done before, where somebody is washing dishes at one place and then also washing dishes on other days in another place," Mlouk said. "It seems like we were all worried about getting open again and following all the new rules and regulations, but nobody saw that there's going to be shortage of workforce."

Andy Wiederhorn, chief executive of FAT Brands Inc., shared Mlouk's concern.

The Beverly Hills-based company, whose roster of franchises includes Johnny Rockets, Fatburger, Buffalo's Cafe, Buffalo's Express, Hurricane Grill & Wings, Ponderosa and Bonanza steakhouses, Elevation Burger and Yalla Mediterranean, has 650 franchised restaurants that employ about 25,000 workers.

"We've seen very strong sales everywhere, and with the full reopening, we expect that to continue," Wiederhorn said. "But I would describe the labor market with two words: total nightmare. We're not only reopening stores, we have some 40 new locations that will open this year, and it's very hard to find additional employees right now. It's clearly the result of the stimulus, which ultimately will go away, and people will come back to work."

WaBa Grill Franchise Corp., a City of Industry-based fast-casual restaurant chain remained open throughout the pandemic, shuttering only its dining rooms.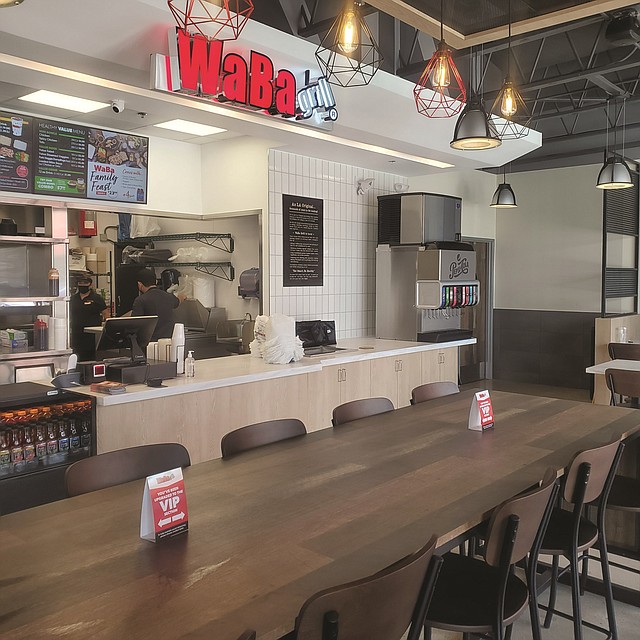 "We're excited to add that dine-in component back," said Chief Marketing Officer Mark Finnegan. "We've held off just because there were so many different standards with various health departments, and we are looking forward to June 15 kind of being a good day of reconciliation between all of them, so we can just give one set of instructions to our (franchise) owners and progress from there."

WaBa has 192 restaurants with about 10 to 15 employees at each location.

"We didn't lose as many people as the restaurants that had to close altogether, but as the pandemic eased, we've gotten back to (opening) the stores that were under construction and got delayed, and now they're approaching the opening date, and they are having a hard time finding new employees," Finnegan added.

Michael Marsh had to close his Paper Crane Tattoo parlor in Long Beach during the pandemic and had to contend with an 80% drop in revenue last year. When restrictions eased in March, he and his five tattoo artists started taking appointments but still couldn't keep regular store hours — they were not allowed to take walk-ins or have people waiting in the lobby.  

"I'd love to hire two or three artists in anticipation of a full reopening on June 15, but so far, my searches have been empty-handed," said Marsh. "In the past, that's never been an issue."

He said there are several factors at play that are making hiring more difficult.

"I know a couple artists that simply just work from home and then also receive federal aid and unemployment" Marsh said. "Then there are some artists that are simply scared to move to a new studio (as) it does take a bit of energy to reestablish at a new location."

But he remains optimistic.

"Hopefully (on June 15), the neighborhood will become livelier, and that it signals to people that maybe it's okay to go out and shop and visit your neighbors and stop by these businesses that have not seen you for the past year."
 

Building sales
Nick Mayer's team at the Alhambra-based pizza chain, Shakey's USA Inc. saw an uptick in sales when dining rooms partially reopened in March.

"I don't think that we're going to see a really big change on June 15th in sales volume," Mayer said, adding that the return to "complete normalcy" will depend on several factors, such as availability of disposable income, health concerns, as well as individual circumstance.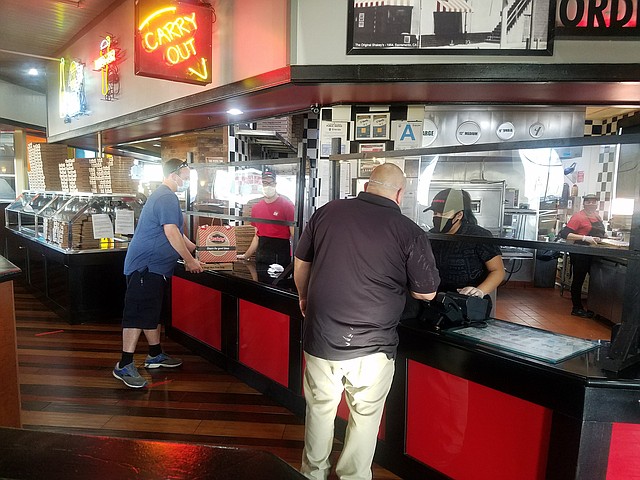 "(People) may want to return to restaurants, but if they still have kids at home or their office hasn't opened back up, or they are still only partially employed, that may prevent them from attending a restaurant," he said.
 
There are also new habits to contend with.
 
"Maybe a family has spent the last year ordering dinner once or twice a week from their restaurant, and they've kind of gotten used to it and they like it, and despite the fact that they are fully able to go back into a restaurant and they have the money and time to do it, they still prefer to just kind of stick to what they've been doing for the last year," Mayer said.

Culver City-based Veggie Grill Inc. is also looking forward to seeing more consumers at its 28 dining rooms. Prior to the pandemic about 50% of the fast-casual chain's business came from dine-in sales, while takeout and delivery generated the other half. During the past year, the ratio shifted to 20% of guests sitting in the dining room, 40% choosing takeout, and another 40% using third-party delivery to get their plant-based meals, which cuts into company's profits.

"It's always better for us to have people either pick up the order and take it home or sit at the restaurant and eat it there," said Chief Operating Officer Jay Gentile. "Ultimately sitting in the dining room is a way for us to establish relationships with the guests. Managers make friends with locals in the neighborhood and people are more committed once they know you, they come back."

"I think as we progress through the summer and Covid rates keep falling, people will get more comfortable, and there will be a bit of normalcy because everyone is craving that. If you look at full-service restaurants, people are clamoring to be at a table, to have cocktails, to sit with their friends and family, because they haven't been able to for year and a half. So, it's a big deal. I'm very optimistic that the world will come back," he added.

Still facing losses
Westside School of Ballet in Santa Monica, founded in 1967, will fully open come June 15.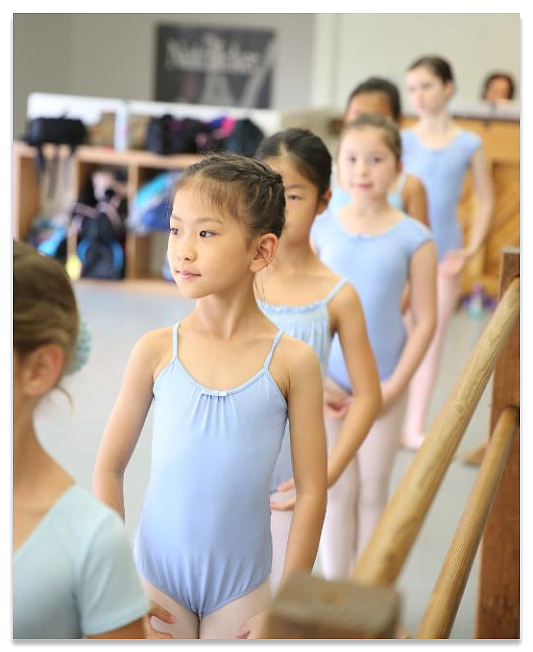 "I'm very excited, and I hope people feel comfortable coming," said Executive Director Allegra Clegg. "All classes will be in person, and then a lot of them will still have the capacity for Zoom."

The online video-conferencing program enabled the school to continue operating throughout the pandemic, but it's not conducive for teaching certain ballet techniques, Clegg said. While students can use a kitchen counter to hold poses during a barre class, other maneuvers like jumping are best done on school's sprung floors to avoid injuries.
 
"At the beginning of the pandemic, we were losing about $40,000 a month," Clegg said. "It's a lot for a small business, and now we're losing about $20,000 a month, and that's mostly because people aren't coming back."

She added that she hopes easing of the restrictions will help boost enrollment "because you pay the teachers a certain amount, and if you only have five kids, they're still getting paid the same amount, but if you have 10 kids, you maybe can pay your bills better."

Dario Higuchi, after a year-long shutdown, opened Signature Resolution's doors last week but does not expect clients to walk in just yet. The downtown-based company provides nearly three dozen conference rooms for court mediations and case management, as well as 31 mediation facilitators such as retired judges and lawyers who no longer litigate cases.

"There's a lot of logistics involved," Higuchi said. "All of our hearings are booked in advance, some three four, five, six months out. I'm not going to be seeing any guests in here all week unless the last-minute case gets scheduled. But it doesn't happen very often."
 

For reprint and licensing requests for this article, CLICK HERE.