20 in Their 20s: Mitchella Gilbert
Monday, June 14, 2021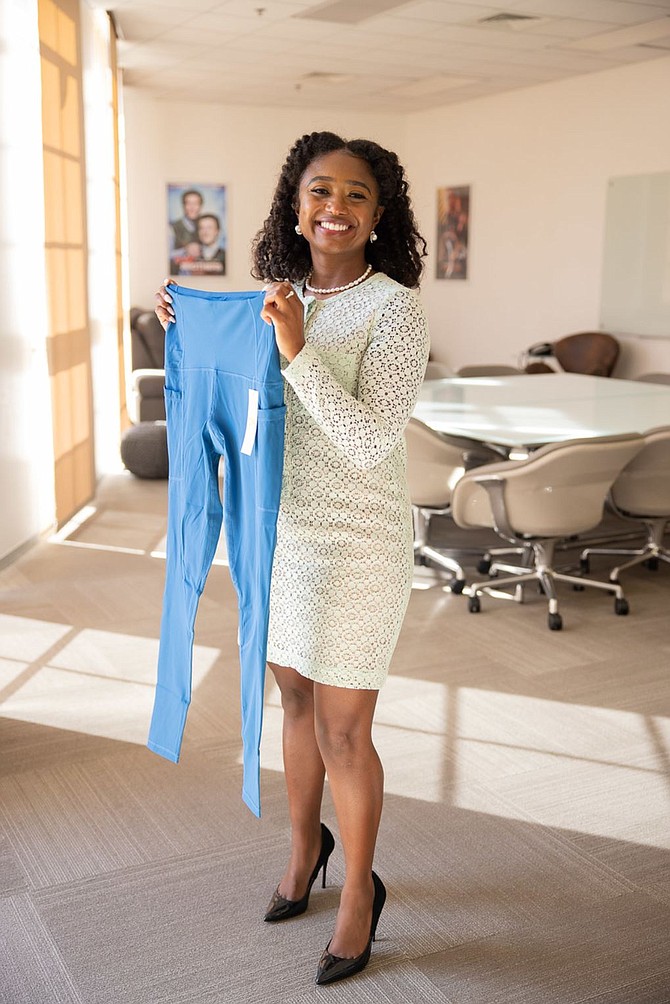 Mitchella Gilbert, 29
Company: Oya Femtech Apparel Inc.
Title: Co-Founder and Chief Executive
Location: Sawtelle
Founded: 2018
Number of Employees: 3

What led you to start this business? 
I knew I wanted to start a business in apparel, and I needed to figure out what is something that we can do that's unique and distinctive, and that would actually help people. As an athlete, I wore leggings and was getting yeast infections, and I did not realize why until my OBGYN told me that women who wore leggings are two times more likely to develop health issues. At that point I got mad (because) we have the technology to fix this problem.
 
We partnered with an L.A. manufacturer, Musa Direct in Florence, and started prototyping leggings, and we are the first OBGYN-approved legging in the market. Our products are five times more breathable than an average legging and three times more absorbent. And we're not going to stop there because I really want the industry to get to a point where we think about how we support women's health, as opposed to men designing our products who don't consider women's health.

How are you funding the business? 
We've been really fortunate with pitch competitions, and we've been able to raise $47,000, and that has been super helpful. We also received $25,000 in investments, and now we're in the process of raising a round of $1 million.

What are the advantages and disadvantages to starting a business in your 20s? 
When you're in your 20s, you're typically broke, and that's definitely a disadvantage. Also, you must be really clear on your idea and have the business sense. There's a lot of people who just get excited about the product, but their unit economics and things like that don't make sense, and I didn't get good at that until I came to business school. The advantage is I have no kids. Right now, it's just me taking care of me, and honestly, I struggle at that every day, and I can only imagine how stressful and risky it would be for me to have kids and try to figure this out.

How has the pandemic affected your business?  
A lot of fashion apparel brands lost money or went out of business during the pandemic. We were one of the few apparel businesses that made money. … We were able to take advantage of the rise of direct-to-consumer athleisure, and we sold out our collection.
 
Where are you and your team working? 
We've been remote for a whole year.

Where do you go for advice regarding your business?
We have three advisers: Matthew Pierce, CEO of Versus Systems; Barry Eggers from Lightspeed Venture; and Lauren Miller, of Grassroots Carbon, and she's just an amazing powerhouse.

Where do you go for professional services such as legal help, accounting, etc.? 
When we first started getting into all the competitions, we actually won legal services through Fenwick & West, and everyone else has come to us through a word of mouth.

Does social responsibility play a role in your business? 
We are a green company — our products are zero waste. They feature a pad that's removable and reusable. Also, we manufacture here in L.A. so we are paying living wages. Even our fabric is made locally.

Do you feel that your business is particularly tailored to the Los Angeles market? 
We were born out of UCLA, and it's where we want to be. Our target customer is here — women who are feminists, who just want healthy clothing, and they're frustrated and over it.

What do you do for fun? 
Take a bath and hang out in my bathroom. No one can find me there.

Keep reading the 2021 20 in Their 20s Special Report.

For reprint and licensing requests for this article, CLICK HERE.