Rebound in Passenger Traffic at LA-Area Airports Continued in April
Monday, June 7, 2021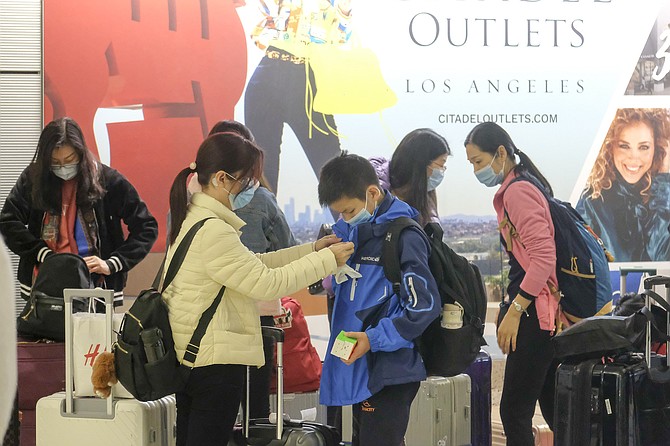 With passenger traffic soaring again at local airports, the outlook for summer is strong — except when it comes to international travel.

In April, the four airports serving Los Angeles County saw passenger traffic hit the highest level since the pandemic began, and preliminary numbers for May showed continued signs of improvement.

"We are seeing passenger numbers rise quickly as the demand for air travel surges across the U.S., so we want to make sure our guests know they will be returning to an airport that is bustling with travelers and at times experiencing heavy traffic," said Justin Erbacci, chief executive for Los Angeles World Airports, the city agency that runs LAX.

Los Angeles International, Ontario International, Hollywood Burbank and Long Beach airports saw a combined 3.7 million passengers go through their gates in April, up 19% from March and almost double the total from February.

That's still down 56% from the nearly 8.5 million passengers that went through the four airports in April 2019, a year before the pandemic hit, showing there's still a long way to go before air travel returns to pre-Covid levels.

The April total marked a 963% increase from the same month in 2020 when local airports experienced a pandemic-driven low of 348,000 passengers. At LAX, the roughly 300,000 passengers for April 2020 was the lowest monthly total since 1955, before the age of widespread jet travel.

On the air cargo side, 331,000 tons flowed through the four airports in April, a 5% dip from March. Yet that was still the second-highest total on record, and it was up 28% from both April 2020 and April 2019.

Meanwhile, preliminary results for May show the passenger picture at LAX continuing to improve rapidly.
 
For the first time since the pandemic began, average passenger boardings recorded in May by the Transportation Security Administration were more than half of pre-pandemic levels.

The TSA for the month reported an average of roughly 63,000 passengers screened per day at LAX, a drop of about 46% from May 2019. That average was nearly 10 percentage points better than the 55% drop in April.

The TSA figures represent a little less than half of the total passenger traffic at LAX as they don't include arriving passengers or people transferring to flights and not having to go through security.
Year-Over-Year Airport Traffic Changes

Airport

% Change Apr. 2021 vs. Apr. 2020
% Change Apr. 2021 vs. Apr. 2019
LAX
927.2%
-57.5%
ONT
933.3%
-32.9%
BUR
1122.0%
-64.7%
LGB
2455.5%
-45.8%
Total
963.1%
-56.2%

Airlines add flights

Airlines have been adding domestic routes back at a rapid clip as Covid vaccinations have increased, and more people are willing to travel. In recent weeks, several airline chief executives have said publicly they expect bookings this summer to reach up to 80% of pre-pandemic levels.

Hollywood Burbank Airport, which was hit even harder proportionately than LAX by the pandemic, is shaping up to be one of the big beneficiaries of this latest travel surge.
 
Several airlines — including Dallas-based Southwest Airlines Co. and Seattle-based Alaska Airlines Inc. — have added flights at the airport. In addition, two newcomers have started flights from Burbank. Avelo Airlines, a new carrier headquartered in Houston, has made Burbank its West Coast hub with 11 new flights. And Frontier Airlines will launch with three flights at Burbank in July.

Frontier is also adding flights to Atlanta at Ontario International Airport and is increasing the frequency of flights to its home base of Denver.

Overall, Ontario continues to be the best performer among local airports. Its April passenger count totaled 299,000, a drop of nearly 33% from April 2019 — by far the smallest percentage drop from pre-pandemic levels for any of the four airports serving L.A. County.

"A reflection of our recovery can be seen in this year's passenger numbers versus pre-pandemic levels, and those numbers show we are steadily regaining passenger volume as airlines restart suspended services and initiate new routes at Ontario," Mark Thorpe, chief executive of the Ontario International Airport Authority, said in the announcement of April figures.

International travel lag

At LAX, the numbers of domestic and international travelers continue to follow different trajectories. Domestic passenger traffic was down 49% to 2.65 million in April compared to April 2019. But international traffic was down 80% from April 2019 to 1.3 million.

International flights have been added back at LAX in recent weeks, including to destinations such as Tokyo, Vietnam, Tahiti and Belize. But progress has been much slower than on the domestic side.

"We are still at less than 50% in passenger traffic versus the same time in 2019, and international travel continues to significantly lag behind domestic gains," Erbacci said of the April figures.

Airport officials said the international travel picture was still too murky to make accurate predictions for the summer. Many countries have eased travel restrictions in recent weeks as their Covid case numbers have dropped and vaccinations have increased. But other nations, including India, have seen renewed spikes, prompting fresh travel restrictions.

One local international trade and tourism expert expressed cautious optimism that international travel would rebound during the summer.

"We are all still assessing safety and dealing with some restrictions, but it looks like we are turning the corner and international visitors could potentially come back in force this summer," said Stephen Cheung, president of World Trade Center Los Angeles and chief operating officer of Los Angeles County Economic Development Corp.
 
"We are hoping that international travel picks up rapidly and safely because it fuels international investment into L.A. and supports our massive tourism industry in Los Angeles, both of which create jobs," he added.

Cargo volume robust

On the air cargo front, LAX has once again become the prime driver of growth in tonnage moved. The airport's total of 251,000 cargo tons in April was up 42% from April of last year and 32% from April 2019.
 
During the early stages of the pandemic, LAX was the nation's prime import location for personal protective equipment. Later on, it became a hub for vaccine shipments.

The region's other major cargo airport, Ontario, actually saw cargo tonnage fall 3% in April to 74,500 tons compared to April of last year. But that was still up 20% from pre-
pandemic April 2019.
 
Early in the pandemic as people were shifting to making online purchases from home, Ontario, with its proximity to major warehousing and distribution operations, became a major hub for shipments of orders for Amazon.com Inc. and other online retailers.

Cargo tonnage decreased 5% in April to 331,000 tons from a record high in March, possibly due to April having one less day than March.
Year-Over-Year Air Cargo Changes

Airport

% Change Apr. 2021 vs. Apr. 2020
% Change Apr. 2021 vs. Apr. 2019
LAX
42.4%
32.0%
ONT
-2.9%
20.5%
BUR
8.9%
5.0%
LGB
-8.7%
-34.0%
Total
28.2%
28.4%
For reprint and licensing requests for this article, CLICK HERE.