Investor and Trump Ally Tom Barrack Arrested on Lobbying Charge
Tuesday, July 20, 2021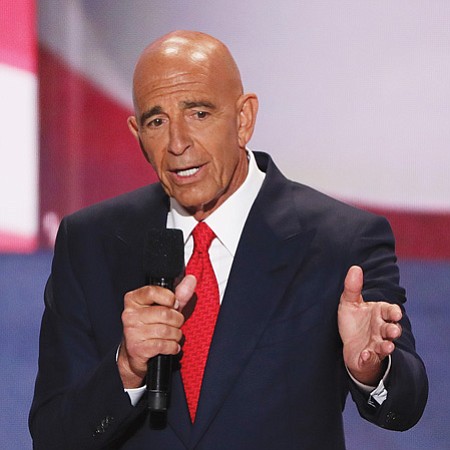 Private equity icon Tom Barrack, a Santa Monica resident and longtime friend of former President Donald Trump, was indicted July 20 on federal charges of acting as an unregistered lobbyist to advance the interests of the United Arab Emirates.
Barrack, 74, was one of three people charged in the indictment released by the U.S. Department of Justice. The other two were Matthew Grimes of Aspen, Colo., and Rashid al-Malik Alshahhi, a UAE businessman. 
Barrack and Grimes were arrested on the morning of July 20. At that time Alshahhi remained at large.

Last year, Barrack stepped away as chief executive of Colony Capital, the investment firm he founded in Los Angeles nearly 30 years ago and turned into one of the biggest names in private equity. 
Colony Capital specializes in contrarian investments, buying assets when those asset classes are out of favor. 
After Barrack stepped down as chief executive, the firm moved its headquarters from downtown to Boca Raton, Fla.

Grimes was an employee at Colony Capital.

Barrack was one of Trump's closest confidants for more than 25 years. He spoke on behalf of then-candidate Trump at the 2016 Republican National Convention. 
After the election, Trump picked Barrack to chair the Inaugural Committee. Barrack reportedly sought a diplomatic post with the new administration – unsuccessfully – before returning full-time to his duties at Colony Capital.

According to the indictment, the trio used Barrack's status as a Trump friend and advisor to advance the interests of, and provide intelligence to, the United Arab Emirates as that country sought to bolster its position with the incoming Trump administration.

The indictment alleged this unlawful lobbying activity took place between April 2016 and April 2018. One specific example cited was Barrack allegedly inserting language praising the United Arab Emirates into a Trump campaign speech in 2016.

"The defendants repeatedly capitalized on Barrack's friendships and access to a candidate who was eventually elected President, high-ranking campaign and government officials, and the American media to advance the policy goals of a foreign government without disclosing their true allegiances," Acting Assistant Attorney General Mark Lesko of the Justice Department's national security division, said in the Justice Department's announcement of the indictment. "The conduct alleged in the indictment is nothing short of a betrayal of those officials in the United States, including the former President."

Besides the charge of acting as an unregistered lobbyist between April 2016 and April 2018, Barrack was also charged with obstruction of justice and making multiple false statements during a June 20, 2019, interview with federal law enforcement agents.

Attorneys for Barrack, Grimes and Alshahhi could not immediately be identified.

In a statement to the Washington Post, a spokesman for Barrack said the real estate investor was not guilty.

"Mr. Barrack has made himself voluntarily available to investigators from the outset," the statement appearing in the Post read. "He is not guilty and will be pleading not guilty."
For reprint and licensing requests for this article, CLICK HERE.