Papa Cantella's New Dodger Dogs Reach Grocery Stores
Monday, July 19, 2021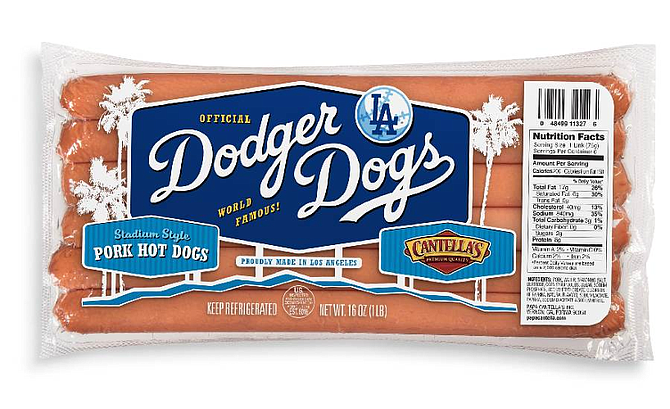 Dodger Dogs are back in the grocery stores, but the packaging looks slightly different. Instead of carrying the Farmer John logo, another local company's name is gracing the six- and 24-packs of the stadium favorite.
 
Vernon-based Papa Cantella's Inc. took over the contract to supply the Chavez Ravine venue and major grocers in May after the Dodgers decided not extend a longstanding deal with Farmer John's parent, Virginia-based Smithfield Foods Inc.
"We are excited to help fans feel like they're at Dodger Stadium all summer long with retail packs of Dodger Dog," President Tony Cantella said in a statement. "Dodger Dogs have been a Los Angeles staple for decades, and now people can get that quality and nostalgic flavor on their own grills this summer."

Dodger fans consumed 2.7 million hot dogs at the stadium in 2019, according to the National Hot Dog and Sausage Council in Washington, D.C.
 
Thomas Arthur, Dodger Stadium's first concessions manager, is credited with launching the 10-inch, all-pork wiener in 1962.
 
The popular snack, often served either grilled or steamed, was made by Morrell meat company at the outset. Clougherty Packing, doing business as Farmer John, took over production in 1972. New Mexico-based Hormel Foods Corp. acquired the meat processor in 2004 and sold it to Smithfield for $145 million in 2017.

Papa Cantella's has about 200 employees and specializes in making meal kits, cooked and raw sausages, and hot dogs. Its founders, Thomas and Caryn Cantella, started the business in 1980 out of a 2,700-square-foot facility in downtown. About 12 years later, Papa Cantella moved to Vernon, making products for its in-house brand as well as under private labels for major grocery chains.

The Dodgers contract with the Dodgers was "one of those things that's been untouchable, that you don't even think about," Tony Cantella told Dylan Menter, the host of the How-to Entrepreneur podcast.
 
The winning strategy involved an understanding of "how important that item and that history is" and "and recreating that experience for Dodgers and their fans," Cantella added.
For reprint and licensing requests for this article, CLICK HERE.