Ritual Adds Plant-Based Protein Shakes to Line of Supplements
Monday, July 12, 2021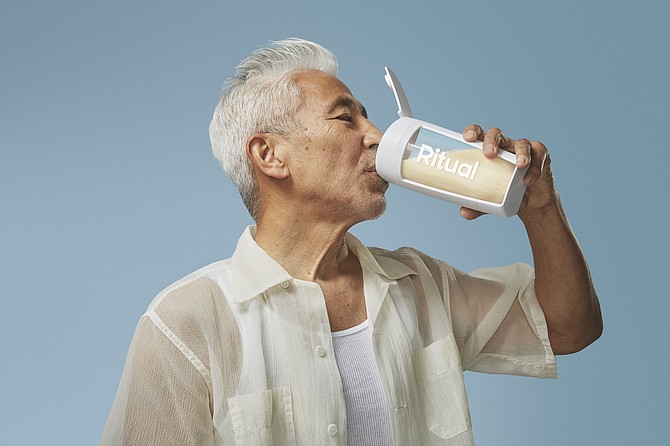 About 10 miles up the road from Beyond Meat Inc., another local company is looking to pea protein to grow its bottom line.

Instead of burgers, Culver City-based Natals Inc., doing business as Ritual, is marketing a plant-based protein shake
 
powder.

Launched in May, Ritual's Essential Protein line consists of three sugar-free, vanilla-
flavored products, each aiming to serve a different demographic: young adults, those 50 and over, and pregnant or postpartum women.
 
The powders can be consumed with "water or with some kind of nut milk (so it's) really easy and convenient," according to founder and Chief Executive Katerina Schneider, who launched Ritual in 2016 as a subscription-based, direct-to-consumer supplements-maker.

"I think that in the next five years we have the potential to be a multibillion-dollar company — probably even sooner — and our proteins category will grow just as fast as our multivitamin category," she said. "In fact, we're seeing that it's our biggest launch to date."

Ritual, which has 100 employees, declined to disclose annual sales figures but said it was profitable in the second half of 2020.

"We want the company and the brand to become a household name, and we're always thinking about what's the fastest way to do that, whether to go public or to sell … but right now we're super heads down and just focused on the growth," Schneider said. "We've doubled our revenue in the past year, and we're continuing to scale really quickly."

Schneider started Ritual after a stint at Atom Factory Inc., a Culver City-based entertainment company whose founder, Troy Carter, maintains investments in some 80 companies, including Uber Technologies Inc., Spotify, Dropbox Inc., Warby Parker Inc. and Lyft Inc.

"I always knew that I wanted to start a company but wasn't quite sure what it would be," Schneider said, adding that the idea for Ritual came about when she was pregnant with her first child and struggled to find a prenatal vitamin brand "that was both scientifically backed but also had a traceable supply chain."

Schneider used most of Ritual's $1.3 million in seed money for research and development of vitamins that are made with "forms of ingredients that all of our bodies can use," she said, and that are formulated to help fill gaps in the diet and have no artificial flavors or synthetic fillers.

Traceable ingredients
The ingredients in Ritual's products are also traceable — for example, the vitamin D comes from the United Kingdom, the omega-3 from Saskatoon in Canada, and the folate used in its prenatal vitamins is sourced from Italy.  

The company said it has raised "north of $50 million" to date from a pool of investors that includes Forerunner Ventures, Norwest Venture Partners, Founders Fund and Upfront Ventures.

Ritual's first product, a nine-ingredient multivitamin for women 18 and over, launched in October 2016, followed by a prenatal vitamin two years later. A similar supplement designed for women over 50 debuted in 2019, and a men's daily multivitamin was introduced last year.  

Ritual said its target customer is a family's "chief health officer" — a millennial parent or soon-to-be parent who "makes the majority of the purchasing decisions in the household."

The company is focused on this person because, Schneider said, "he or she not only cares about their health, but they put the health of their family first and foremost, and that was really important for us."
 
"We know that customer because we are that customer as a company, and we know how to market to that customer, speak to that customer better than anyone," she added.
 
The company's move into prenatal vitamins has also been rewarded.

"Two years after we launched the multivitamin, we launched a prenatal vitamin and now (it's) one of the leading prenatals in the U.S., which is super exciting," Schneider said. "For many people, it's an entry point into the brand and into our world, and it's the best entry point because as you can imagine, you have to really trust the brand in a major way during that (crucial time)."
 
Schneider brought Nima Alamdari on board in 201
8 to serve as chief scientific officer. Prior to joining Ritual, Alamdari was head of research and development at Beachbody Co. Group, a Santa Monica-based subscription health and wellness company.

"He thought that Ritual had this really great opportunity to create a traceable supply chain when it came to (the protein) category in the same way that we did with the multivitamin category, and I was like, 'Yeah, that's interesting.'" she said. "It took us a while to align. He made his case in just how essential this product would be and, and how exciting it would be, especially for the pregnancy."

'Life stage' products
Ritual's take on plant-based protein includes sourcing peas from a regenerative farm in Wisconsin and pairing them with methionine, a sulfur-containing amino acid, and choline, a nutrient that can be found in foods like eggs, beef liver, salmon, cauliflower and brussels sprouts.
 
"We created this product for different life stages … because the needs for those life stages are different, and that was actually really groundbreaking for this category where it was always like one size fits all for everyone," Schneider said.

"In the next 12 months, we have a lot of launches coming up," Schneider said. "I think the protein category itself is very, very massive, and the supplement industry is (worth) tens of billions of dollars just in the U.S. There's a lot of potential, but I think the kind of umbrella vision is really to be the most trusted destination for everyday health more broadly."
For reprint and licensing requests for this article, CLICK HERE.