Plus-Size Retailer Torrid Hits $2.5B Valuation After IPO
Monday, July 5, 2021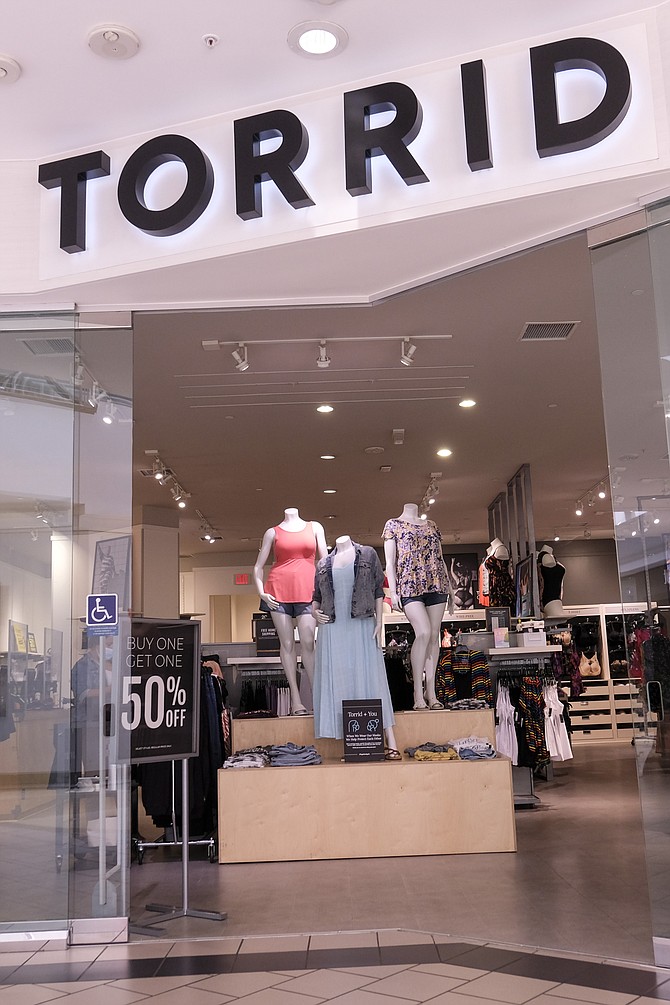 Torrid Holdings Inc. has been around as a brand for two decades, helping plus-size women look and feel good in garments tailored to complement their curves.  
But with Gen Z pushing cultural shifts that celebrate inclusivity and body positivity, it appears Torrid is just getting started.
"We are definitely at the intersection of something very big that's happening, and it's a good time to service this customer," said Elizabeth Muñoz, chief executive of the City of Industry-based retailer.
"I think this industry has tried to shame big girls into getting thinner, and clearly that hasn't worked. I love that we're going to just embrace women and accept them and really push them to accept themselves for what they are. I always tell women the best body you have is the one you've got right now and stop waiting for life to start when you get another one. I'm excited about the movement."
Apparently, so is Wall Street. Torrid's July 1 debut on the New York Stock Exchange under the CURV ticker symbol went well — its shares opened at $21 and at market close were trading at $24, or 14% above the initial price.
The company offered 11 million shares and raised $230 million, for a valuation of about $2.3 billion. Torrid's largest shareholder, Sycamore Partners Management in New York, will retain approximately 77% of the voting power, down from 84.7% prior to the listing.
Muñoz, who along with other members of Torrid's management team got to ring the NYSE's closing bell, described the debut as "an extraordinary step toward really becoming a household name and reaching all these women out there that have not found us."
She also said it was a "moment of recognition" for the work and dedication of the brand's "mission-driven" employees.
Revenue growth
Sycamore picked up Torrid in 2013 as part of its $600 million acquisition of Hot Topic Inc. The brand had operated as a Hot Topic subsidiary since its launch in 2001.
Torrid was spun off as a stand-alone company in 2015 but continued to share back-office services with former parent Hot Topic, including information technology, distribution and logistics management.
Last week's market debut was Torrid's second attempt at going public. It first filed for an IPO in July 2017 but retracted the filing in April 2019, stating that the withdrawal "would be consistent with the public interest and the protection of investors," according to documents filed with the Securities and Exchange Commission.
The company appeared to do well without the public funds — during its fiscal year that ended Feb. 1, 2020, Torrid generated a record $1.03 billion in net sales, a 14% increase compared to its fiscal 2019. It also reported $41.8 million in net income.
The company's top line took a 6.1% hit last year due to pandemic-related store closures. It reported a $63.5 million dip in net revenue to $973.5 million and income of $24.5 million.
The decreases reflected significant declines in brick-and-mortar sales that were partially offset by increases in ecommerce. Online orders represented 42% and 48% of Torrid's net sales in 2018 and 2019, respectively. In 2020, ecommerce sales represented 70% of net sales.
The company is on track to reach pre-pandemic sales this year — it posted $12.9 million in net income on $326 million in revenue during its fiscal 2022 first quarter, which ended May 1.
Target customer
Torrid competes with Lane Bryant, Eloquii, Nordstrom, ThirdLove and Old Navy. It caters to the "25- to 40-year-old curvy woman who leads a social and active lifestyle and wants to wear clothes that make her look and feel good," the company said in the S1 statement filed with the SEC.
Torrid's product assortment includes tops, denim, dresses, intimates, activewear, footwear and accessories that are designed in-house and made in Asia by contract manufacturers.
The company's market differentiator is offering well-fitted clothes for consumers who range in size from 10 to 30 and who struggle to "find clothing as stylish and attractive as those available to non-plus-size women," the company said in the S1 statement filed with the SEC.
"For most apparel brands, plus-size is an afterthought as they do not invest time and resources to optimize fit on real plus-size models but rather simply rely upon 'grading-up' existing non-plus-size offerings through extended sizing, which leads to poor, inconsistent quality and fit," the statement continued. "Most of the existing dedicated plus-size brands target an older consumer or lack the product design and technical capabilities to deliver the fit she wants. ... We believe our superior fit, brand experience and our unified commerce strategy position us well to cater to this underserved market."
Muñoz said Torrid's customers are also "the most underserved" in apparel history. She noted that there are tens of thousands of stores for the over 40 million "straight size" women but less than a couple of thousand stores that service the more than 90 million women who are plus size.
"We are 608 of those doors," she said, adding, "98% of women's stores are dedicated to 30% of the population while ignoring the rest of it. The opportunity is massive."
IPO funds
Torrid's retail footprint encompasses the United States, including Puerto Rico, and Canada. It has 57 stores in California. It also runs a distribution and fulfillment facility in West Jefferson, Ohio, and uses Hot Topic's warehouse in the City of Industry to support a significant portion of its business.
The company's workforce includes 2,047 full-time and 5,261 part-time employees, 446 of which work locally.
The company said it plans to use funds raised in the IPO to increase its presence in the "$85 billion U.S. women's plus-size apparel and intimates market."
Torrid also said its strategy includes investing in the growth of Torrid Curve, a line of activewear, loungewear and sleepwear, as well as bras and other intimates that feature "patent-pending back smoothing technology and recently introduced wire-free bra that require significant investment and are not easily replicated by competitors."
Torrid will also work on attracting new customers via "targeted investments in performance and brand marketing, including paid search, retargeting, social media campaigns, plus-size community-based events, in-store experiences and product collaborations."
"Disciplined rollout" of new stores is also in the works at a pace of about 25 new doors per year, Muñoz said.
"Our stores generate a high level of positive contribution and act as a low-cost source of new customer acquisition, requiring a small upfront investment of capital expenditures and pre-opening expenses that is quickly paid back as a result of our customers' high repeat purchasing behavior across channels. We target payback periods of less than two years, in line with our historical openings." Torrid said in the S1 statement.
For reprint and licensing requests for this article, CLICK HERE.