LA Filming Activity Hit Record Low in 2020
Wednesday, January 27, 2021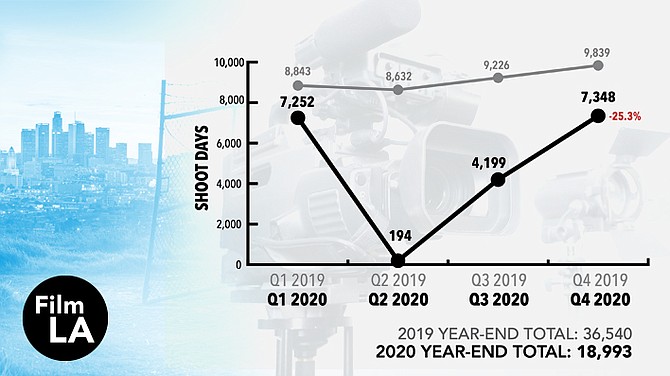 Filming activity for television, movies and commercials in Los Angeles cratered in 2020, hitting a record low as the coronavirus pandemic halted or delayed productions.
The number of shoot days dropped by nearly half in 2020 to 18,993 compared to 36,540 in 2019, according to FilmLA's 2020 Television Production Report, which was released on Jan. 27.
"The impact of Covid-19 on local film production and jobs cannot be overstated," FilmLA President Paul Audley said in a statement. "With production paused for 87 days and the industry responsible and cautious in returning to work, total annual production fell to unprecedented lows."
Feature film production had 1,641 shoot days in 2020, down nearly 59% from 2019.
Filming started to ramp up in the second half of 2020, thanks largely to a 6% year-over-year increase in TV production in the fourth quarter. Reality television was a major driver of this growth, with shoot days up almost 94% year-over-year in the fourth quarter.
But scripted television shoot days dropped sharply, along with comedy television production and commercial production.
Recovery, however, could be "close at hand," according to FilmLA, as shoot day levels for the fourth quarter of 2020 are similar to those from the pre-pandemic first quarter of 2020.
After gathering input from entertainment industry representatives, Los Angeles County public health officials issued new guidance for filming on Jan. 25. Requirements include limits on the size of hired audiences, increased mask wearing and 10-day quarantine periods for anyone with Covid-19 exposure.
For reprint and licensing requests for this article, CLICK HERE.