Curative Loses County Contract for Covid-19 Testing
Monday, January 11, 2021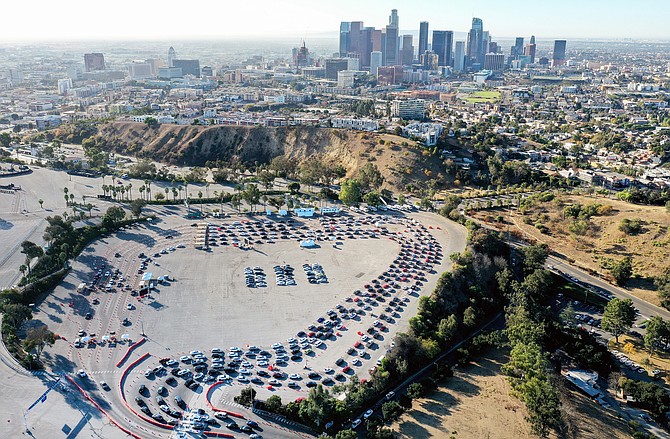 Los Angeles County is cutting ties with Curative Inc. after the Food and Drug Administration warned that the startup's Covid-19 test was producing false negative results.

County health services officials said in a statement Jan. 10 that they had reviewed the FDA alert and would stop using Curative's tests starting this week "as a precaution."

At the same time, Dr. Clemens Hong, a physician with the L.A. County Department of Health Services who oversees Covid-19 testing for the County, acknowledged that all Covid-19 tests have a risk of returning false negative results, "which means that you may test negative when you actually have Covid-19."

"That is because the sensitivity depends on how well the sample was collected and the concentration of viral RNA in the sample," Hong said.

Curative, a San Dimas-based startup, has grown exponentially after developing and deploying a mouth swab designed to be self-administered, which makes the logistic of mass testing easier. The Curative test, which uses a lab technique called polymerase chain reaction, received emergency use authorization from the FDA in mid-April.

The company is also a
partner in the city of L.A.'s drive-through testing program
, which draws tens of thousands of Angelenos daily.
But on Jan. 4, the FDA issued a bulletin alerting patients and health care providers of "the risk of false results, particularly false negative results" with Curative's test.

That could have huge implications in Los Angeles, where the pandemic is raging. Many Angelenos who have not displayed symptoms have run afoul of public health guidance by using a negative test result as a license to hang out in groups.

The county started using a small number of Curative tests in December at pop-up testing sites. Between Dec. 13 and Jan 2., the Curative tests represented about 10% of all Covid-19 tests administered at county-run testing sites.

While the county is dropping Curative and replacing those tests with kits from Temple City-based Fulgent Genetics, the city is standing behind Curative.

L.A. Mayor Eric Garcetti said Jan. 7 he is "deeply" committed to Curative's test and credited it with detecting Covid-19 in 92,000 asymptomatic Angelenos.

"It's what was available, it's what works. It's easy to administer and it's scalable — and that's something that's unmatched," he said.

The FDA would not say what triggered the bulletin, or how many false negatives might have been produced.

"We are reviewing all available information about this test, including information that has become available post-authorization about the performance of this test in both asymptomatic and symptomatic individuals," said FDA spokesperson Lauren-Jei McCarthy.

Dr. Susan Butler-Wu, an associate professor of clinical pathology at the Keck School of Medicine of USC, said that without additional information from the FDA, it would be impossible to tell whether there were any fundamental issues with the Curative test.

In the meantime, she said, "there's no replacement to masking and distancing."


For reprint and licensing requests for this article, CLICK HERE.