ABA Expands Diversity, Equity and Inclusion Team
Custom Content by the Los Angeles Business Journal
Thursday, February 25, 2021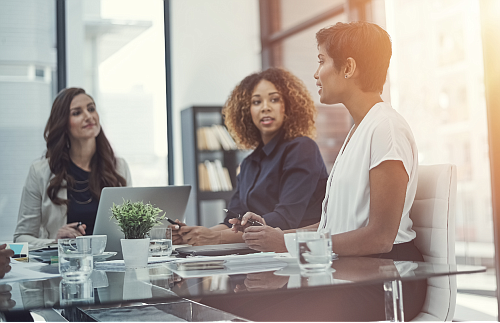 The American Bankers Association, the voice of the nation's $21.1 trillion banking industry and its more than two million employees, welcomed Jasmine Cooper in October of last year as its new vice president of internal Diversity, Equity and Inclusion. Cooper's hiring is the latest example of ABA's ongoing commitment to expand its DEI program both internally and within the banking industry. 
Cooper is responsible for ABA's internal DEI strategy and will serve as a subject matter expert advising ABA management. She will lead mentorship and sponsorship programs, diversity-related education and training for ABA employees, helping the association shape its workplace culture to further enhance inclusion. 
"We believe in a diverse and inclusive workplace with a staff that is representative of the customers, clients and communities that our nation's banks serve," said Rob Nichols, ABA president and CEO, at the time of announcing Cooper's new post. "Jasmine's expertise will help elevate our efforts to achieve best-in-class diversity, equity and inclusion practices as we continue to provide resources to guide and encourage our members' DEI initiatives." 
Cooper joins Naomi Mercer who was hired in 2019 to serve as ABA's senior vice president of Diversity, Equity & Inclusion. Mercer leads ABA's external diversity efforts by helping member banks across the country develop and expand their diversity and inclusion programs. 
"I'm excited by this opportunity to build on the important DEI work already underway at ABA," said Cooper. "As we continue to expand our internal DEI program, we will be in a better position to help our members meet their goals." 
Cooper comes to ABA from Steptoe & Johnson LLP, where she served as the law firm's senior manager of diversity, inclusion & corporate social responsibility. At Steptoe & Johnson, Cooper consulted executive leadership on diversity and inclusion through focused conversations addressing organizational values, culture, strategies, policies and procedures to collaboratively develop a framework to improve organizational approaches. She also advised firm leadership on using equity to advance diverse and women lawyers, and worked to leverage opportunities to create diverse lawyer teams for clients, among other responsibilities. 
Prior to her time at Steptoe & Johnson, Cooper served as operations manager for Many Voices: A Black Church Movement for Gay and Transgender Justice and as a program management specialist of external relations for the University of Maryland, where she created and developed its nationally recognized Diversity Strategic Plan for the university's Clark School of Engineering. 
A native Washingtonian, Cooper holds a B.A. in communications from the University of Maryland.
Return To Index
For reprint and licensing requests for this article, CLICK HERE.