Celeb-Backed Startup Jinx Delivers Healthy Dog Food
Monday, February 22, 2021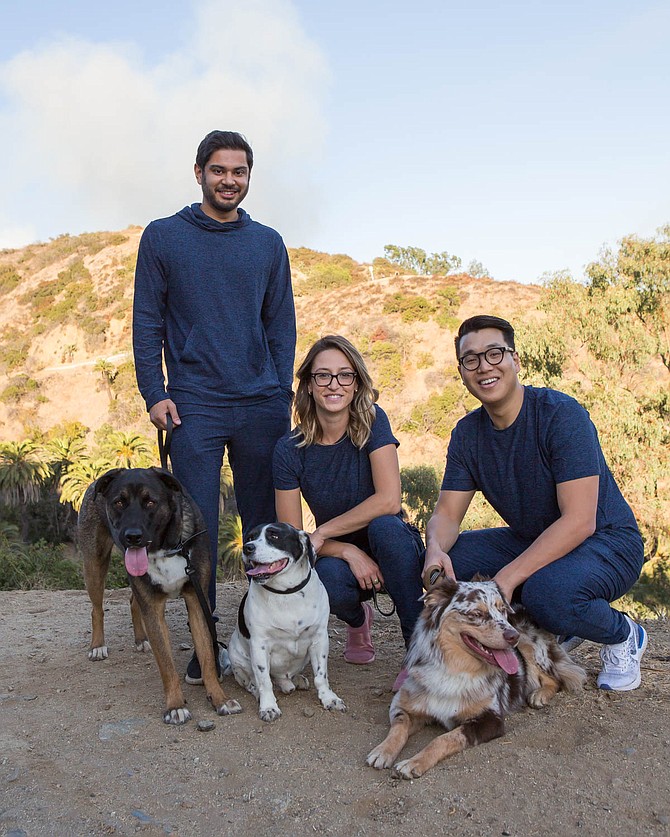 Terri Rockovich's dog, Blitz, has a picky palate.
 
"When I started living on my own, I fed (my dog) what my parents had fed their dog and assumed that was the right thing," Rockovich said. "I didn't really start doing the right research until my dog started having issues and problems."
Rockovich, 36, explained that Blitz, a "mystery mutt" rescue dog, inspired her to join fellow pet owners Michael Kim, 32, and Sameer Mehta, 33, to create the Hollywood-based clean dog food startup Jinx Inc., which launched in January 2020.
 
The three founders met in 2018 while working at New York-based Casper Sleep Inc., which sells mattresses, sheets and other sleep products via ecommerce and through brick-and-mortar stores.
 
They all were interested in becoming entrepreneurs, Rockovich said, and after realizing their pets had similar issues, they saw the industry as "ripe for disruption."
Rockovich and Kim moved from New York to L.A. to start the company in January 2019.
 
Jinx, which is named after Mehta's first dog, offers dry dog foods made without corn, soy or gluten. The company said its recipes are designed to boost heart health and digestion, and help with skin and coats.
 
All of Jinx's food is made in the United States, with treats manufactured in Georgia and kibble manufactured in Kansas.

"We were really focusing on using real, high-quality ingredients in the right proportions that basically address the most essential health benefits for the dog," Rockovich said. "We've kind of taken a modern approach, offering modern nutrition with a modern experience."
 
Jinx competes with major dog food brands such as St. Louis-based Nestlé Purina, Burbank-based Natural Balance Pet Foods Inc. and Wilton, Conn.-based Blue Buffalo Co. Ltd.
 
Revenue for the pet food industry was expected to grow 4.8% in 2020 as many pet owners opted for higher priced, premium pet food, according to research firm IBISworld Inc.

Before launching, Rockovich said the founders spoke with pet nutritionists and pet food manufacturing experts to research how to create a diet for a "modern dog," or less active dogs that don't need as much protein in their diets.
 
"Once we quite literally understood how the sausage gets made, we were pretty appalled and taken aback," Rockovich said. "Even though we knew it would be a really challenging endeavor, we set out to create a clean kibble."
 
In preparation for its launch, the company closed a $5.65 million funding round in November 2019 led by San Francisco-based Initialized Capital, with contributions from Palo Alto-based Sinai Ventures, Fairfax, Va.-based Wheelhouse Group and New York-based firms Align Ventures, Brand Foundry Ventures and &vest. Jinx also attracted celebrity investors, including actor Will Smith, rapper Nas and singer Halsey.
 
"(Millennial pet owners) are spending more on pet food than any other generation and even delaying life milestones to care for their pets," Initialized Capital co-founder Alexis Ohanian said in the funding announcement. "Now is the time for a brand like Jinx."

Soon after launch, Jinx benefited from a big change in consumer behavior. With the arrival of the pandemic and Covid-driven lockdowns, interest in pets soared as some consumers bonded with animals they already had while others sought out companionship.

Pet adoptions in Los Angeles, for instance, skyrocketed last spring. In March alone, the Los Angeles Department of Animal Services found homes or foster homes for 2,232 pets — that's more than a quarter of all animals that were adopted in the first half of 2020, according to the department's mid-year report.

At the same time, many consumers — including pet owners — either started using ecommerce or increased the amount of groceries and other essential items they bought online, giving Jinx an advantage as an entirely digital retailer, Rockovich said.
Although Rockovich declined to reveal annual revenue for Jinx, she said the company averaged monthly growth of 33% in 2020.

Jinx offers on-demand delivery through Postmates in Los Angeles and San Francisco, and national delivery through its website. Petco Animal Supplies Inc. and Rover.com also carry and distribute the company's products online.
 
"This year we had the opportunity to launch with Petco, and it's just kind of a nod to the fact that wholesale retailers are really looking to kind of evolve their business model based on the trends that we know are going to stay within the customer base for the foreseeable future," said Brianna Kauffman Matz, strategy director for Jinx.

The company offers customizable subscription plans and kibble samplers to help people figure out which foods work best for their dogs, Kauffman Matz added.
 
According to Jinx, the company has been able to convert two-thirds of its one-time buyers to subscribers, with the majority of the company's revenue coming from repeat customers.  

Rockovich wants to expand Jinx's brand partnerships and aims to offer its products in retail locations in 2021. She eventually wants to open a retail space in Los Angeles to offer Jinx products along with other "noncompetitive" dog products, she said.


For reprint and licensing requests for this article, CLICK HERE.