Ports of LA, Long Beach in Line for Increased Federal Funds
Monday, February 15, 2021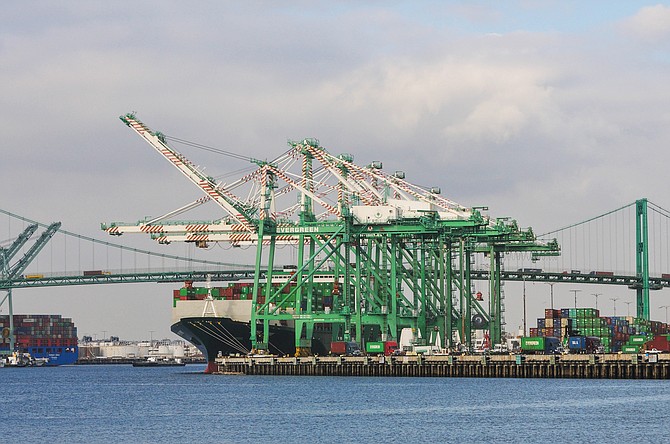 Come 2023, the San Pedro Bay Port Complex will start collecting about $75 million from the Harbor Maintenance Trust Fund to finance infrastructure repair and maintenance.

Considering the local ports contribute nearly $380 million to the fund each year, the annual provision seems somewhat small. Yet port officials say it's a big improvement from the current allocation of about $10 million.

HMTF, created by Congress in 1986 to pay for harbor maintenance dredging, is funded by taxes ports collect from importers and is assessed at a rate of $1.25 per $1,000 worth of cargo.
 
The more imports the port handles, the more tax dollars it sends to Washington, D.C.
But the same ratio does not apply when it comes to distribution of funds, especially to a handful "donor" ports.

These ports, including Los Angeles and Long Beach, Miami, New York/New Jersey, Seattle and Tacoma, contribute 50% of the HMTF tax revenue even though their naturally deep channels require little to no dredging maintenance.

"The biggest recipients of Harbor Maintenance Fund tax dollars are the river ports — Savannah, Houston — our main competitors for cargo," said David Libatique, deputy executive director of stakeholder engagement for the Port of Los Angeles. "We calculated that over the past 10 years, the federal government has been investing in East Coast and Gulf Coast ports at a rate of 10 to 1 versus the West Coast (ports), and we want to rectify that."

Senate takes action
The Water Resources Development Act of 2020, which the U.S. Senate passed in December, aims to even things out.

In fiscal 2019, contributions to HMTF from ports nationwide totaled $1.6 billion, with about 23% coming from San Pedro Bay.
 
The balance in the fund is at $9.3 billion and growing, as annual tax revenue collected in recent years outpaced appropriations from the HMTF to the Army Corps of Engineers to maintain U.S. harbors, according to a September 2020 report by the Congressional Research Service.
 
"The CARES Act actually did something important — it made a tweak to how they looked at harbor maintenance tax revenue — it took it off budget, and it opened a way for full spend of HMT revenues that come in," Libatique said.

Passage of WRDA unlocked the surplus with the spend-down starting at $500 million in fiscal 2023 and growing by $100 million a year until the distribution reaches $1 billion in year five. Donor ports will receive 8% of HMTF tax revenue each year, up from about 2%.
 
Locally, the increase will translate into about $35 million in additional funding at the Port of Los Angeles each year, and about $40 million to $45 million at the Port of Long Beach, which in addition to being a donor port also bears a designation as an energy port.

"By year 2026, we stand to receive $56 million, so obviously it's a huge victory for us," said Mario Cordero, the port's executive director. "The money that we put into the harbor tax fund far exceeded anything that we received back. … I'm the chair of the Association of American Port Authorities, and we lobbied very hard in the last couple of years to address this issue."
 
"So, I'm very pleased that the Congress saw fit to bring more balance to this fund and distributed it in a way that the donor ports like ourselves, which are so important to the national economy, are now getting additional funds," he added.

Expanded uses
Aside from the increase in HMTF allocations, the WRDA expanded eligible uses to include maintenance of in-water infrastructure, such as repair or replacement of wharfs and piers, and reinforcing slope stability of dredged berths.
 
The Port of Long Beach has 28 ongoing and upcoming projects that qualify for funding, including Pier S Shoreline Enhancement, Pier G and J Terminal Development, Pier T Improvements, and Outer Harbor Sediment Placement Ecosystem Restoration.
 
The Port of Los Angeles, meanwhile, has nearly $260 million in concrete and corrosion repairs on the decks, beams and mooring bitts.

"Before (HMTF's focus) was really just maintenance and dredging aspect," said Antonio Gioiello, the port's deputy executive director of development. "Now, it allows us to maintain and repair structural elements in the port, which is where the big money is for us. We are not a river port, so we don't have a lot of debris coming down the rivers here, but we do have a lot of structures that deteriorate in the water, that take a lot of punishment. … I think this money will allow us to be a lot more proactive in maintaining our facilities and, in the long run, that should actually save us money."

Infrastructure improvements will help the port remain competitive, according to Executive Director Gene Seroka.

"For us to earn the trust of cargo owners and their business coming through here, we have to have the necessary infrastructure, processes, partnerships and digital infrastructure in order to be on that list of choice for the logisticians community," Seroka said. "We're not going to expand the land here at the port, so making the best use of the 7,500 acres (of land) and 43 miles of waterway is our singular goal."
Keep reading the 
2021 Ports Special Report
.
For reprint and licensing requests for this article, CLICK HERE.