LA Sentinel Gives a Voice to Black Community
Black Entrepreneurs Month Special Report
Monday, February 15, 2021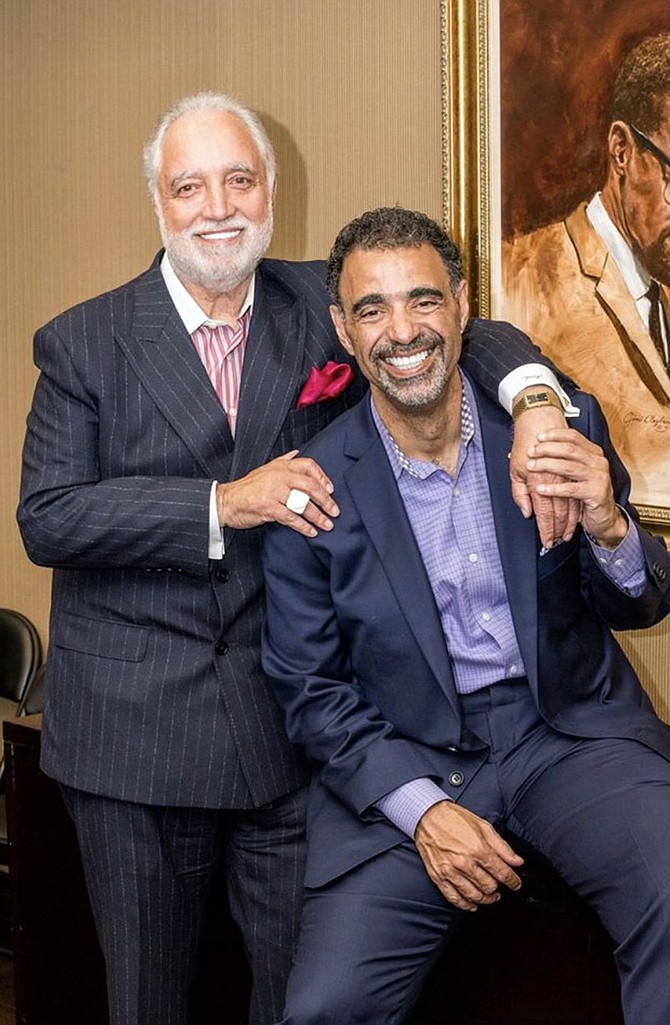 With a career in real estate development and civil rights activism, Danny Bakewell Sr. didn't expect to go into the newspaper business.
 
But when Jennifer Thomas, former owner and publisher of the Los Angeles Sentinel, no longer wanted to run the paper, she thought of Bakewell.

According to Bakewell, who was a close friend of Thomas and her late-husband, Kenneth, she believed he was the best person to keep the paper running given his deep connections within the community.

"After a lot of discussion with my wife … we agreed that, because we could do it, and we didn't want the paper lost — Jennifer said there were a lot of outside interests that were interested in buying the paper — we decided to do it. It's something I've never been sorry about doing," Bakewell said.
 
The Sentinel is the leading Black-owned newspaper in California, Bakewell said, reaching more than 120,000 readers and generating $3.3 million in revenue in 2020.
With a staff of 22, the weekly paper focuses on issues affecting Black communities in Los Angeles.
 
When Bakewell Media, Bakewell's media company, purchased the paper in 2004, Danny Bakewell Sr., now 74, took over as executive publisher, chairman and chief executive. His son Danny Bakewell Jr., 54, was named executive editor in 2007. 

Lengthy history
The Sentinel was founded in 1933 by Col. Leon Washington, making it one of the longest running Black-owned papers in California. After Washington's death in 1974, his wife, Ruth, ran the paper until 1990, when she sold it to the Thomases.

Allissa Richardson, an assistant professor at USC's Annenberg School of Communications and Journalism, called the Sentinel's reporting "paramount" to the development of Black Los Angeles.
 
As many Black people moved to California in the early 20th century, she said, the Sentinel helped "forge safe spaces" for them grow communities.
 
"They relied on the Sentinel as a kind of guide for how to live in this new space," Richardson added.
 
She gave the example of the paper's "Don't spend where you can't work" campaign in 1934, which taught readers how to financially boycott businesses that would not hire Black employees.
 
"We are the voice of the community," Bakewell said. "We are the one vital instrument in the community that has the credibility that Black people in abundance look to to get their messages."
 
The L.A. Sentinel was the first Bakewell Media venture. The company went on to buy radio station WBOK in New Orleans in 2007 and the Los Angeles Watts Times in 2012.
 
Bakewell Media also puts on Taste of Soul, a popular festival typically held in October featuring food from local businesses and live music.

Since he purchased the Sentinel in 2004, Bakewell said, "the world has changed." He and Bakewell Jr. have worked to expand the paper's digital presence to help draw in more readers and advertisers, he said.
 
The Sentinel revamped its website in 2007 and has expanded its social media presence.
 
"I think we're in a good place right now to be able to capture all of the areas of the media business," Bakewell Sr. said. "We've just got to grow those and have the people relying on us know that the Sentinel is the No. 1 place for Black news." 

Community staple
The newspaper is a staple in Black Los Angeles, Bakewell Sr. said, part of its mission to be the voice of the community "speaking for itself."
 
"The primary focus is to uplift the community, make sure our stories are being told from our perspective, and make sure that it's not only doom and gloom that we're reporting," Bakewell Sr. said.
 
The Sentinel publicly supports several civic organizations, including South L.A.-based Mothers in Action Inc., African American Unity Center and the Los Angeles Brotherhood Crusade, which Bakewell Sr. led for 35 years.
 
Bakewell Jr. said the Sentinel is active in the community. For example, to help people experiencing food insecurity caused by the coronavirus pandemic, the Sentinel and Bakewell Media are hosting a food and clothing distribution event on Feb. 27 in honor of Black History Month, he said. They plan to give participants' groceries, clothes and gift cards to Black-owned businesses in the area.
 
"We participate in, and often are the initiator of, many of the things that improve the quality of life of our community," Bakewell Jr. said.
 
The Sentinel acts as a "sounding board of other like-minded voices," Richardson said, reporting on issues from a community perspective that often don't get coverage.
 
"That's really what's missing from the media landscape, is more local news coverage," Richardson said. "They do a fantastic job of providing not only that coverage but putting names and faces from the community on its pages."
 
During the pandemic, when newspaper sales dropped, the Sentinel began offering its weekly edition free with help from the Facebook Journalism Project, which gave the newsroom a $300,000 grant.
 
"We had to be careful because if the Sentinel is weakened, then the community is weakened," Bakewell Sr. said. "Because all the things that we do and participate in for the community, all the things that we're able to lift up for them, are diminished." 

Advertising challenges
Advertising revenue also dropped for the Sentinel amid the pandemic, Bakewell Jr. said, but bringing in advertisers has been a long-term struggle.
 
The biggest goal for both Bakewells is recovery. Bakewell Jr. said he aims to grow advertising and continue coverage that matters to the community.
 
He wants to ramp up the Sentinel's coverage of vaccine availability as Black Americans have been disproportionately affected by the pandemic. According to Centers for Disease Control and Prevention data from November, the death rate from Covid-19 for Black Americans is 2.8 times higher than the death rate for white Americans.
 
Editorially, Bakewell Jr.'s goal is for Sentinel reporters to tell community stories in ways "nobody else is talking about," by reporting on the way societal and systemic structures affect the Black community, he said.
 
"I want to challenge our staff to really press themselves to come up with a greater perspective of issues that challenge our community," Bakewell said.
Keep reading the 
Black Entrepreneurs Month Special Report
.
For reprint and licensing requests for this article, CLICK HERE.