How Marine Exchange Helps Traffic Flow at LA's Ports
Monday, February 15, 2021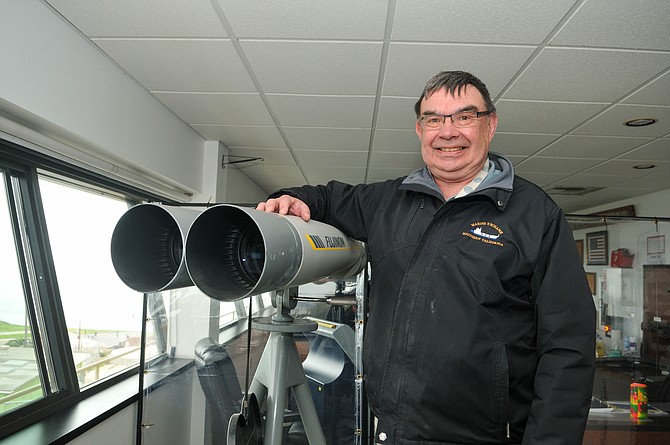 With dozens of extra ships at anchor in the San Pedro Bay Port complex, the staff at Marine Exchange of Southern California has their hands full.
 
They're monitoring the waterways around the clock to make sure that no ships bump into each other or run aground.
 
When it's time to dock, they'll work with the Los Angeles Pilot Service to direct the vessels to the right terminal. These days, that might take a while.

"It's a bit of a pressure cooker," Capt. James Kipling Louttit, Marine Exchange's executive director, said Feb. 5. "There should be 17 ships at anchor, and there are 57. So, there's 40 ships that shouldn't be there because of the backup due to Covid."

In addition to coordinating traffic at the two busiest ports in the country, the roughly century-old nonprofit organization churns out numerous daily vessel arrival and departure reports.
 
It also provides a continuous feed of information to the ports' online cargo-tracking platforms, including the Port Optimizer at the Port of Los Angeles and the Weekly Advance Volume Estimate, or WAVE, report at the Port of Long Beach.
 
"When I got here eight years ago, we still had some customers who got their report in the mail ... and that met their business need," Louttit said. "Now, we push the reports out at 7 in the morning, and we push them out at noon. We've also got data feeds, which we provide to ports every minute or minute and a half. But boy, if it's 7:15, we have people calling and saying, 'Where's our report?' Because things are so fast these days, we feel incredible pressure to never let them down."

Monitoring traffic
Steamship agent W.H. Wickersham founded the Marine Exchange and Sailing Club of the Port of Los Angeles in the early 1900s and turned it over to the Los Angeles Area Chamber of Commerce in 1923. His "lookouts and runners" would watch for ships from Signal Hill and Point Fermin and alert the local agents when a vessel was about to dock.
 
These days Louttit's team monitors all ship movements within 100 miles of San Pedro Bay.

One source of location information is the Coast Guard's vessel arrival record.

"Post 9/11, every ship coming in has to tell the Coast Guard about their ship, the cargo, the crew and all the passengers four days in advance," he said. "We get that information coming from the Coast Guard, plus we have the tentacles out to the agents that are paid by the ship to facilitate their entry into the port and getting groceries and fuel and their cargo offloaded and whatever else they need. And we marry those two sources of data together when we put our reports out. So, we've got the best of both worlds in one package, and that's our niche."

Marine Exchange also uses each ship's GPS data to pinpoint its location and predict arrival times. This Automated Identification System works in tandem with a vessel traffic system, which consists of nine sensors located along the coast between Morro Bay and the Mexican border. The sensors pick up the ship's AIS signals and feed them to computer screens at the Marine Exchange's San Pedro headquarters.
 
"The ports look to us for that common schedule, and the reason they love us — and there are other ways to get the data — is because we have two people sitting in chairs 24 hours a day that are watching what really happens," Louttit said. "We got an angry phone call from one of the ports saying, 'Your data is all messed up because you got ships with four different arrival times,' and we looked at it and said, 'Well, yes, ma'am, that ship does have four arrival times because it came at anchor, and then it left, and it went out to sea for a storm, and then it came back in, and then it went out to sea for some other reason and came back, and that's what the ships are doing when they're here for a couple weeks or a month.'"

Getting creative
 Marine Exchange uses its location technology to make ships' extended stay at the port complex as safe as possible. That sometimes means not micromanaging the ship's captain.

"We had a tanker about a week ago, and it took four (anchoring) options before he finally said, 'I feel comfortable with that one,'" Louttit said, adding that his staff recently ran out of anchorage and had "three ships drifting out there" with their engines off.

"We put them out toward Catalina, but we made sure that they were several miles apart," he said. "They're not in the shipping lanes, and everything is safe. But it's really about trying to facilitate that captain feeling comfortable with the tanker. Part of their equation is that they're just so deep draft, and there's only a couple meters under the keel, and we need to get them in a good spot, so they don't touch the bottom."
 
To ensure continuity of its operations, Marine Exchange invested in backup power supply as well as a double internet connection. It also has a 24/7 contract with a local vendor for IT services should any of the computers break.

"Somebody hit a power pole a couple weeks ago, and the lights went out for a couple hours in San Pedro, but our good old generator kicked on, and it gave us power through the power outage," he said, adding that a similar scenario played out during a recent storm. "We need to stay up because there's both the demand for it and the pressure for it to be constant."

Marine Exchange, which has 20 employees, supports itself by selling subscriptions to nine vessel traffic reports and by collecting tariffs from arriving ships that, depending on their size, range from $200 to $1,200.

"When the vessel crosses the 20-mile line coming in, at that time the tariff is assessed by our accounting department," Louttit said. "They don't pay when they depart, they don't pay when they shift around, and they don't pay when they're just sitting at anchor. One guy's going to get a real good deal because he's been there since the 21st of December, and all we did was charged the arrival fee."
Keep reading the 
2021 Ports Special Report
.
For reprint and licensing requests for this article, CLICK HERE.