22 Fund Founder Gray Breaks Barriers, Builds Businesses
Black Entrepreneurs Month Special Report
Monday, February 15, 2021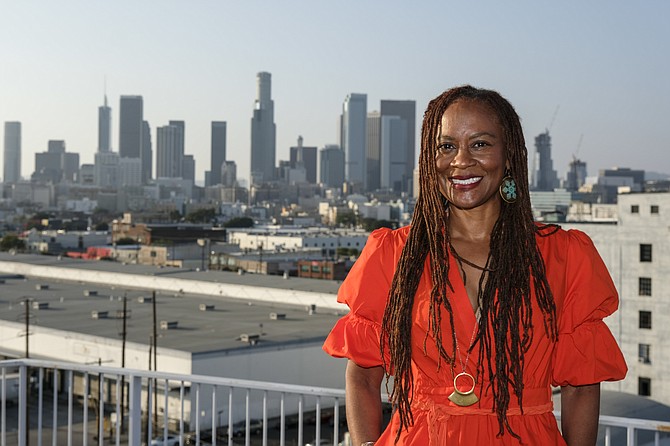 Tracy Gray is one of Los Angeles' most unique entrepreneurs.
 
The engineer and investor worked for NASA, spent time at a local venture capital firm and served as an adviser to former Los Angeles Mayor Antonio Villaraigosa before starting her own investment fund targeting businesses owned by women and people of color.
 
Each step of her career, according to Gray, has been part of a mission to break down "barriers to anything that people thought Black people or women shouldn't do."
 
Grey grew up as a self-described "Air Force brat." After a childhood spent constantly on the move, her father eventually retired in Lompoc, near Vandenberg Air Force Base.
 
"What happens at an Air Force base is that you are around missiles all the time," Gray said. "We would see missiles going up and it would be nothing. That must have implanted in mind."

These early experiences left Gray with a fascination with space and the desire to enter the field. She studied mathematical sciences and aeronautics at UC Santa Barbara and landed a job as a mission monitor and systems engineer for a NASA contractor following her graduation.

"I was the only woman engineer on my team," she said. "I didn't see another Black engineer at my company."
 
"That was kind of the foundation of everything I do," she added. "You're not going to put me in some kind of box."

Unfortunately, Gray said, her outspoken progressive views eventually landed her in hot water when a colleague reported her as a potential "subversive." The FBI dismissed the case following a brief investigation, but Gray said the situation left her disillusioned enough to quit her job and set out for a career change.

After a brief detour through the music industry, Gray ended up as an analyst at the L.A. office of now-defunct venture firm Zone Ventures.
 
"I loved it," she said. "I could try different things all the time and work on all kinds of interesting problems."

"What I didn't love was that they were getting like 300 business plans per month, and there were basically no women or people of color," she said.

The experience drove Gray to consider starting her own fund — one that would invest in the women and people of color founders that she saw being left behind by most venture capital.
 
After getting her MBA in 2008, Gray began tracking down investors for the venture — just in time for the onset of the financial crisis.

"The whole world fell apart," she said. "There was no way I was going to raise money for a fund that no one had ever seen before (in that environment)."

The recession sent Gray on another career detour. She worked for then-Mayor Villaraigosa for four years, first raising equity capital for affordable housing, and then working to promote Los Angeles' export businesses. She left in late 2013 to begin laying the groundwork for her current project, the 22 Fund.

"It took me about four years to really get the business model dow
n," Gray said. "It's taken me another two years to educate people (on the value of what we're trying to do)."

Gray's investment fund focuses on providing growth equity capital to export manufacturing businesses that are owned by women and people of color. Much of the project, Gray said, has drawn lessons from her long career touching on technology, venture capital and the export manufacturing sector.

Although progress on the 22 Fund's first fund was delayed by Covid, Gray said her firm is finally prepared to conduct its first close and begin making investments by the end of this quarter.
 
Gray is confident that new policies under President Joe Biden's administration will help make the years ahead the best time in recent memory for her offering. "This is my last job," she said. "I'm not doing anything else."
Keep reading the 
Black Entrepreneurs Month Special Report
.
For reprint and licensing requests for this article, CLICK HERE.