Vermont Slauson Organization Offers Loans, Workshops to South LA Businesses
Black Entrepreneurs Month Special Report
Monday, February 1, 2021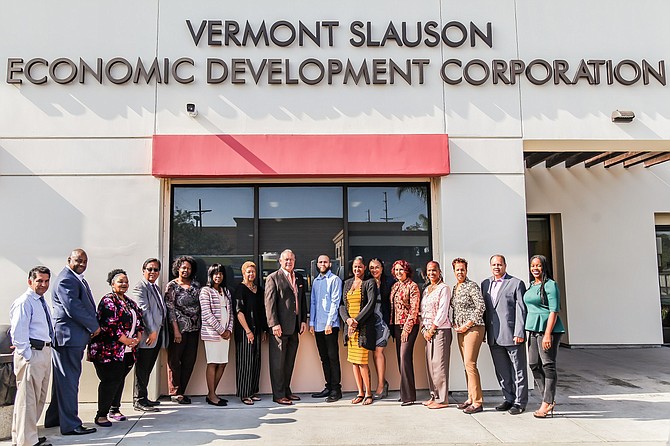 Donna Buchanan was confident she could write a business plan on her own. But after a friend convinced her to take a free workshop offered by the Vermont Slauson Economic Development Corp. in January 2019, she realized she was out of her depth.
 
Four workshops later, Buchanan had a full business plan. By July 2019, she had launched her change management firm, Inglewood-based Crucial Shift Consulting.

"It really helped me to conceptualize," Buchanan said. "It's one thing when you have it all in your head. It's certainly another when you have to put it down on paper."
 
The nonprofit Vermont Slauson organization aims to bring economic development opportunities to South Los Angeles by providing education and financial resources to small businesses and aspiring entrepreneurs.

The organization was founded in 1979 as a citizen advisory committee by then-Mayor Tom Bradley in response to community concerns about the closure of a Sears department store in the Vermont-Slauson neighborhood. That store, according to the organization's website, had been an "economic cornerstone" for South L.A.
 
Vermont Slauson Economic Development Corp. was fully formed in 1981 under the leadership of Marva Smith Battle-Bey, an urban planner who strengthened the organization in part by helping small businesses secure government contracts.
 
Fast-forward to 2021, and Vermont Slauson now also provides grant application assistance and financing to small businesses based in South L.A.

In addition, the organization owns and operates two shopping centers in the area and offers youth education programs in technology and business.
 
Construction is slated to start early this year on a tech center for teens that it is developing in partnership with Best Buy and the Annenberg Foundation.
 
In 2018, Vermont Slauson was certified as a Community Development Financial Institution, allowing it to provide loans to small business owners who might not otherwise have access to financing because, for example, they have low credit scores.
 
Vermont Slauson offers loans ranging from $1,000-$700,000, with programs for startups, businesses that have operated for at least two years and businesses operating in low-income areas.

Minority business owners in South L.A. are "highly marginalized" in terms of access to capital, said Joseph Rouzan III, Vermont Slauson's president and chief executive officer.
 
"We fill that void for our businesses who have not been able to access traditional banking or finance," he added.

After Covid-19 washed into L.A., Vermont Slauson started securing grants that it could distribute to local businesses, including $500,000 from Netflix Inc. in July. It also took in grants from Southern California Gas Co.; the money helped fund the launch of its Restaurant Recovery Program, which the organization hosted in conjunction with Los Angeles Black Restaurant Week.
 
"I can't stress enough the importance of grants," Rouzan said. "These businesses need grants. They don't need more debt."
 
Rouzan said education on how to properly run a business is equally as important as helping secure financing.
 
In February 2020, Vermont Slauson made its in-person workshops available online. Now almost every class has a wait list, Rouzan said.
 
During the pandemic, Buchanan enrolled in more courses online with Vermont Slauson. She said she still frequently contacts the instructor of the first course she took on business plans for advice.
 
"To this day, if there's anything that I have a question about, I give her a call, and she gives me support and resources," Buchanan said.
Keep reading the 
Black Entrepreneurs Month Special Report
.
For reprint and licensing requests for this article, CLICK HERE.