Facing Glut of Supplies, PPE Makers Pivot Again
Monday, February 1, 2021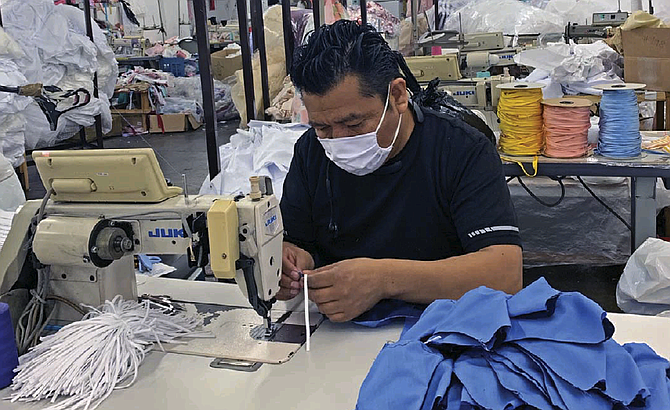 Kid's Dream was among the first apparel manufacturers in Los Angeles' Garment District to pivot to making cloth masks when Gov. Gavin Newsom issued stay-at-home orders in March, which halted nonessential business activity that couldn't continue remotely. 
"That's when the (mask) sales were booming and crazy," said Chewy Jang, who serves as the president of the special occasion dress-maker her parents acquired in 2011.
 
"A lot of other retailers that do production abroad, they were waiting for their stock to come because it was impossible to get things out of China at that point. … We were part of the L.A. Protects program that the mayor started, promoting the L.A. manufacturers and getting them on board to create masks."

As September rolled around, Jang noticed a significant drop in demand — nearly every apparel brand was offering its own masks, saturating the marketplace.
 
"I don't think the sales of masks are going to come back up, so at this point, we're pretty much decreasing our inventory and not producing anything more," Jang said. "Right now I'm donating everything that we had and getting rid of it."

While masks remain a staple garment for the majority of people who venture outside of their homes, most local manufacturers and distributors are divesting from the nonmedical personal protective equipment that kept them afloat during the early days of the pandemic.
 
With vaccines slowly arriving, it's not a surprise, experts say.
 
"By the fall, nearly all in the country will have had the opportunity to be vaccinated," said Lee Ohanian, professor of economics at UCLA and senior fellow at the Hoover Institution at Stanford University. "I would expect demand (for masks) to fall considerably, back to a level that is perhaps 20% or so above the pre-pandemic level."
 
Los Angeles Distributing Co. in Commerce was among the businesses waiting for PPE shipments from abroad in the early months of the pandemic. Arthur Flores, the company's president and co-founder, ordered masks and hand sanitizer, which he hoped to offer to his wholesale clients alongside bottles of kombucha, healthy snacks and drinks.
 
"The order we got in April sold out quickly, and when the big shipment came in May, sales were just a trickle," Flores said. "Out of 3,500 cases of 8-ounce hand sanitizer, we sold 500 cases. The demand has dried up completely because there are a lot more players. We are still trying to get rid of that inventory, selling below cost."

Richard Cho, owner of JostarUSA in downtown and president of the local Korean Apparel Manufacturers Association, said he also got stuck with unused PPE inventory. He started making and importing masks to keep his employees working during the first few months of the shutdowns.
"We ordered fabric to make masks, and I overbought," Cho said. "When I tried to sell it, no one wanted to buy the fabric, so I think it's not just me. The sales have died down. I think I'm done with masks."

Sam Yang, owner of J.Y. Rays Inc. in South El Monte, said he's not ready to pull the plug just yet. After taking about two months to figure out how to make functional and sustainable PPE, he began selling masks under his swimwear brand Vast that featured a water-repellent shell and a moisture wicking antibacterial liner.
To date, he's sold about 5,000 at $30 apiece, and there's more to come.

"I'm actually in Taiwan working with a manufacturer over here and developing more PPE," Yang said. "One of the proprietary fabrics we just developed is (Level 2 polypropylene PPE fabric) that's printable … and can be disinfected with alcohol.
 
"I'm thinking to use this fabric to create pandemic travel wear or pandemic everyday wear," he added. "It's something that you can wear to the grocery store, or if you really need to take a mass transit, that can cover your regular clothes, that's medical grade, and that you can just hang it in your garage and sanitize." 

Medical-grade PPE
While it appears that everyone has stocked up on cloth masks, N95 masks for health care workers are still in demand, especially with the effort underway to vaccinate 60%-70% of the U.S. population, according to Nick Vyas, executive director at the Center for Global Supply Chain Management at USC.

"I don't think we are out of the woods yet. … The demand globally will continue to stay at least at this level, and it may even peak, so we would have to continue to find ways to supplement this demand with the local production at least for the time being. … So, I think it'll be a fair bet for us to say the manufacturing capacity should and will actually be in place at least for the foreseeable future."

Vyas added that with the new administration in Washington, D.C., there will be "a huge push to penetrate the vaccine to the larger population," requiring a continuous supply of PPE for the frontline workers facilitating the vaccinations.

"All in all, I feel the PPE will have a such a continuing demand for next six months to say the least," he said.
 
President Joe Biden issued an executive order on Jan. 21 calling for "using all available legal authorities, including the Defense Production Act, to fill (PPE) shortfalls as soon as practicable by acquiring additional stockpiles, improving distribution systems, building market capacity or expanding the industrial base." Locally, the folks at Logistics Victory Los Angeles are continuing to procure PPE for use in medical settings.

Since the taskforce was formed last year, it has delivered more than 4.6 million units of PPE — including isolation gowns, gloves and N95 respirators — to three dozen regional hospitals and more than 150 skilled nursing facilities, according to Avin Sharma, director of workforce development and labor relations at Port of Los Angeles whose Executive Director Gene Seroka was appointed by Mayor Eric Garcetti to spearhead the PPE procurement effort.  

"We continue to work hard every week on this effort," he said.  

Meanwhile, at Kid's Dream, fashion manufacturing is back on after months of focusing on PPE gear. Yang said her family business is now expanding into kids' loungewear.

"We don't see that our industry, specifically the special occasion dresses and formal dresses, is going to come back until maybe quarter four of this year because everything is still shut down — no big gatherings like it was before," she said. "We think that it's going to be pretty hard until maybe at the end of the year."


For reprint and licensing requests for this article, CLICK HERE.