LASEC's CEO Works to Bring Every Major Sporting Event to LA in the Next Decade
The Lists 2022
Monday, December 27, 2021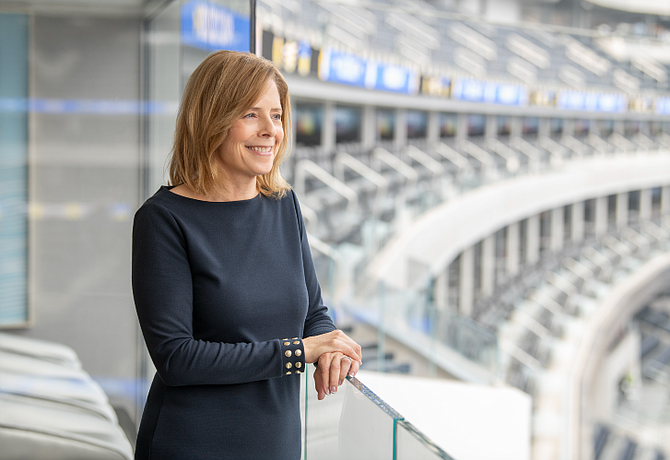 If the city of Los Angeles ever needed an ambassador, Kathryn Schloessman would be a shoo-in.

As the chief executive and president of the Los Angeles Sports & Entertainment Commission, she said her job is to "make it really easy for people to bring their business here and make sure they're successful, so they want to come back."

The list of events the commission secured under her leadership includes the National Basketball Association All-Star game in 2018, the upcoming 2028 Summer Olympics as well as Super Bowl LVI, which is scheduled to take place Feb. 13 at SoFi Stadium in Inglewood.

While Schloessman's role appears to be predominantly focused on business development, it also requires strong diplomacy skills and deep connections with the local business and entertainment community.

When the former commercial real estate veteran was offered the job in 1997, she expressed concern that she had no experience bidding on events and responding to requests for proposals, an elaborate process through which the commission competes with other cities to be selected as event host.

"The guy who hired me … said, 'We can teach you that part. You have the relationships throughout the city to get things done, and that's what we're hiring you for,'" she recounted.

Creating win-wins
Aside from knowing the right people and where the resources are, Schloessman's forte is also in forming "win-win" partnerships with sponsors and local businesses.

"The reason that we've been so successful is that when we look at what we're asking people to do for us, it has to make sense for them," she said. "What the events are bringing to our city is incredible — media exposure, opportunities for our local businesses — so we are trying to figure out how to use these events that we're bringing to spread the benefit to other businesses in the city and other people in the city."

For example, the commission recently partnered with the LA84 Foundation to give grants to 56 local community organizations — a nod to the 56th Super Bowl — that were involved in youth sports, social justice or workforce development.

"Why not take the media attention that we have for the Super Bowl and shine that light on the people that were doing good things for our community?" Schloessman said.
 
The commission also held meetings with the Los Angeles County Metropolitan Transportation Authority in November to discuss ways in which the agency can play a vital role in easing the anticipated traffic congestion around the L.A. Convention Center during the Super Bowl.
 
"They're going to help us with the Super Bowl, but we're helping them with increasing exposure about the Metro system," she said. "We want to help change the perception throughout the country that people don't take public transportation in Los Angeles."
Even though the proposal to secure
 
the Super Bowl was submitted in April 2020, the bulk of the commission's work continues — there are subcontracts to be signed, details to be worked out, fires to be put out. Schloessman said her team works "hand-in-hand" with the host committee, led by Casey Wasserman, "that really implements all the stuff."

Still, the National Football League "wants one single point of contact who has the connections to help them navigate all the things that come up," Schloessman said. "Putting out fires, I'd say that's probably my most important job, and hopefully preventing them … and getting everybody back on track because it's a partnership with us and the NFL and the city and our hotel partners and our venue partners. It's keeping everybody playing nice so that we can deliver a good event."

The Super Bowl is a personal win for Schloessman in a way, too, because she and her family are big football fans.
"Sundays during football season at my house are religious holidays," she said.

The 10-year plan
And while the Super Bowl may be on everyone's mind, the commission is also working on developing or securing several other events. The Major League Baseball All-Star Game is scheduled for July at Dodger Stadium, and the College Football Playoff National Championship will be held in January 2023 at SoFi Stadium. Right before Thanksgiving, the commission hosted a FIFA delegation, showcasing what Los Angeles has to offer in a bid to be selected as one of the cities hosting World Cup 2026, which will be held in Canada, Mexico and the United States.

"I had a wish list (of events) when I started — the Super Bowl was one of them, (and it) took 20 years to get because we didn't have a stadium," Schloessman said. "And then, the other one that was on my list was the U.S. Open, which we have coming now in 2023. We're hosting every major event in the world in our city plus the Olympics, and if we get the World Cup, which we think we have a good shot at, we pretty much have over the next decade every major event coming to Los Angeles, which is just unbelievable."
Read more in The Lists 2022.
For reprint and licensing requests for this article, CLICK HERE.