Spertus Seeks Homeless Fix
Monday, August 9, 2021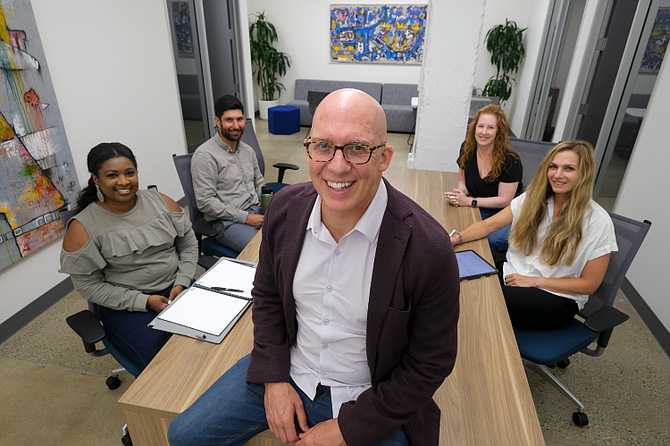 The phone calls began a few months after Elizabeth Mitchell left the Los Angeles City Attorney's Office for private practice at Spertus Landes & Umhofer.
 
Downtown residents and business owners were concerned with the growing number of homeless encampments in the area. They believed the problems were entrenched in bureaucracy, and they wanted someone intimately familiar with the inner workings of local government to shake up the system — and finally force the city and county to solve the problem.

On behalf of that group, Spertus Landes & Umhofer sued the city and county in March 2020. The case, L.A. Alliance for Human Rights v. City of Los Angeles, is one the biggest lawsuits to hit L.A. in recent history and could change how services are provided to tens of thousands of unhoused residents.
 
"A lot of my former colleagues have come and said after a hearing or whatnot, 'Umhofer, what have you gotten yourself into here?'" said Matthew Umhofer, partner at Spertus, Landes and Umhofer. "It takes some gumption to take on an issue like this, which seems to be intractable, and take on some very powerful forces."

Government savvy
Before Mitchell joined Spertus Landes & Umhofer as counsel three years ago, she spent 13 years with the Los Angeles City Attorney's Office.

In that time, she worked in the litigation unit that handled police-related cases and mastered the ins and outs of constitutional law. She said she saw firsthand the good government can do through a court program for unhoused people that allows for ticket dismissals and other dropped charges in exchange for counseling and service programs.
 
But she also saw lawsuit after lawsuit related to homelessness, and she said she was frustrated with the city's piecemeal approach.

"Within any given time within the city of L.A., there's like a dozen homeless-related lawsuits happening at the same time. … It felt like … the city was chasing its tail and settling cases but never addressing the issue comprehensively," Mitchell said.
 
Umhofer had supervised Mitchell when she was a summer law clerk in the U.S. Attorney's Office, where he served as a federal prosecutor from 2002 to 2007. After her internship ended, he kept up with her work and eventually realized her experience with the city could be an asset to his expanding practice.
 
"Elizabeth Mitchell and I kept in touch for 10 years," Umhofer said. "When we were looking to build out the civil side of our practice, I reached out."

He made an offer that was she saw as too good to pass up.
"Matt said, 'We'll open a downtown office just for you,'" Mitchell said.
 
She joined in August 2018, and the 5-year-old firm got to work on the L.A. Alliance case a few months later. She had brought with her a host of potential clients who wanted someone savvy at navigating Los Angeles' municipal services and knowledge of its legal approaches.

"It was truly the result of Liz's relationships and her reputation that this came to us," Umhofer said. "These folks were looking at other firms as well."

Planting the seed
The firm was born in 2006 as the Law Offices of Jim Spertus but was renamed and expanded with the addition of Umhofer and Ezra Landes as partners in 2013. (Umhofer and Spertus had been colleagues in the U.S. Attorney's Office.)

The firm opened its downtown office when Mitchell and six other attorneys joined in 2018 while keeping its West Los Angeles headquarters. Right now, the firm has 20 lawyers and a case load that includes a range of marquee clients and topics. Among the biggest of those cases is the firm's defense of Hernan Lopez, the former chief executive of now-defunct Fox International Channels, a one-time unit of Fox Networks Group, in a federal bribery case involving broadcast rights for World Cup tournaments. (Lopez is also the founder and former chief executive of West Hollywood-based Wondery Inc.)

Umhofer often partners with other law firms on cases, drawing from his connections through the U.S. Attorney's Office and his time as a counsel in the Los Angeles office of Skadden Arps Slate Meagher & Flom, where he worked from 2008 to 2013.
Skadden is one of the largest law firms in the world, and it put him at the forefront of the types of major white-collar criminal cases he prosecuted at the U.S. Attorney's Office, this time on the defense side.
 
At Skadden, he played a significant role in one of the biggest white-collar criminal cases in U.S. history — the stock-options backdating case against Broadcom Inc. executives through the successful defense of the San Jose-based company's co-founder, Bill Ruehle.
 
In 2017, Umhofer and attorneys at Greenberg Gross represented two fired administrators in a whistleblower lawsuit against the Montebello Unified School District. A jury awarded the former employees $3.3 million, and a judge authorized $5.3 million in attorney fees, $3.3 million of which went to Umhofer.
 
The case gave Umhofer more than a jury victory. It also planted the seed for the L.A. Alliance suit, as one of the key claims in that case is waste of taxpayer funds.

Holistic approach
Umhofer and Mitchell's main goal in filing the L.A. Alliance suit was to compel the city and county to provide shelter for thousands of people living on the streets of downtown.

"The expectation was that the case could make a large impact initially, but the odds were against us being able to make the kind of a lasting impact that we wanted to," Umhofer said.
 
Clients named as plaintiffs in the suit include Larry Rauch, president of Los Angeles Cold Storage Co.; Mark Shinbane, president and co-owner of Ore-Cal Corp.; Lisa Rich, a Skid Row property owner; and Deisy Suarez, owner of Desuar Spa.

At the heart of their complaint was the argument that local government officials have allowed L.A.'s homeless population to balloon by not treating the problem like a full-blown crisis. They accused the city and county of mismanaging billions of dollars in taxpayer money earmarked for permanent housing and services.
 
Specifically, the complaint accused the city and county of negligence and waste of public funds and resources. And because they claimed business owners had been "crippled" by the proliferation of sidewalk encampments, Umhofer and Mitchell included the charge that the city and county had also violated the Fifth Amendment, citing the clause that says, "private property [shall not] be taken for public use, without just compensation."
 
The lawsuit has been criticized by some homeless activists as an attempt by developers and business owners to gentrify Skid Row, but Mitchell said her team from the beginning has been meeting with service providers and homeless advocates to fully understand all aspects of the crisis.

In April, Umhofer and Mitchell scored a major victory when Judge David Carter issued a sweeping injunction ordering the city and county to offer and provide support services and housing or shelter to every homeless person on Skid Row by Oct. 18. He also demanded, among other things, that they prepare an independent audit of all public money devoted to homelessness, including the voter-approved $1.2 billion bond initiative known as Proposition HHH, to "limit the possibility of funds being misused or wasted."
 
That order, however, was temporarily put on pause in May by the Ninth Circuit Court of Appeals. As of press time, Umhofer and Mitchell were awaiting a final decision on whether the order will stand.
 
"Regardless of what the Ninth Circuit does, the case isn't going away," Mitchell said.
For reprint and licensing requests for this article, CLICK HERE.