Surf Air Mobility Enters Race for Green Air Travel
Monday, August 2, 2021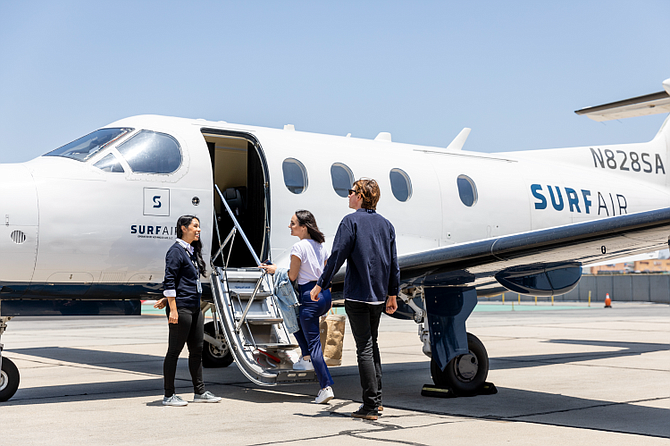 Hawthorne-based private air carrier Surf Air Mobility Corp. has embarked on an ambitious plan to grab the lead in the race to decarbonize air travel.

The plan entails deploying a fleet of at least 100 hybrid-electric aircraft within the next three years.

Surf Air Mobility on July 20 agreed to purchase 100 Cessna Grand Caravan aircraft from Textron Aviation Inc., a subsidiary of Providence, R.I.-based Textron Inc. The local charter company will install hybrid-electric power trains in the Cessnas with the goal of putting them into service in regional markets by the option to purchase an additional 50 aircraft to convert to hybrid technology. Financial terms of the deal were not disclosed.

"We see this as a significant step toward the decarbonization of aviation," Sudhin Shahani, Surf Air Mobility's chief executive, said.

Shahani also said the company plans to sell its hybrid gas-electric power train to other Cessna aircraft owners eager to reduce carbon emissions.

All this stems from Surf Air Mobility's purchase earlier this year of Hawthorne-based Ampaire Inc., which had been developing and testing a hybrid-electric power train in converted Cessna aircraft. And it represents an entirely new direction for Surf Air.
With its purchase of Ampaire, Surf Air Mobility is one of the few companies in the race to decarbonize air travel that has chosen hybrid gas-electric technology, styling itself as the Toyota Prius of the commuter aircraft industry.

"Hybrid-electric technology is at a cost that fits in with current outlays — it doesn't need charging stations on the ground, is able to be used in all instances and relies solely on existing technology," Shahani said.

New plan
Surf Air has traditionally offered a mix of scheduled flights and charter flights, all for a monthly subscription fee.

Pre-pandemic, its main business was flying business executives between L.A.'s Silicon Beach and Silicon Valley, with a smattering of leisure travelers going to other destinations. Most of the flights were in the western states of California, Arizona and Nevada, with some serving an entirely separate market within Texas.

When Covid-19 hit, business travel plunged more than 30%, according to Shahani. That drop prompted the private carrier to pivot to the leisure travel market, which was booming as people sought to escape the pandemic's grip by going to outdoor environments.
 
Surf Air added airport destinations near Yosemite National Park, Lake Tahoe and other vacation markets.

Meanwhile, Shahani and Surf Air's other executives realized the market was changing in a more fundamental way. Pressure was building and competition increasing to be the first to offer air travel with zero or reduced carbon emissions.

Scores of other companies have jumped into this space.
Most are trying to develop fully electric aircraft, including Slovenian company Pipeitrel and Bristol, U.K.-based Vertical Aerospace, which is developing an electric plane that can land and take off vertically. Other companies, such as Venice-based Universal Hydrogen Co. are experimenting with hydrogen fuel.
 
But most of these companies are a few years or more away from hitting the market for paying customers.

'Immense opportunity'
Most companies in the space have focused on battery technology and are at least five years away from deploying electric aircraft at scale. Surf Air Mobility is one of just a few that are pursuing hybrid technology.

A key barrier with current battery technology is that it's not nearly as efficient at generating thrust for an aircraft as conventional fuel.

"It all comes down to energy density," said Ed Story, a general aviation expert and vice president and co-founder of Santa Monica-based Eco-Aviation Foundation International, which promotes electrified aircraft. "The energy density of batteries under current technologies is only about 20% of the energy density of petroleum products."

That means to deliver the same power, a huge mass of batteries is needed, far more than the weight of aviation fuel.

"On the ground, this weight issue doesn't matter quite as much," Story said. "But in the air, every pound of extra weight is crucial."

As a result, he said, aircraft relying solely on electric battery power have very limited range, generally under 150 miles. That makes it more suited to the air commuter taxi market, serving airports within a single metro market for example.

"Fully electric planes now can go from Santa Monica to Riverside, but with weight limits of current technology, can't really go from Los Angeles to Las Vegas or Los Angeles to San Francisco," Story said.

The hybrid-electric power train, though, can easily handle flights from Los Angeles to Las Vegas or San Francisco. And unlike most of the fully electric planes now under development, it can be installed in existing aircraft by swapping out with the combustion engine.
 
The cost to swap in a hybrid-electric power train is a little more than $500,000, about the same as the cost of regularly required maintenance of conventional combustion engines.

The range parameters match up nicely with Surf Air's current market, which is a mixture of flights between major metro areas and to leisure destinations, such as Sedona, Ariz., or Truckee near Lake Tahoe.

"This is the segment of the market that has not been served well with scheduled service from commercial carriers," Story said. "There's immense opportunity here for companies like Surf Air."

New destinations
But even the hybrid-electric technology will take some time to apply to these routes.
The process of swapping out combustion engines for hybrid-electric engines in the planes Surf Air has agreed to purchase is still being perfected, and it needs certification from the Federal Aviation Administration. Shahani said he expects this certification process to take up to three years, which is why 2024 is the target year for bringing the hybrid-electric planes to market.

In the meantime, Shahani said, Surf Air plans to continue to expand its roster of destinations for current customers. In just the last 12 months, Surf Air has gone from seven destinations to 23, with several more on the way.

Surf Air is also broadening its charter offerings and planning to unveil a new flat-rate option for customers.

Unlike most of its commercial airline counterparts, Shahani said, Surf Air is on track to return to pre-pandemic passenger levels by the end of this year.

"We've been in a lucky place over the past year in that more customers have gravitated toward us," he said. "We haven't had to make our case as hard to potential customers; they are seeking us out."
For reprint and licensing requests for this article, CLICK HERE.