SpaceX Lands $178 Million NASA Contract for Jupiter Mission
Monday, August 2, 2021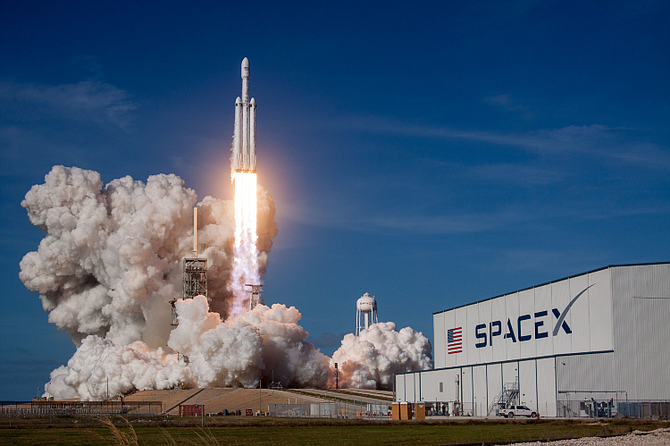 Hawthorne-based Space Exploration Technologies Corp. has been awarded a $178 million contract by NASA to conduct the launch for its mission to investigate Europa, one of Jupiter's moons.

The mission, called Europa Clipper, is scheduled for October 2024. Under the contract, SpaceX's Falcon Heavy rocket would take off from Launch Complex 39A at the Kennedy Space Center in Florida, carrying the $4 billion Europa Clipper spacecraft into space. The goal of the mission is to determine whether Europa has suitable conditions for life.
 
NASA said in its July 23 announcement that mission objectives include producing high-resolution images of Europa's surface, determining its composition, looking for signs of geological activity, measuring the thickness of the moon's shell and searching for subsurface lakes.

NASA originally planned to use its own Space Launch System — but scrapped the plan in favor of SpaceX's Falcon Heavy rocket.
 
Falcon Heavy is nearly 230 feet tall, or around 23 stories, and is partially reusable. The rocket has the capacity to carry roughly 64 metric tons, or 141,000 pounds. Its 27 engines together generate more than 5 million pounds of thrust at liftoff. The company calls Falcon Heavy "the world's most powerful rocket."

The rocket has been launched three times since 2018 — once for a demo and twice on behalf of clients, Arabsat and the Defense Department. All three launches were successful.
 
SpaceX has missions scheduled for the Falcon Heavy on behalf of the Space Force for October and in early 2022.
 
NASA has awarded several other major contracts to the Elon Musk-led aerospace company for services including launch support, satellite deployment and cargo delivery.
 
In April, SpaceX scored a $2.9 billion NASA contract to use the company's Starship spacecraft to take astronauts from lunar orbit to the moon's surface.
 
The highly competitive contract, however, was suspended after Seattle-based Blue Origin — an aerospace company created by Amazon.com Inc. founder Jeff Bezos — and Huntsville, Ala.-based defense contractor Dynetics Inc. filed a protest calling the contract unfair.
 
In a July 26 bid for the contract, Bezos offered to waive $2 billion in fees for NASA if the agency chose Blue Origin for the mission instead. The dispute hasn't been resolved yet.
 
But SpaceX still has plans for its Starship spacecraft.
 
SpaceX President Gwynne Shotwell said in late June the company was planning its first orbital launch of its Starship spacecraft in July. However, the launch has yet to happen as the company still has not received approval from the Federal Aviation Administration, which still must perform an environmental impact review of Starship launches at the company's test site in Boca Chica, Texas.

Outside of its extensive mission plans, SpaceX has garnered massive support from investors. In February, it pulled in an additional $850 million at $419.99 per share of the company, then added around $314 million to that amount in April for a total of nearly $1.2 billion so far in 2021. 
For reprint and licensing requests for this article, CLICK HERE.