LA Auto Show Returns With EV Focus
Monday, August 2, 2021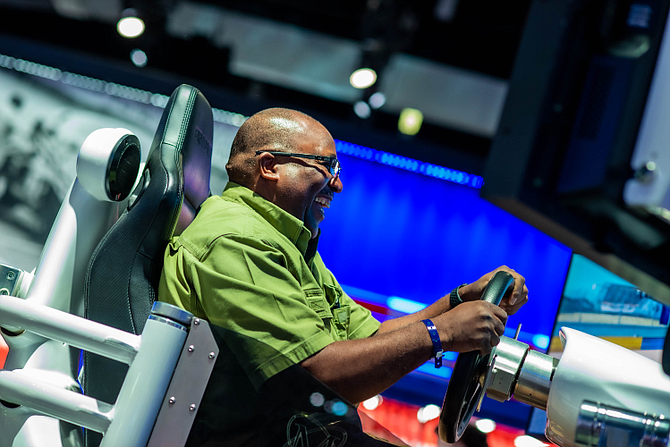 After a 24-month hiatus, the Los Angeles Auto Show is getting ready to take over the Los Angeles Convention Center come November.
 
"There's only been now three times in the 113-year history of the LA Auto Show that there hasn't been a show — World War I, World War II and now Covid-19 — so it will be very exciting opening the doors again," said Lisa Kaz, chief executive of Ansa Productions Inc., a downtown-based firm that's been in charge of the event since 1989.

With migration to electric fleets atop automakers' minds and Gov. Gavin Newsom's mandate that all new cars and passenger trucks sold in California be zero-emission vehicles by 2035, the show's spotlights will largely focus on all things electric.
 
"We're really undergoing the biggest transformation in the auto industry in a hundred years, and that transformation is electrification," Kaz said. "The brands are all making commitment to coming out with electric vehicles over the next several years. … We anticipate a large number of the debuts this year to be EV or zero-emissions vehicles."
 
The lot will include Manhattan Beach-based Fisker Inc., an electric vehicle designer and distributor that will unveil its Ocean SUV at the show.

"We'll reveal a lot of different interesting things in the (Ocean), specifically in the interior," Chief Executive Henrik Fisker said during an earlier interview.
 
EV-makers will have the chance to offer test drives to consumers on a 45,000-square-foot indoor test track Kaz's team is building in the convention center's South Hall.

The ride, albeit short, is poised to change consumers' attitudes in favor of electric vehicles, according to Stephanie Brinley, an analyst with London-based IHS Markit who has researched auto shows for the past 20 years.

"Even if you get somebody who buys an internal combustion engine vehicle next, just having that experience breaks down some of the barriers and some of the resistance to change," Brinley said. "Part of increasing electric vehicle sales is just getting people exposed and giving them an opportunity to understand how these vehicles operate and where they're different, where they're similar. And you only get a taste of that with a drive loop at the auto show, but it's still a step in that direction."

Shifting gears
Kaz's grandfather Ben Orloff was running auto shows in Chicago, Cleveland and Miami before settling in Los Angeles in the early 1970s to help rebuild the local event and be closer to Kaz and her family.

"The show had a lot of brands that had pulled out, and so the dealers association asked him to come and revive the show and really get it back on track," she said. Kaz, who attended many of the auto shows with Orloff throughout her childhood, took over the show's reins from him in 1989 under the Ansa Productions name. In 2006, she moved the show dates from January to the second half of November so as not to compete with the Detroit Auto Show, and to take advantage of the Thanksgiving holiday when consumers have more time for the visit the convention center with their families.
 
She also added auto-tech conference Connected Car Expo in 2012, and in 2016 morphed it into AutoMobility LA, a two-day trade and press event that brings "some of the brightest minds in the automotive and technology sectors together onto one stage to discuss the new mobility industry," according to the company.

Prep work
Although the LA AutoShow lasts just under two weeks, the preparations are underway year-round, and it's not unusual for automakers to spend more than $1 million on vehicle displays and experiential components.
 
There's a "massive undertaking in production," and "a lot of planning that goes into it," Kaz said, adding that her team of 10 is supported by dozens of vendors and subcontractors who facilitate the move-in and breakdown of sets.

Then there's space allocation, which she likened to "a big jigsaw puzzle."
"I think we're on the 30th floor plan for this year," Kaz said. "Everyone wants to be in front, but having said that, the display properties will fit certain spaces better than others, depending on how much wall they have. And it really is a jigsaw puzzle to fit it in. This year is particularly challenging because there's a lot of change and movement, and some of the brands are focusing on outside and doing less inside."

The LA Auto Show brings several hundred million dollars to the local economy, according to Kaz. The first two days, Nov. 17 and 18, are considered media and trade days, and automakers use them to debut new vehicles or introduce new models. The second part, which runs from Nov. 19 through 28, is dedicated to consumers and gives them an opportunity to see all the latest cars and SUVs under one roof. 

Trade show trends
Some automakers have been questioning the wisdom of investment in big show reveals for the media as they can be elaborate and costly, according to Brinley.
 
"I think it was in Detroit where they put some ice down, and they had ice skaters because they were talking about all-wheel drive (vehicle)," she said, adding that she also remembers seeing cows walking through the city's Woodward Avenue that an automaker brought in to introduce a new generation of Ram truck.

"When Covid hit, a bunch of reveals went virtual, and that just added another tool and the automakers' box," Brinley said. "I think that we will see more of those being used."
The consumer portion of the show, however, is here to stay.
 
"The research (shows) that people who attend auto shows are considering buying something in the next year and … even if the attendance does go off a little bit (due to Covid restrictions), it's still a million people or whatever it is that are looking at buying a car, and it's a unique environment," she said.
 
The L.A. event is one of the four main auto shows in the United States. There's New York, which is building a similar indoor track for EV test drives; Detroit, which is close to major industry players; and Chicago, which brings a high volume of visitors. Los Angeles offers somewhat different but nonetheless important incentives for the automakers.

"California, for better or worse, does set trends that kind of roll through the country, so it becomes a really important market and really important auto show from that perspective," Brinley said. "It's also an area with high luxury sales, so (as a luxury automaker) you certainly want at least to be present."
For reprint and licensing requests for this article, CLICK HERE.