Companies Seek Low-Rise Office Spaces in Reaction to Covid
Monday, April 26, 2021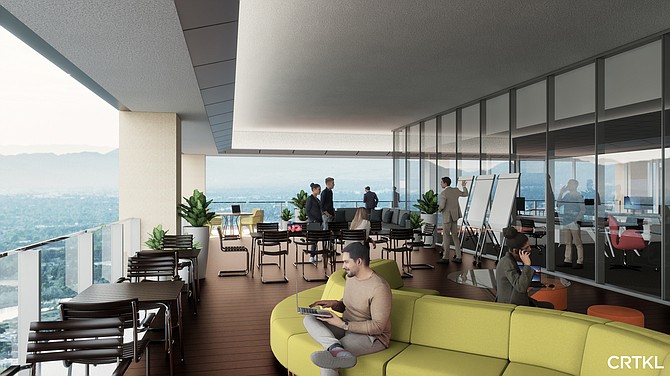 As the office market heats up and companies grapple with a post-Covid return to the workplace, one factor being considered is whether low-rise buildings are more appealing than high-rise towers.

The answer seems to be trending toward low-rise.

"We've seen tenants contemplating going from a more high-rise office building to a low-rise campus or free-standing buildings where they feel more comfortable controlling their own destiny and controlling their own space," said Natalie Bazarevitsch, a senior vice president at CBRE Group Inc.

Bazarevitsch said some tenants have found taller buildings to be more difficult to work out of during the pandemic because they are generally more crowded. Users need to space out and wait for elevators in the building and parking garages and hold for temperature checks in lobbies.

"They said it was impacting their culture and their time just to go in and out of their building," Bazarevitsch said.

Low-rise buildings, on the other hand, allow for common areas with fewer people and often come with coveted outdoor space and separate entrances.

Bill Bloodgood, an executive managing director at the Newmark Group Inc., said the company is seeing more interest across all property types, but there's one clear winner.
 
"The low-rise product is definitely outperforming high-rise products where you can have your own entrance or walk up a stairwell to your entrance. (It) is definitely the preferred product type," Bloodgood said.

When there's demand for low-rise space, it's readily apparent in the Los Angeles market where there are fewer options compared with other asset types.

"There is limited low-rise space. There is much more high-rise space," Bloodgood said. "When you see a pickup in demand for low-rise, you really feel it." 

Accelerated trend

The trend, Bloodgood said "was there before Covid" but has been accelerated due to the pandemic.

John Eric Chung, principal and Los Angeles office leader at CallisonRTKL, agreed.

"In L.A. there has always been a preference toward more suburban low-rise buildings, usually that house conversions and creative offices in places like Venice, Santa Monica and the Arts District in downtown," Chung said. "There's always been high demand for that, and they garner higher rents. This probably is because in Los Angeles there is a huge concentration of creative industries."

The hallmarks of creative office space are high ceilings, natural materials, open floorplans and lots of light.

The other thing that makes low-rise space so appealing, especially now, is combined indoor and outdoor environments. Market experts say demand for outdoor space started pre-Covid but has become an even bigger factor since.

"We have a new appreciation of the outdoors because of Covid," Chung said.
He added that high-rise buildings have tried to add more outdoor space as well, like terraces and balconies.

Some tenants are also working to turn their plazas from pleasant outdoor areas to places where people can actually work. Chung said some high-rises are even tearing down or pushing back walls to create outdoor terraces.

Christopher Cooper, a principal with Avison Young Inc., said high-rise buildings have added features that make them as safe as low-slung buildings. "It's a matter of perception," he said, that's driving some tenants to steer clear of towers.

'Hub and spoke' model

Looking forward, experts predict low-rise suburban office buildings will see increased demand as some companies move to a "hub and spoke" model.
 
With a hub-and-spoke approach, a company may have one big office space in an area like downtown and smaller satellite offices in more suburban areas near where some employees live. That arrangement gives employees the option to gather at a central hub and to work out of the "spokes" at other times.
 
"There are many companies, especially larger ones condensed in the downtown area, looking at hub-and-spoke models where they might continue to operate in a downtown-type or city-type market and open smaller offices and some conference centers in the different suburban submarkets," Bender said. "That hub-and-spoke model is being heavily considered and interpreted in different ways."

Bazarevitsch agreed but added that there are lots of factors to consider.
"Companies are evaluating whether they are going to go to the hub-and-spoke method. If so, operational efficiency gets affected," she said.

John Drachman co-founder of Waterford Property Co., which has substantial holdings in Long Beach and Orange County, said companies might find low-rise buildings appealing simply because they tend to be located outside of dense, urban areas.
 
 "We have seen a fairly large difference within our portfolio of tenants that prefer lower rise buildings," he said. "I am not sure if it is due to concerns over elevators or surface garages or rather (that) the low-rise product is in more suburban locations."

Free rent

Whether in a high-rise or a low-rise building, landlords are doing what they can to entice tenants to sign or renew leases and return to offices.

To encourage companies to sign leases, landlords are offering concessions, including increased tenant improvement allowances, free rent, free or reduced parking rates, and flexible lease terms.

"The whole economic package has gotten more aggressive to try and get tenants back in the office," Bloodgood said.

Longer leases can also mean even more concessions.

"The landlords are getting more generous with their tenant improvement allowances for the right type of tenants and a long enough occupancy commitment," Cooper said.
Building owners, market observers say, have also worked to update air filtration systems and clearing procedures.
 
But there are still elements to be considered by companies eager to have employees return to the office.

"There's so much going into the office space discussion, the high-rise to low-rise is just one of those discussions," Bazarevitsch said.
Keep reading the 
Q1 2021 Real Estate Quarterly Special Report
.
For reprint and licensing requests for this article, CLICK HERE.