Santa Monica Pier Executive Director Negin Singh to Depart
Thursday, April 1, 2021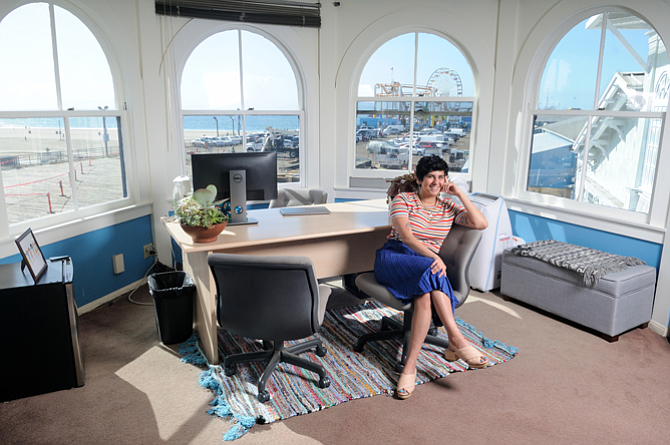 Negin Singh is stepping away from her duties as executive director at Santa Monica Pier Corp. in June, to start "on an exciting new chapter," but has not specified what that will be or who will replace her.
"I am so proud of what my team and I have been able to accomplish over the last few years," Singh posted on her LinkedIn profile. "Building meaningful programs with purpose, serving locals and the 10+ million visitors per year, and reimagining the role of public space and landmarks (especially during Covid) has been a life-changing experience."
SMPC is a 501c-3 public benefit nonprofit corporation and operates under a services agreement with the City of Santa Monica. Its responsibilities include planning events such as the Twilight Concert Series, marketing, promotions, sponsorships and fundraising, and it is overseen by a seven-member board of directors.
Singh was hired in January 2018, after an eight-year stint serving as artistic and executive director of cARTel: Collaborative Arts LA. The Montecito Heights-based production company put on Brokechella Music + Arts Festival and The No Budget Film Festival of Los Angeles.
Singh's departure comes as the businesses on the 111-year-old pier are trying to make the best of the pandemic, which left the area completely shuttered from March 15 to June 24.
"We know that we really are a symbolic center, not just for California but for the country and probably the world," Singh told the Business Journal last April when working remotely in the early stages of the pandemic. "When the Ferris wheel starts working again, that's going to be a pretty big moment."
The restaurants and the shops at the pier have reopened, but the merry-go-round and all amusement park rides at Pacific Park, including the Ferris wheel, have been off limits. They are scheduled to reopen in April.
"This has been a very long journey," Pacific Park General Manager Jeff Klocke said in a statement. "We have strived to navigate the situation safely with the well-being of everyone associated with the Park. … I'm now filled with the excitement that brought me to work in the theme park business more than 40 years ago. I can't wait to see families and visitors in the Park together once again."
For reprint and licensing requests for this article, CLICK HERE.