CFO Awards: Rising Star CFO of the Year
Custom Content by the Los Angeles Business Journal
Monday, September 28, 2020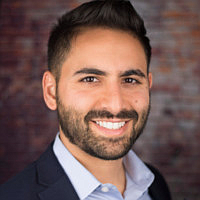 Amer Alnajafi
Anastasia Beverly Hills
Director of financial planning and analysis for Anastasia Beverly Hills, a prestige beauty brand, where he reports directly to the CEO. His background in the health and beauty sector includes working for Moon Juice and Rocket Farms Herbs.
Alnajafi has a strong work ethic, which he attributes in part to his family. He grew up learning about the business world from his father, an economics professor and entrepreneur. As a young man, Alnajafi thought he wanted to take over the family business, but eventually learned that he had bigger plans. In his late 20s, he switched careers and dove headfirst into the world of finance. In his first four years, he rapidly advanced from an entry-level finance professional to the head of finance.
Alnajafi played a key role in a recent private equity transaction. He prepared valuable reports and presented strategic advice to the Board, executives, and partners. He also contributed to the subsequent syndication of a $650 million term loan. When his boss retired, he became the head of finance, yet again. He stepped up to lead the development of the private equity reporting packages, liaison with the new lender group, and build a best-in-class finance team. All this and he's only 33! A rising star indeed! His colleagues report that he is always willing to go out of his way to help others be successful and to mentor others to grow and achieve their best potential. This fall, Alnajafi will be starting UCLA's Executive MBA Program where he plans on expanding his business network and learnings.
For reprint and licensing requests for this article, CLICK HERE.