OSI Systems Wins $44 Million in Contracts
Monday, September 21, 2020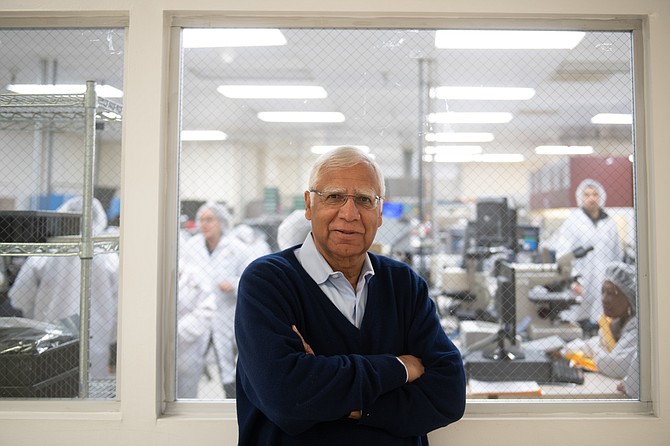 September is off to a good start at Hawthorne-based OSI Systems Inc.

The manufacturer of security scanning equipment, medical monitoring devices and optoelectronic components won $44 million in contracts during the first half of the month.

The total includes a $31 million deal announced Sept. 15 to provide a high-energy X-ray cargo and vehicle inspection system and related support to an undisclosed client.

The deal is tied to OSI's Eagle M60 system. Chief Executive Deepak Chopra said the system was developed by the company's security division, which designs and manufactures inspection systems used at major airports, ports, border crossings and sporting events.

The Eagle M60 system "allows for rapid deployment with the capability of delivering a high level of threat detection to help secure borders and critical infrastructure," Chopra said.
The company's other recent wins include a $6 million deal for its optoelectronics and manufacturing division to provide electronic subassemblies for a leading information security technology provider and a $4 million order for its health care division to provide patient monitoring products and related accessories to a U.S.-based hospital.
OSI Systems ended its fiscal 2020 on June 30. The manufacturer reported $1.17 billion in revenue, a 1% decline from $1.18 billion it posted in fiscal 2019. Net income was $75.3 million, or $4.05 per diluted share, compared to $64.8 million, or $3.46 per diluted share, in the prior fiscal year.

"We are pleased with the strong profits and adjusted operating margin expansion in the security division despite lower than anticipated fourth-quarter revenues due primarily to the impact of the pandemic on our aviation and cargo businesses," Chopra said. 

"Our optoelectronics and manufacturing division ended the fiscal year with solid fourth-quarter bookings and a record year-end backlog as we enter fiscal 2021. The team successfully managed operational challenges associated with Covid-19 to deliver a comparable year-over-year adjusted operating margin. The health care division delivered a strong finish to the fiscal year with revenues increasing 15% in the fourth quarter and significant improvement in adjusted operating margin," he added.

OSI employs 6,758 people, including 3,150 in manufacturing, 488 in engineering or research and development, and 378 in sales and marketing. Some 3,194 work in the Americas — including 600 in Hawthorne and Torrance — while 2,723 are employed in Asia and 841 are based in Europe.
For reprint and licensing requests for this article, CLICK HERE.