Who's Building L.A: The Culver Steps
Custom Content by the Los Angeles Business Journal
Thursday, September 17, 2020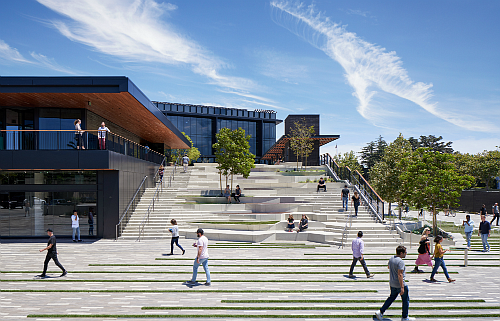 The Culver Steps
Culver City
As the entertainment industry shifts to accommodate new trends in digital streaming, so has the real estate landscape of the Westside as large-scale content companies seek out space for their quickly expanding operations. The shift has had a tremendous impact on Culver City, an area rich in filmmaking history. While new developments crop up and storied properties become refurbished, Downtown Culver City is becoming a hub for creative, tech and media markets.
Yet at the center point of that hub, where Washington and Culver Blvd meet, joining it all together is the Culver Steps. The mixed-use development brings a point of connection and architectural centerpiece as the grand staircase, and open plaza with belts of grass and trees link together old and new, commuter and resident, joining the historically significant with the future.
Located on a former city-owned parking lot, the three-acre site incorporates a 75,000 square foot creative office occupied by Amazon Studios, 40,000 square feet of retail shops and restaurants, including CorePower Yoga, Salt & Straw, and Mendocino Farms, and two levels of underground parking. It sits adjacent to the redeveloped Culver Studios, opening next year, the landmark Culver Hotel and iconic Culver Mansion. Less than a mile away, the new Ivy Station is under way, along with offices for Apple and HBO's new headquarters.
The buildings at Culver Steps were designed to give a nod to the area's past while also highlighting current industry innovations. Special attention was focused on the lighting design; the building's exteriors are intentionally darker so that the interior illuminates from within, casting the light outward. The entire project was constructed to LEED Gold standards and meets Cal Green building requirements.
As the new gateway to Downtown Culver City, the Steps create and encourage a distinct gathering place, recognizable to all who pass through. It provides a safe and inviting atmosphere for families, friends and coworkers to meet up and take a break outside, along with a new home for community events, concerts and vendor markets.
For reprint and licensing requests for this article, CLICK HERE.