LA and Long Beach Ports Still Playing Catch-Up, Despite Record September
Monday, October 26, 2020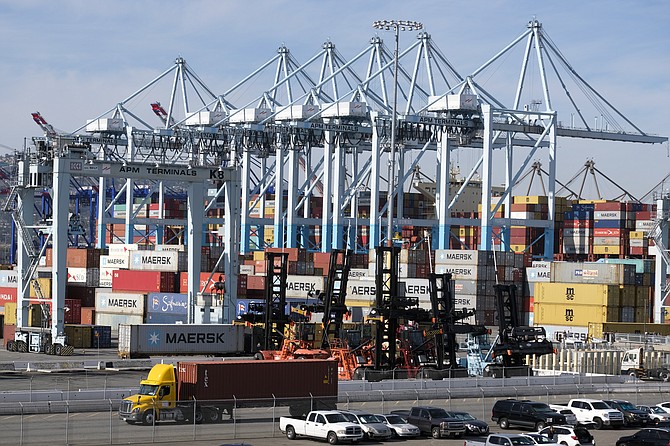 The San Pedro Bay ports notched another record month in September, largely due to make-up shipments that were stalled by the pandemic earlier this year.

Dockworkers and terminal operators at the Port of Los Angeles unloaded 97 ships in September, 11 of which were unscheduled sailings. 

That brings total recovered shipments to 31. In all, 66 shipments have been canceled since the onset of Covid-19.

"We are still halfway to recovering from all of those vessel visits that were canceled in the first half of the year," Executive Director Gene Seroka said during a video press conference on Oct. 14.

Cargo volume at the port totaled 883,625 twenty-foot equivalent units (TEUs), a 13.3% increase compared to September 2019. 

"This amount of cargo volume creates some supply chain complexities that must be dealt with on a daily basis," Seroka said. "We are working with the stakeholders on the challenges that arise from an import surge like this. We've seen dwell time increase, longer turn-times for our trucks, additional cargo on our tarmacs."

Imports in September jumped 17.3% to 471,795 TEUs, but year-to-date volume is still down 5%. Exports remained flat at 130,397 TEUs, and empty container volume was up 14% to 281,434 TEUs.

"This continues a problematic trend," Seroka said. "We've seen exports drop 22 of the past 23 months. The widening trade deficit created largely by tensions between the U.S. and China continues to disrupt the supply chain.

"Empty containers are also a function of the widening trade gap," he added. "This is more than double the amount of loaded exports that were shipped from Los Angeles. … Regardless who wins the upcoming elections, our country is in desperate need of a cohesive export plan, as well as a national infrastructure program and a digitization strategy for ports across the country."

Year to date, cargo volume at the Los Angeles port has decreased 8.9% compared to the same period in 2019.

A similar scenario played out at the Port of Long Beach. Cargo volumes there totaled 795,580 TEUs last month, a 12.5% increase compared to September 2019. Imports were up 14.3% to 405,618 TEUs while exports decreased 8.7% to 112,556 TEUs.
The volume of empty containers headed back overseas during the month increased 21.2% to 277,406 TEUs.

The port processed 92 containerships in September, including 19 unscheduled vessel calls making up trips canceled earlier this year. Long Beach port workers handled 2.3 million TEUs between July 1 and Sept. 30, a 14.1% increase from the third quarter of 2019, making it the port's busiest quarter on record.

"Large retail stores are reopening, merchants are stocking up for the winter holidays, and the increased use of ecommerce appears to be an enduring trend picked up by consumers during the recent stay-at-home orders," Port of Long Beach Executive Director Mario Cordero said in a statement. "Still, we must move ahead with caution during the remaining months of 2020 because the national economy continues to be heavily impacted by the Covid-19 pandemic."

During the first nine months of 2020, cargo shipments totaled 5.7 million TEUs,  about equal to the same period last year. 

The port ended its fiscal 2020, which concluded Sept. 30, with 7.7 million TEUs, representing a 1.1% decrease from its fiscal 2019.

"These numbers reflect a continuation of the secure, speedy and reliable service we provide at the Port of Long Beach during this difficult time in our country," Long Beach Harbor Commission President Frank Colonna said in a statement.

For reprint and licensing requests for this article, CLICK HERE.