Four Guidelines for Successful Corporate Holiday Gifting in the Age of COVID-19
Custom Content by the Los Angeles Business Journal
Monday, October 26, 2020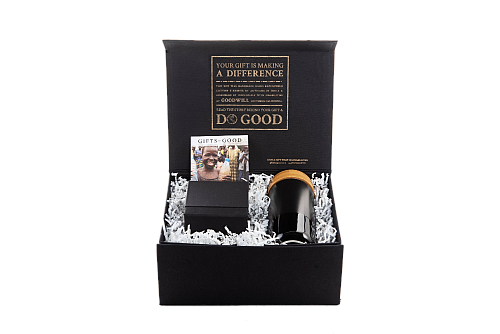 As we make our way into Q4, corporate holiday gifting budgets are going into effect, and business leaders across the country are reflecting on how best to express their gratitude for the relationships that drive their growth and reputation.
As the CEO of a corporate gifting company – Gifts for Good (giftsforgood.com) – I'm keenly aware that these gifting initiatives are golden opportunities for brands to enact their values and, not just proselytize, but creatively demonstrate what it means to be a part of their community.
Gifts for Good has helped over 700 businesses gift over 36,000 employees and clients with their choice of gift through our platform. We've handled strategic gifting campaigns for many of the world's largest brands including: National Geographic, Google, Toyota, and Amazon.
As a professional gift giver, here are my guidelines for companies looking to gift
appropriately, and successfully, in the age of COVID-19:
1) Do NOT skip corporate gifting this year (you will regret it). Over the last six months, the biggest question I have gotten from business leaders is whether or not they should be sending a gift in the first place. "Is it inappropriate to send a gift when people are suffering; and when we've had to let go of some of our employees?" they ask. While I can understand the hesitation, this outlook from business leaders fails to recognize the great detriment that comes along with not gifting.
In times of uncertainty, you need to turn up the volume on your relationships – relationships matter now more than ever. Clients, suppliers, and employees will always remember who had their backs during times of crisis. If you want to survive a downturn and position your company to rebound and thrive in the new normal you need to continue investing in your relationships and driving loyalty. This year more than ever, companies must make a pivotal choice: to actively leverage gratitude.
2) Make sure your gifts give back. Just as companies need to leverage gratitude, they also need to leverage their pre-existing gifting budgets (for good). Money is no longer the focus of corporate gifting this year – positive energy is. Giving a meaningful gift that tells a story allows you and your company to be an agent of light in a culture and country full of great unrest and uncertainty. Companies who continue to showcase their values and ethics will be the ones who thrive in 2021, and beyond.
3) Don't overspend (but don't be cheap either). The problem with corporate gifting is that most leaders lack the right mindset when it comes to gifting. When you focus on yourself and the benefits you'll reap personally – while being cheap – your gift comes with negative energy. This year more than ever, the world needs positive energy. Don't go into a gifting discussion focusing on how much the gift will 'cost.' Focus instead on the surprise and pleasure it can bring to others; and how much it will positively impact others.
In the same breath, in this current climate it is not appropriate to send a new client a $1,000 bottle of wine; doing so will make you look like you're not paying attention to the current environment. As a general guideline, I suggest not spending more than $250 per employee or client this holiday season.
4) Choose a branded experience over a branded product. 2020 is not the year to send a product that promotes yourself. If you want to give a thoughtful gift this year, choose an unbranded product – and then incorporate your branding discreetly using a branded gift note or sticker.
Alternatively, check out Gifts for Good's new corporate gifting software, GIFTforward at giftsforgood.com. GIFTforward is a corporate gifting platform that allows employees and clients to pick their favorite (unbranded) gift from a collection of gift choices. The best part? The platform includes a branded email and landing page; and all you need are your gift recipient's email addresses… no more gathering home shipping addresses!
In summary, if you and your family still have the gift of health, safety, and food please count your blessings – you are one of the lucky ones. There are so many around the world, and around the country, that are hurting and facing challenges in light of COVID-19.
In these times of loss and deep uncertainty, radical generosity goes a long way. Don't overlook the power of a small gift to uplift us, spread kindness, and remind us all what we have to be grateful for this year.
Laura Hertz is the CEO of Gifts for Good.
Learn more at giftsforgood.com.
For reprint and licensing requests for this article, CLICK HERE.