Eight Gift Exchange Ideas for the Holidays
Custom Content by the Los Angeles Business Journal
Monday, October 26, 2020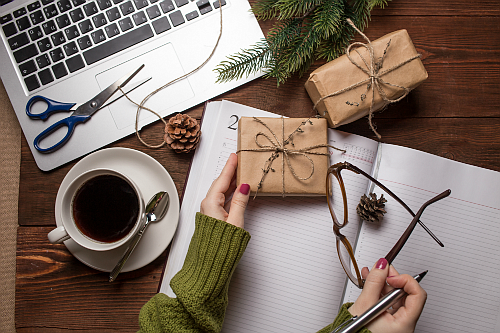 Whether it's to save money, maintain social distancing, boost the fun or create a new tradition, many corporate event planners are looking for new ways to engage in gift giving for the forthcoming holiday season.
Discover eight great holiday gift exchange ideas below:
Drawing Names - To cut down on having to buy for many different people, a group of employees can draw names! Instead of each person having to buy for everyone in the group, now each person just buys for one other person. Be sure no one draws their own name, though!
Secret Santa - Building on the drawing names gift exchange idea, Secret Santa keeps it a secret who each person will buy for! Many times even after the gift is given, the identity of their "Santa" is kept secret from the gift recipient.
White Elephant via Zoom - This is a COVID-era twist on a fun holiday gift exchange idea that goes by many different names! The main idea here is that everyone provides a gift and has it sent to the person running the event (the "organizer"). For however many gifts are sent, random numbers are assigned to participants for opening order. Although they won't know who will be opening the gift, it doesn't have to be generic or gender neutral because others will have the opportunity to win the gift! The first person to choose a gift identifies what gift she or he wants to have opened and the organizer opens it. The second person to choose a gift has theirs opened and then has the option to keep their own gift or swap it for the first person's gift. The organizer can place a post-it note on each gift as it is opened so everyone knows who it belongs to. Every new person who opens a gift has the option to keep their own or swap for any other. After the last person picks and opts to swap or not swap, the first person is given the opportunity to swap the gift they ended up with. It's great fun and a very popular gift exchange idea with a modern and safe spin!
Auction (live or silent) - Going once! Going twice! Auctions can be great fun and a terrific way to exchange gifts! Each participant provides a few gifts (or the organizer can provide all the gifts if she likes) and they are put on display and up for auction. Each party guest is given a certain number (usually 100) of points with which to bid. Once all of their points have been used to "purchase" auction items, guests can no longer bid on items. A live auction is great fun for an in-person event or via Zoom.
Best Guess - If your party attendees are big fans of guessing games like Charades or Pictionary, you're bound to love this fun gift exchange idea! Each person brings a gift or two. When it comes time for gift giving, each is given a turn to hold up their wrapped gift and the group guesses what might be inside. You can give clues or use charades or sketches to help them along (especially if it's a particularly obscure gift to guess), and the first person to guess just what the gift is gets to keep it! This can also be played via Zoom.
Charitable Giving - For those organizations passionate about philanthropy, this is a great option. Decide on a charity to donate the money you would ordinarily spend on gift giving to help others. You can all pool your money into a single charity or let each would-be gift recipient choose their own charity.
Recycled Gifts - No, we don't want you to go rummaging through your cardboards and plastics looking for gifts. This idea is about re-gifting! Rather than holding your holiday party before the holidays, opt for a delayed party in the New Year. The only gift requirement is that you bring a gift you have already received! We all get presents around the holidays that we don't necessarily need or want. And as they say, one man's trash is another man's treasure. Recycle those unwanted gifts for a creative gift exchange idea that won't cost anyone a single dime!
Homemade Gifts - This is a great frugal gift exchange idea that can be just as exciting as any of the others. Have a holiday party where the only gifts exchanged are homemade gifts. From homemade cookies to original paintings to homemade ornaments, quilts, knit hats and more, discover how talented your coworkers really are!
Tina Dixon is a freelance writer.
For reprint and licensing requests for this article, CLICK HERE.