Wonderful Co. Sets Up $1 Million Waste Challenge
Monday, October 5, 2020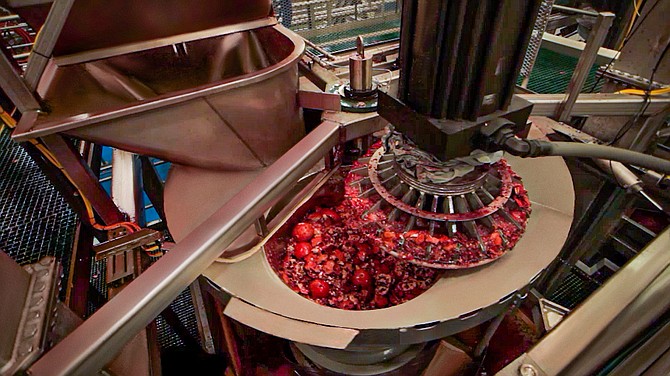 West Los Angeles-based agriculture giant Wonderful Co. is offering $1 million to biomass innovators who can figure out the best way to reuse 50,000 tons of pomegranate husks, a byproduct the company generates each year to make its POM Wonderful juice.

"The Wonderful Innovation Challenge was born out of our mission to continually push the boundaries of sustainability by embracing bold, innovative ideas," Steve Swartz, vice president of strategy, said in a statement. 

"This competition will provide a select group of winners the resources they need to grow their business, make a positive impact and help us fulfill our environmental mission," he added.

The company said it harvests pomegranates from more than 9,000 acres of orchards in Central California. It transports the fruit to a processing facility in Del Rey, near Fresno, where the fruit is conveyed to a mechanical press and crushed, separating the juice and leaving behind a husk made up of rind, pith and seeds. 

The leftover pomace is discarded and sometimes sold as dairy feed.

Wonderful said it views "this unique problem as an opportunity to close the loop and transform this waste into a valuable resource for (itself), the community, or any number of other applications"

Each 16-ounce bottle of POM Wonderful juice contains the juice from approximately four pomegranates.

The company — which produces almonds, pistachios, pomegranates, various citrus crops, wines, and other food and drink products — is looking for "innovative, pilot-ready solutions that have the potential for significant economic and environmental impact." 

A virtual information session will be held on Oct. 19, and proposals are due by Jan. 29. Finalists will deliver their pitches on March 19, and winners will be announced on April 1. 

The judging panel will include Wonderful founders Lynda and Stewart Resnick, who ranked No. 9 on the Business Journal's most recent Wealthiest Angelenos list with a net worth of $7 billion. 

The Resnicks donated $750 million last year to Caltech for research into sustainability practices and combatting climate change.

ReFED, a New York-based nonprofit with focus on ending food waste, will serve as strategic adviser and managing partner for the challenge
For reprint and licensing requests for this article, CLICK HERE.