8 OVER 80: Nedjatollah Harounian, 81
Monday, October 5, 2020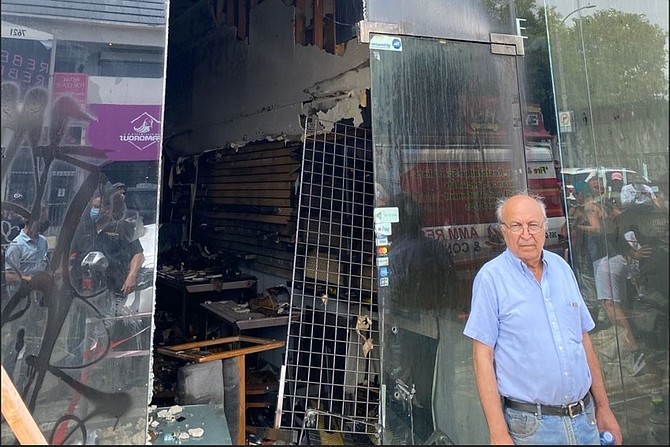 Nedjatollah Harounian, 81 
Company: 
Palais Des Modes
Title:
Owner
Nedjatollah Harounian can't wait to get back to work. But for now, his Melrose Avenue footwear store, Palais Des Modes, remains shuttered — looters set it on fire during social justice protests on May 30. Harounian has operated several stores in the area since he immigrated from Iran with his family in 1987. He first bought Solomon's Bookstore on Fairfax Avenue and eventually expanded into footwear and apparel, running seven stores until 2008. The recession forced him to close all but one, which he operated with his wife Yaffa until her passing in 2017. Harounian opened Palais Des Modes in 2018, and spent most of his time there. Now he's counting on the kindness of strangers to recover. A GoFundMe page set up by his son, Ebbi, got an early boost from actress Halle Berry, helping Harounian get closer to the $125,000 goal. He plans to use the funds to cover his living expenses and repurchase inventory. His landlord will start remodeling next week, and the store should be ready to reopen in May.

How many hours a week do you work? 
I work about 60 hours a week.

Why not retire?
I like to work. It's fun, and I don't want to retire. I don't feel tired; I don't feel that I need to retire.

Do co-workers seek out your experience and knowledge?
Sometimes the workers from other businesses, from other stores nearby, call and ask questions when they have some issues. I try to help as much as I can.

How do you keep the work you do fresh and interesting?
I keep the work fresh and interesting by trying to bring in new merchandise and trying to redecorate the store.

What are the biggest changes you've observed in your workplace environment across your career, and what are key aspects that have never changed?
The change I see is most of the business gets done online. There's not as much foot traffic that comes through the store. But what stays the same is when somebody comes in the store, we provide the customer service and make sure the customer is happy and getting good value for the money.

How has working in Los Angeles changed over the years?
The work is always the same. Each business has its own challenges. Customers change, but the principle of business stays the same.

What's next on your agenda?
Because my store was looted and burned down during the riot, I am waiting for it to be rebuilt so I can reopen it and get back on track. We lost everything — over $500,000 worth of inventory — and now I have to make it up. The GoFundMe account that we opened helped us a lot, but I still need more help.

What's the one thing people often get wrong about retirement?
I'm not retired and I'm not planning to retire anytime soon. I feel strong and I feel that I still need to pull my weight in the society. I'm going to keep working 'til the day I can't.

What do you do for fun?
I (used to) go to the trade shows when they were around to see what's new and to bring something new to the store. But right now, there are no more trade shows. I did a lot of traveling with my wife, but she passed away from cancer about four years ago, so I'm not traveling as much. My fun is my store now.

If you could go back in time, what advice would you have for your 50-year-old self?
To be honest, I have no regrets. Business was always good, we always changed with the fashion. The only thing is I would have bought some of the properties that I have rented and paid so much rent. But that's a financial thing; I'm not so stuck on financial matters. I think I did good. I'm happy. I have three healthy, happy, independent kids. Life has its own ups and downs. Losing my wife was very hard for me, and the fire and the looting was very surprising. But, no, I have no regrets. I think when I was 50 years old, I knew what I was doing.
For reprint and licensing requests for this article, CLICK HERE.