Capricor, ImmunityBio, City of Hope Make Progress on Covid-19 Vaccines
Monday, November 30, 2020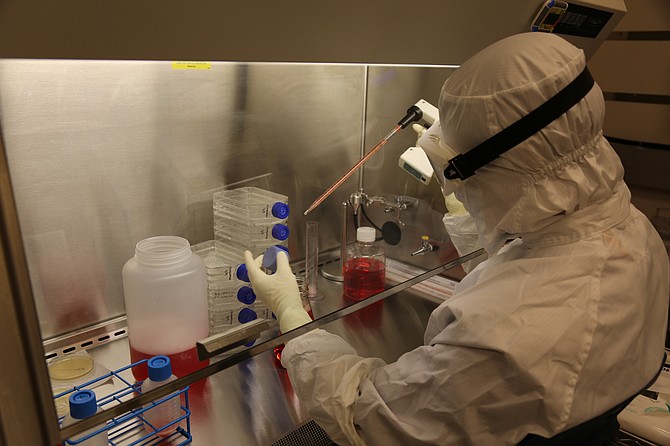 Local biotech teams at Capricor Therapeutics Inc., ImmunityBio Inc. and City of Hope are making progress on their Covid-19 vaccine candidates, though they lag behind highly publicized pharma companies Pfizer Inc. and Moderna Inc.

Beverly Hills-based Capricor reported Nov. 9 that it achieved positive results in a preclinical study for a messenger RNA vaccine it has been developing in collaboration with researchers from Johns Hopkins University in Baltimore. 

This vaccine candidate uses exosomes, or molecular cell membrane structures outside of cells that help transmit the drug through to cell interiors. Capricor has specialized in developing drugs that use exosomes.

Linda Marban, Capricor's chief executive, said in the announcement that the exosome platform helps the drug travel beyond the coronavirus' signature surface "spike protein" and into the interior of the virus. 

The aim is to give people broader, longer-lasting cellular immunity to the virus. She noted this is different from most vaccines under development that focus solely on the spike protein and preventing the virus from attaching to the body's cells.

"Capricor's unique exosome-based mRNA delivery platform is a novel type 
of SARS-CoV-2 potential vaccine being developed to aid in the worldwide fight against this virus, which continues to plague the world," Marban said.

Meanwhile, El Segundo-based Immunity-Bio, one of the companies under billionaire biotech mogul Patrick Soon-Shiong's NantWorks umbrella, issued a pair of announcements involving its Covid-19 vaccine candidate.

On Nov. 10, ImmunityBio, together with partner NantKwest Inc. — also a NantWorks company — announced that no serious adverse effects had emerged from the initial testing that is part of the Phase 1 clinical trial for their Covid-19 vaccine candidate.

This vaccine candidate uses a human adenovirus — a family of viruses that persist year-round and cause common cold symptoms — to generate antibodies that stimulate the immune system's workhorse T-cells to react to an invading coronavirus. 

ImmunityBio and NantKwest are currently conducting a Phase 1 clinical trial at Hoag Hospital in Newport Beach involving 35 patients. The Nov. 10 announcement indicated that no serious adverse effects to the vaccine candidate had occurred in 20 patients receiving low doses of the drug. That is the first step in testing the drug's safety on human subjects; future steps will include higher doses and more patients.

In a separate but related announcement on Nov. 9, ImmunityBio reported the results of a study involving patients who had recovered from Covid-19 showing that the antibodies its vaccine candidate generates are recognized by T-cells that had previously encountered the coronavirus. 

According to the announcement, this means that the vaccine — if proven safe and effective — could limit the spread of the virus in previously infected people, possibly preventing further transmission and giving longer-term immunity.

"As the virus continues to spread at an alarming rate, it is important that we develop Covid-19 vaccines that not only provide the population with protection from new infection through antibodies that block viral entry into cells but also establish a robust T-cell immune response to clear the virus from infected cells," Soon-Shiong said in the announcement.

Duarte-based City of Hope announced Nov. 24 that it has begun a Phase 1 clinical trial for its vaccine candidate, which aims to stimulate the immune system to produce antibodies. That, in turn, could block the virus from entering cells and also spur abundant T-cells that are thought to provide long-term protection to protect against future outbreaks.

"We are hopeful that the vaccine will protect against SARS-CoV-2 infection that can lead to Covid-19 disease, helping to halt the spread of the pandemic," Don Diamond, professor of City of Hope's hematology and hematopoietic cell transportation, said in the announcement. Diamond led the vaccine development effort.

All of these vaccine candidates are still months away from receiving emergency use authorization from the Food and Drug Administration.
For reprint and licensing requests for this article, CLICK HERE.