LA Holiday Shoppers Likely to Spend Far Less This Year
Monday, November 9, 2020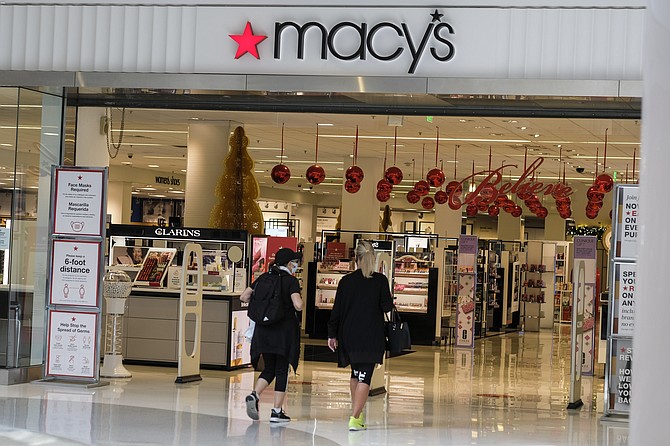 It's looking like Angelenos may channel their inner Ebenezer Scrooge this holiday season.

Driven by concerns about the economy and declines in income, spending is projected to be down 17% to $1,256 per household compared to last year, according to the annual 2020 holiday survey published by Deloitte on Oct. 20.

Nationwide, holiday spending will be down 7%, the study said.


"I'm not surprised," said Summer Taylor, an audit managing director at the accounting firm's Costa Mesa office. "(California has) been impacted by Covid shutdowns more so than other states. (Indoor restaurants and) experiential things that you might be doing around the holidays — a lot of those businesses still remain closed because of local and state-level restrictions."

Taylor said expected spending will also be lower because of pronounced job losses in the Los Angeles area, especially when it comes to lower wage earners. Of the nearly 500 locals Deloitte surveyed, 47% said they plan to spend less, with 56% of them citing worries about the economy as the reason for the decrease. 

Another 35% were concerned about job loss or reduced income, while 34% said their personal or household financial situation this year is worse than in 2019.

It's not all gloom and doom. Some 40% of surveyed Angelenos said they'll spend about the same as last year. The remaining 13% are increasing their holiday budgets, with about a third of them looking to update their personal or household items.

Household travel budget is expected to decline 41% year over year to $239. Families will earmark an average of $433 for either entertaining smaller groups at home or socializing outside, a 28% decline year over year.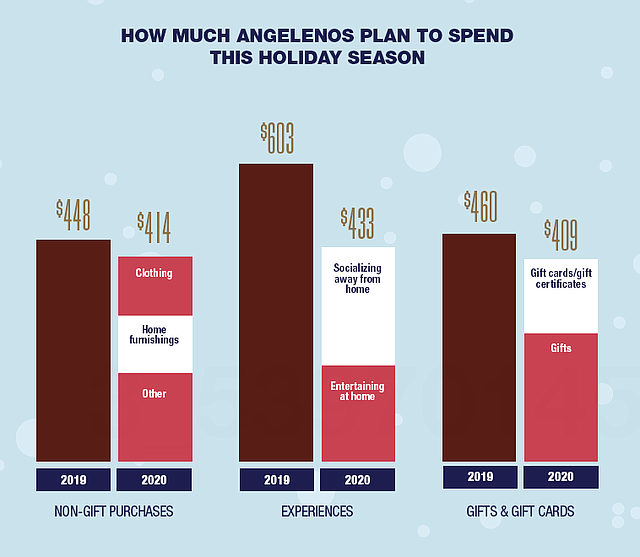 The Deloitte survey also suggests a little more than half of Angelenos are anxious about shopping in person, perhaps one of the reasons some 65% of survey respondents plan to shop online, up from 59% in 2019. 

"We've seen for a number of years a shift in spending from in-store to online," Young said. "I think last year was actually the first year that online spending was projected to exceed in-store spending, and what happened with Covid is that trend has accelerated." 

She added that shoppers are also moving to online purchases because of convenience.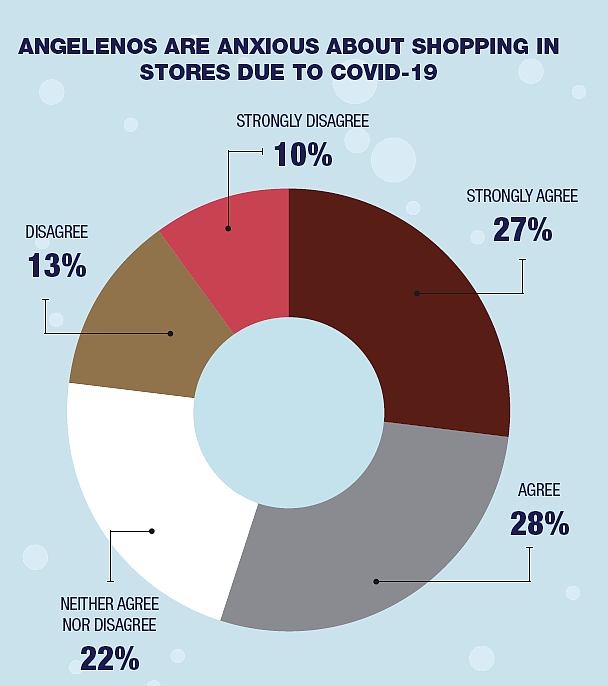 "Going to a store these days involves putting on a mask, perhaps standing in line, social distancing, trying to quickly get in and get out as safely as possible, disinfecting your hands and stuff once you get back, so it's kind of an effort to get to the store these days," Young said.

The vast majority of those surveyed who say they will shop online — 81% — prefer free shipping while the rest favor speedy delivery. 

Some 61% of respondents said they plan to begin shopping before Thanksgiving and have budgeted about $1,417. Those starting later will likely spend about a third less — $1,002.

"Those shoppers that start spending early … we kind of consider them to be festive shoppers, and they're really excited about the holidays," she said. "They tend to reserve more of their budget for the holiday spending, versus someone who is much more focused on efficiency, getting in and out quickly, and just getting the absolute bare minimum of what they need and then moving on to do other holiday activities that they might have."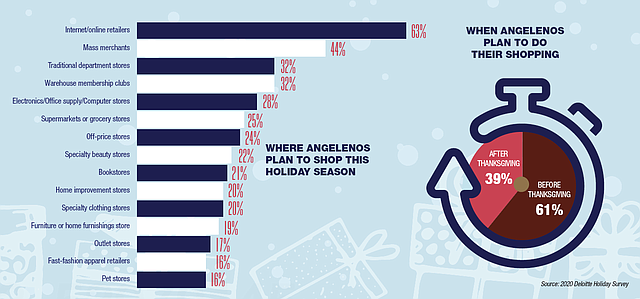 For reprint and licensing requests for this article, CLICK HERE.