LA and Other Cities Are Embracing the Fair Trade Movement
Monday, November 9, 2020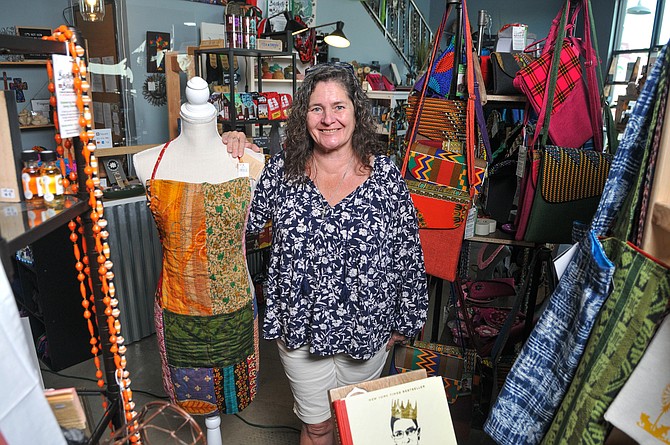 Amid the furor created by pandemic-related shutdowns, double-digit unemployment rates and civil justice protests, Los Angeles' recent designation as a fair trade city went somewhat unnoticed. 

But the City Council's resolution, passed during a virtual meeting, has the potential to bring about lasting benefits to farm and factory workers here and in developing countries. 

"We look at this as a way to put our money where our mouth is," said Councilmember Paul Koretz, who along with colleagues Mike Bonin and Joe Buscaino brought the matter in front of the council in January, just before the Covid-19 onslaught. 

"We typically purchase a little bit less than $5 billion each year as a city, and it seems like we should do business and spend those considerable purchasing dollars on companies whose values match our own," Koretz said. "They're companies that prioritize the core principles of fair trade, which are ensuring fair labor practices, a healthy and safe work environment, fair prices, worker empowerment, community investment and environmentally sustainable practices … and allow those who produce the goods that we consume to live and work in more dignified conditions."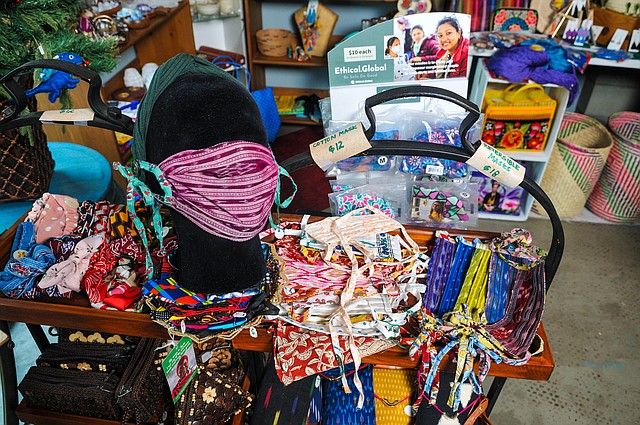 Specifically, the city is looking to update its Good Food Purchasing Program, which launched in 2012 and called on city institutions to procure locally grown, sustainable and humanely produced foods.  
Now, L.A. officials will also take into consideration products with fair trade certification when making purchases on behalf of the city. A similar preference may eventually spill into contracting opportunities with the city. 

"We're right at the beginning of the process, so we don't have a certification process for businesses yet, but we hope to establish one," Koretz said, adding that the "financial shortfall right now, both the economy and our revenue in the city, might slow that down."
 
Fair trade premium

Several local businesses have obtained their certification from national fair trade organizations. One such business is Nature USA, a factory in Rancho Dominguez that specializes in textile knitting, cutting, sewing and printing. The company also makes T-shirts for Ventura-based Patagonia Inc. 

Nature's workers, in addition to receiving fair wages, also benefit from the fair trade premium — a fee buyers pay in addition to the product's minimum selling price that workers can invest as they think will better their communities. 

Workers at Nature voted to convert their premium into a cash bonus equivalent to one or two weeks' pay, according to Patagonia. 

Other businesses source products from fair trade-certified manufacturers. Culver City-based Outerknown, for instance, is working with Hong Ho in Mexico, Saitex in Vietnam and VT Garments in Thailand, which provide all of brand's swim trunks, denim and most of its tees. 

The brand launched its first fair trade line in early 2017, a collection of responsibly sourced, casual menswear.

"We created Outerknown to smash the formula — to lift the lid on the traditional supply chain and prove you can actually produce great-looking clothing in a sustainable way," company co-founder Kelly Slater said in a statement to Fair Trade USA, an Oakland-based certifier of fair trade products in North America. Slater is better known as one of the world's top professional surfers.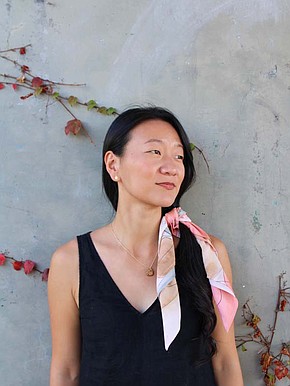 Then there's Elisha Chan, who met her suppliers while on a college trip to Haiti. She was struck by the level of poverty plaguing the small country and wanted to do something about it. 

Chan said she understood that just providing food would not make the long-term impact she was after and instead turned to job creation. She connected with artisan groups in Haiti, as well as coffee and cocoa bean farms, and decided to buy their product in bulk at a fair price. 

With a portion of the sale proceeds, Chan would then sponsor a scholarship program so that Haitian workers can send their children to school. 

Her namesake company, Mid-City-based Elisha C., now sells a variety of fair trade products, including chocolate bars by Les Chocolateries Askanya, jewelry from Atelier Calla and apparel by Sandilou.
 
Olympic-sized push

Chan said she was not familiar with the term "fair trade" until years after her first trip to Haiti, when she connected with volunteers at Fair Trade LA, a Downtown-based nonprofit organization that strives to raise awareness about the importance of living wages, as well as the child labor and human trafficking that often appear alongside poverty-related issues.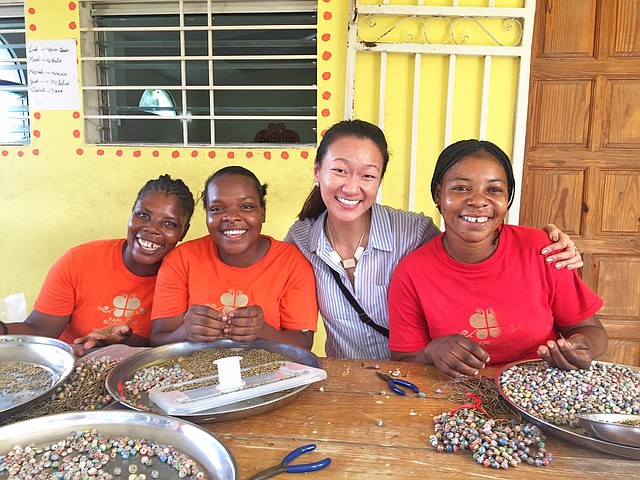 "I found just an amazing supportive group of community members that believed in the same thing, and they were doing things in Rwanda and Bali using the same model," Chan said.

She stepped up to serve as the organization's executive director in 2018 and spearheaded the move to designate L.A. as a fair trade city. 

The five-part effort took six years and included collecting names of about 100 local businesses that sell at least two products with fair trade certification, identifying another 100 community organizations that use those products and raising public attention about the living wage issues. 

The final step was the City Council's decision to pass the fair trade resolution, which came on Aug. 25. The council also voted to designate the second Saturday in May as World Fair Trade Day.

But Chan said her team's work "has just begun because it is a grassroots movement."
"It's on us, the fair trade advocates, to get the word out there in L.A. and still increase that demand," she said. "(The fair trade city designation) gives us more leverage to promote fair trade because our city is supporting it. And, ultimately, our goal right now is to make the 2028 Olympic Games in Los Angeles a fair trade Olympics."

She cited the 2012 Summer Olympics in London, during which millions of visitors consumed fair trade-certified tea, coffee, chocolate, sugar, bananas, wine and oranges.

"Imagine the difference it makes when they're willing to spend that purchasing power on fair trade products and supporting fair wages for these farmers," Chan said.

She added that she's happy to see there's a lot of emphasis put on organic products, sustainability and the environment, "but you can't leave people out of the equation."

"We have to take care of our planet and our environment, but you have to make sure that the people who are producing these things are taken care of as well," Chan said. "And that's what fair trade tackles. It has to go hand in hand."
 
A 'Collective' push

Teresa Baxter was helping Chan and others at Fair Trade LA obtain the L.A. designation, and now she hopes to do the same for the city of Long Beach, where she moved with her husband about two years ago. 

"It takes a lot to receive that designation," Baxter said. "It's not something that's given out freely. It's a hard task. There are five steps to complete, and Long Beach is on the third step. We still need to get our (local fair trade steering committee), and we need to approach the town council."

She also runs the Fair Trade Long Beach Retail Collective, a store that sells fair trade certified goods.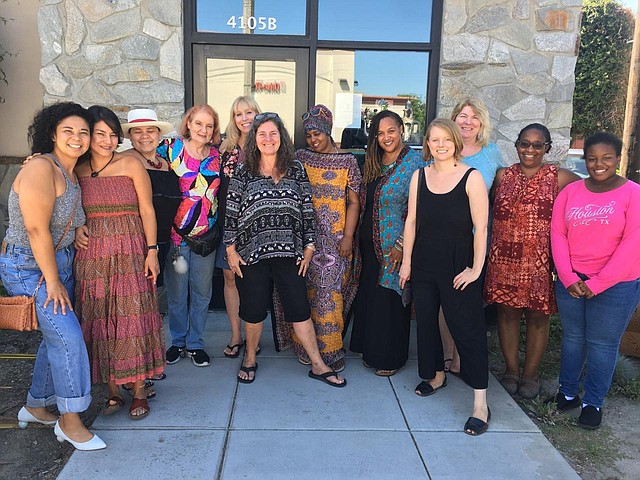 "I have so many (merchant) friends from L.A., Long Beach, Torrance and Irvine, and we would do marketplaces together — farmer's markets, church sales — because people get it when they see what we're offering, these international handcrafted goods that pay a fair living wage," Baxter said. "So, we just rallied all together and said, 'Let's start a retail collective.'"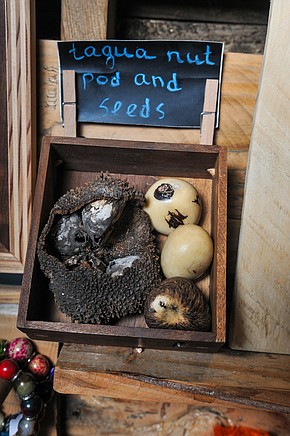 Los Angeles is the largest of the 45 fair trade cities in North America and the fourth-largest in the world behind Seoul, South Korea; Rio de Janeiro; and London, according to Fair Trade LA. 

Other local fair trade municipalities include Claremont, which was declared a fair trade town in 2012, and Pasadena, which followed suit in 2013. Altadena is working on its fifth and final step, while Redondo Beach is on its first.

"I look at this next generation — there's a lot of them that are involved in volunteering here at this store — and I see that they understand what sustainability is, what green practices are, how you can shape the world with your purchase," Baxter said. 

"I'm very, very certain that this is going to be a better world, knowing the shoppers that come here support us because they understand the impact, especially in these uncertain times," she added. "So, I have a lot of faith in the future with the next generation."
For reprint and licensing requests for this article, CLICK HERE.